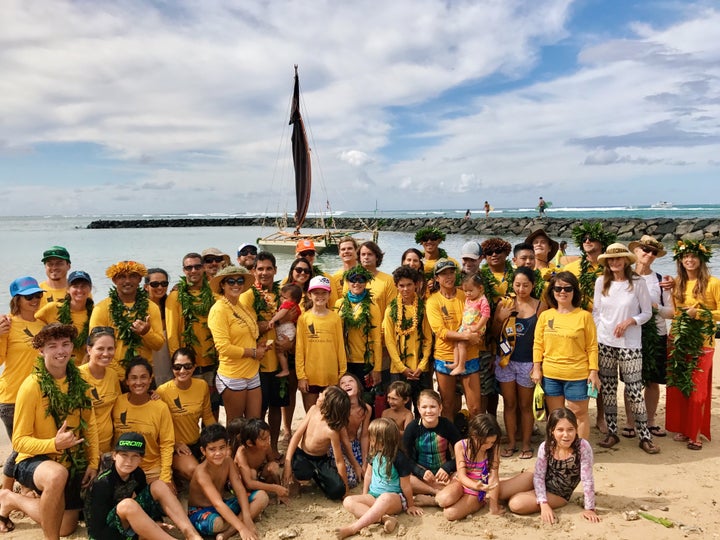 On a sunny afternoon in January, my toddler daughter was trying to climb the monkey bars at the Waialua District Park playground when I ran into an acquaintance, Makani Ortogero, and her young son. We launched into casual conversation about how fearless little kids are. "By the way," Makani offered, remembering our mutual friend, "Kamaki is building a canoe. You should come down." She took my number and told me they work on Sunday mornings behind Loko Ea fishpond. "Bring Lia," she added. "All the kids play together."
With that happenstance, my family joined the hui that would launch the North Shore's first double-hulled, traditional Polynesian sailing canoe, Wānana Pāoa. The wa'a is 30' long (half the length of Hōkūle'a) and all its parts—the deck, the mast and boom, the 'iako (crossbeams), and the hulls—are lashed together by rope. No nails, no screws; all passion and sweat.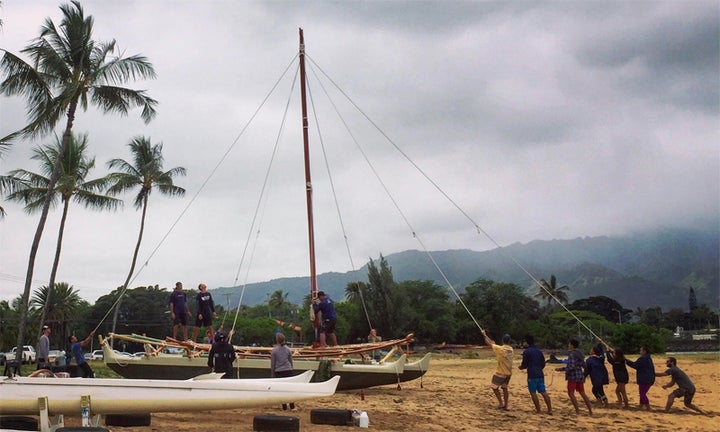 Wānana Pāoa was built in five months by community volunteers—firefighters, teachers, NOAA scientists, nonprofit organizers—who lead by example and shy away from credit or praise. Our captain, who designed the canoe, is 46-year-old North Shore waterman Kamaki Worthington, a veteran Hōkūle'a captain and navigator. His vision is for the wa'a to be a teaching tool that empowers the keiki in our community.
In grant applications, the underlying concepts of such a vision are described in general catch phrases: experiential learning, community-based resource management, sustainable future. But how do we really get there? How can a canoe be a classroom? Over the past six months, here's what I've observed.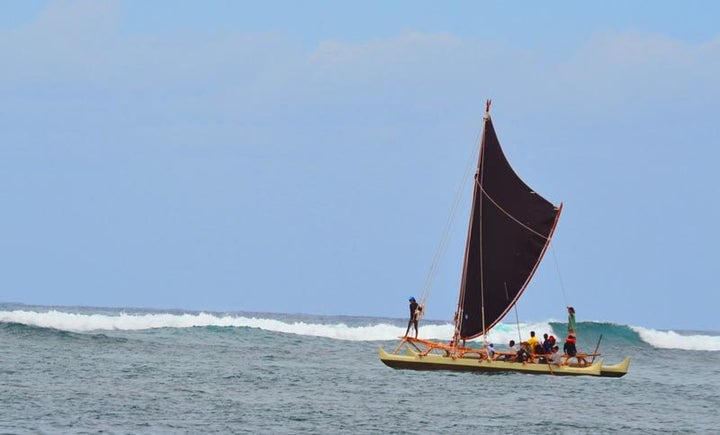 The wa'a gives us a sense of place, an identity we form in our earliest years. The first time she peered over the gunwale, my two-year-old realized that the reef is in the ocean (and not inside a screen where Dory and Nemo live). Every place comes with a history, and we discovered the name of the beach where we launch is called Māeaea. It means "stench," possibly derived from Kahakakeu Kanaka ("land where the man was placed") at Pua'ena Point, where the body of Elani, a high chief who rebelled against Kahekili II of Maui, was left to decompose.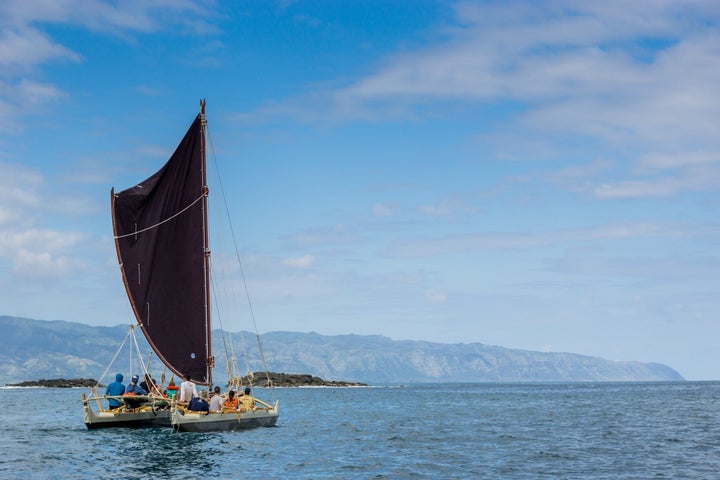 Like generations of Hale'iwa fishermen, we became familiar with Waialua Bay—its reefs, surf breaks, channels and jetties—and as we unfurled the sail for longer journeys, the waters all the way to Waimea Bay, where the namesake of Wānana Pāoa, the islet that unites the districts of Waialua and Ko'olauloa, rises out of the sea.
From a vantage point at Hōkūwelowelo, a navigational heiau a few miles from Māeaea, we watched the stars rise after dusk on the spring solstice. That day, the massive waves made us feel small, but the glorious stretch of open space made us feel privileged, instilling both pride and responsibility for the place we call home.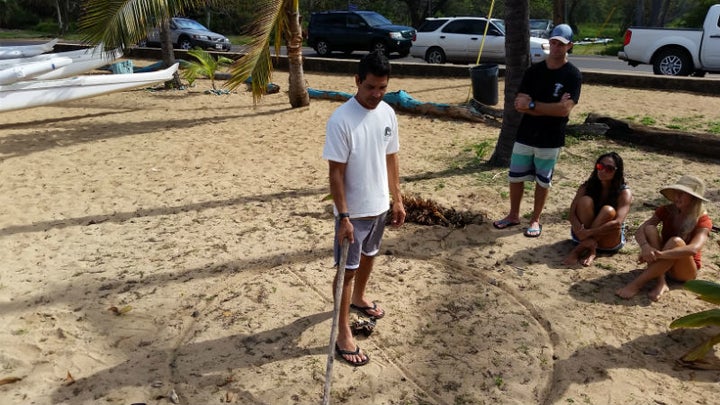 Each week, Kamaki gives a lesson on navigation. First we study our environmental "map," the indicators that guide our sail plan. We start overhead, move down to the horizon, and finally, retrospectively into ourselves: Where are the clouds? Is there texture on the water? Is there moisture in the air? From which direction is the wind blowing? Do we feel confident and ready? We gauge all the risks before making a decision to sail.
Then we consult our compass, which Kamaki outlines in the sand using a big stick. Adjacent to Māeaea, he shares, Kamehameha Highway happens to point due north. He sets little stones to mark 'Akau (north), Hema (south), Hikina (east), and Komohana (west), splitting the circle into quarters. Within each quadrant are eight "houses" that help track how stars move across the night sky. Wherever we are, Kamaki explains, certain stars will rise and fall in corresponding houses. Once we know our "address" as defined by the star pattern, we can find our way home.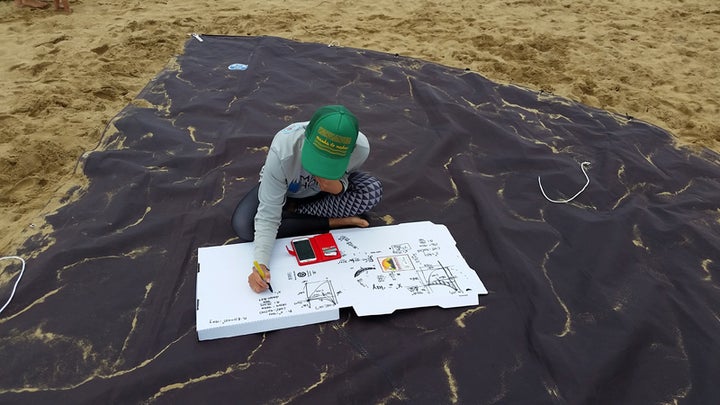 Finally, problem solving. There's no YouTube video with instructions on how to build a sailing canoe that is seaworthy. We tap our collective knowledge and teach each other how to figure things out—people are our most valuable resource. When Kamaki decided our sail had too much breadth, Hye Jung Kim and her trigonometry students laid it across the sand and measured its area (4,871 square inches). In a series of graphs and formulas scribbled in black marker on the back of a pizza box, they showed us how to cut it. When we needed an efficient way to attach the sail to the boom, kite surfer John Bilderback taught us the sport's preferred Lark's head knot. When sea trials required adjustments, we relied on John Amundson's expertise in carpentry and board-shaping. For every piece of wood he cut, replaced, or shifted, he found ways to make our wa'a even stronger.
At 4:30 a.m. on June 17, a crew of 15 boarded Wānana Pāoa, which was anchored at Maunalua Bay, to join seven other Pacific voyaging canoes in escorting Hōkūle'a to Magic Island on the final leg of her epic three-year voyage around the globe. Suddenly Wānana Pāoa was part of a larger family—the 'ohana wa'a.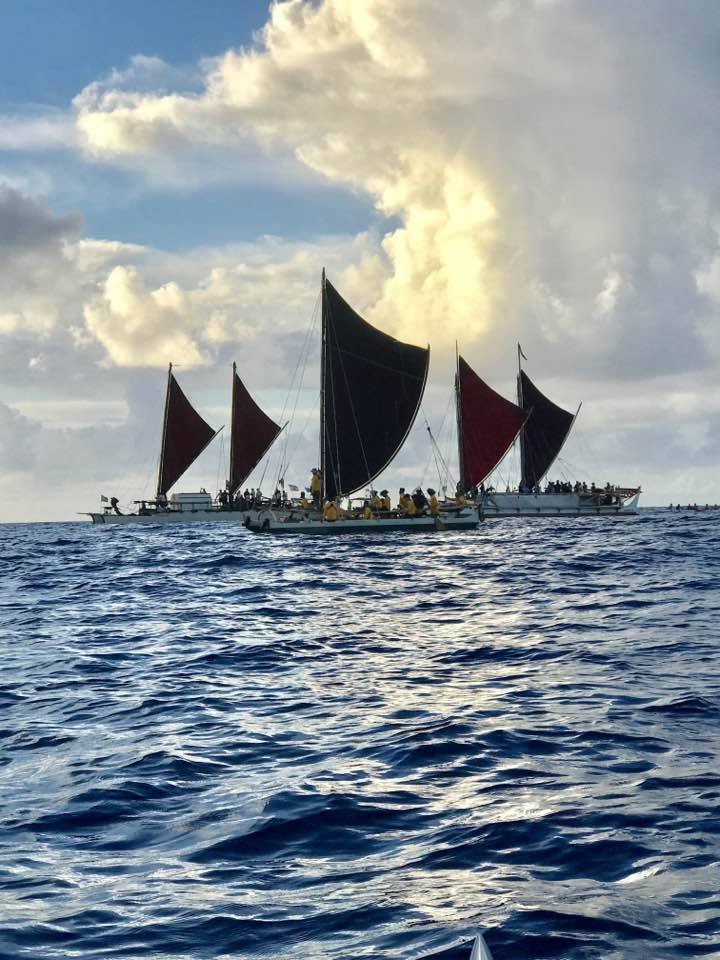 That morning, as hundreds of paddlers raised their blades in an emotional salute when Hōkūle'a glided by, they demonstrated the indomitable power of community. It is formed by the connections we make and the people we meet through every nautical mile we sail. It's the desire for the greater good in every natural resource we steward and every potluck dish we share. It's the commitment in the grip of each hand that clasps another every time we pule (pray).
The power of community enables us to make our world a better place. This is the promise of Hōkūle'a and the hope for our future. And as the 'ohana wa'a grows, it's a promise that the canoes and voyagers inspired by Hōkūle'a—including Wānana Pāoa—are teaching younger generations to keep.
Related
Popular in the Community