The following is a sponsor generated post by Chevrolet
Besides my mom and dad, some of the most influential and important people in my life were my teachers and coaches. I actually decided to become a teacher in the middle of my senior year of college. After speaking with my high school English teacher, who was also a close friend and mentor, I decided to go back for a fifth year of college to complete my education degree. Throughout my younger years I was fortunate to have many teachers and coaches who made an impact on my life and I hope that, as a teacher, I can make a difference in the lives of my students as well.
Being a teacher isn't about helping students get ready to take a test; it is about making a difference and helping them get ready for life. As an environmental science teacher at Sterling High School, I recently had the opportunity to teach a group of tenth graders about economics and the environment through a hands-on project using a Chevrolet Volt (Yes... a car.)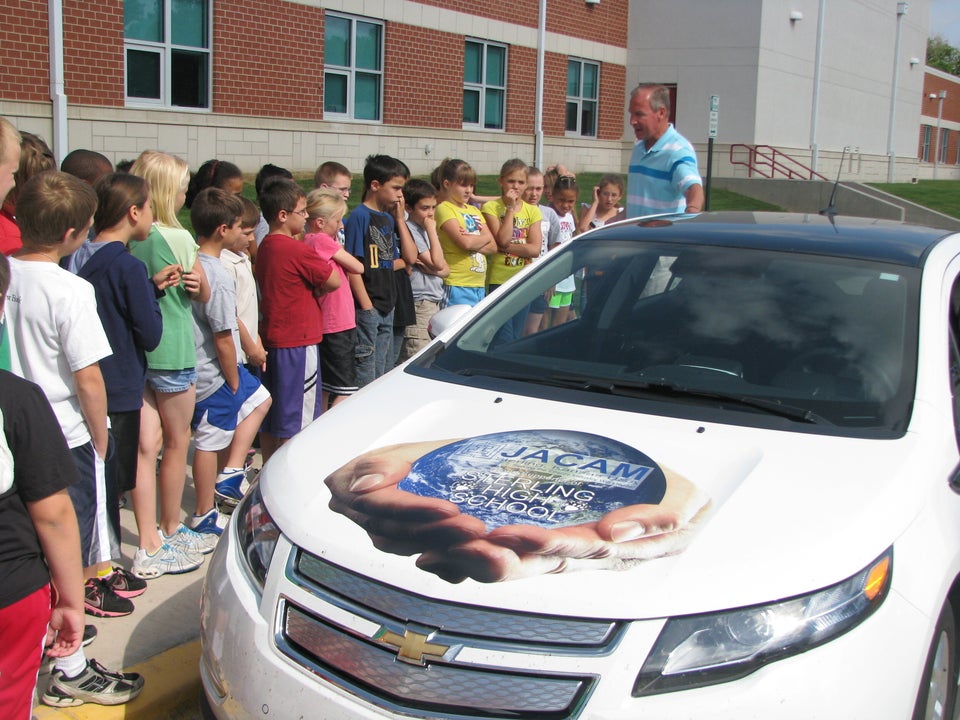 My Classroom on Wheels
As a teacher, I try to create projects that allow my students to see the real-world application for the knowledge and skills they are gaining in the classroom. I started the Sterling High School Chevrolet Volt Project in order to integrate many different disciplines into a hands-on classroom experience. Unlike traditional classes that focus on specific content areas, the SHS Chevy Volt Project presents students with a learning opportunity not found in a textbook.
How can a car teach high school students about the economics and the environment? Well, The Chevrolet Volt caught my interest in early 2011 due to the unique engineering design that provides electric power for the average commuter, but then has extended range capabilities provided by an onboard generator. My round-trip daily commute is about 40 miles, so the EPA estimated 35 mile electric range seemed the perfect fit to test this new technology and also serve as a hypothetical case study for my Environmental Science classes. Thanks to the financial support provided by a number of sponsors, this idea became a reality for me and my students in January 2012.
We began our project with the question, "When it comes to saving money and being environmentally friendly, are electric vehicles, such as the Volt, the car of the future?" I try to emphasize to my students that the generation of electricity involves both economic costs and environmental costs, with the environmental costs being more difficult to calculate. We use the Volt to test this hypothesis and conduct a cost-benefit analysis for driving electric. Additionally, our real-life study integrates a variety of topics from emissions comparisons and market fluctuations to politics and media bias, often in the same class period.
"The Volt project has given me the chance to learn about new technologies and different ways of producing energy. After my second year with the project, I have a better understanding of the importance of using renewable resources over nonrenewable" said student, Jed Dierksen. I began to realize the significance of the SHS Chevy Volt project particularly when our findings showed the cost savings of driving electric. This is a great demonstration of the power of technology and why it is worth further research. I hope it inspires my students to become the next generation of technologists and engineers. Many students have already helped share our class results through the school web site and community presentations.

Our project is currently set up as a short-term project, but I hope to secure the funding needed to extend the project to purchase the Volt as a school district vehicle at the end of our lease. We are also hoping to become part of a larger university research project with the installation of solar panels added to our charging station, which would add to the scope of our project.
When I started teaching, I never would have thought that an automobile could become my classroom of the future. While at times it is hectic securing funding for our project and developing the resources and curriculum to go with it, I am happy to provide our students real-world opportunities not possible through any textbook.
_______________
EPA estimate for 2012 vehicle models