With the whole family sitting on the floor in their modest Massachusetts home, the race was on in the Coombs household. Surrounding a giant pile of coins poured onto the floor in front of them, each member of the family raced to sort through the pile and stack the coins into rolls. Whoever was able to roll the most coins was declared the winner.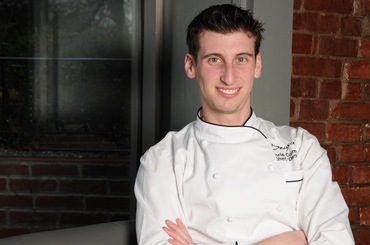 Chris Coombs, a Boston-based chef and an honoree at the 2013 Forbes 30 Under 30 event, remembers his family coin-rolling races fondly. He reminisces about the old water jug that sat in the closet, which each family member contributed to until it was full of spare change.
Though Coombs viewed the coin races as a fun family activity, they represented underlying economic hardship. "I found out later that the days we were rolling those coins were because my father didn't have gas money to get to work," Coombs said in a recent interview I had with him.
Nowadays, Coombs' coin-rolling days are over. His Boston restaurants employ over 125 people and are on track to generate over $10 million dollars in revenue this year alone. He's won prestigious awards, and will represent Boston as the co-chair of the Forbes Under 30 Summit's Food Festival, part of the four-day event hosted in Boston from October 16 to 19.
Still, he never takes his success for granted. "I grew up in a lower-middle class home," Coombs explains. "My father was a millwright and my mother was a preschool teacher. Hard work was ingrained in me at a very young age."
This vigorous work ethic led Coombs to pursue work at a very young age -- in fact, he landed his first job washing dishes at a local seafood restaurant when he was a mere 12-year-old.
Though he started out doing mundane tasks like washing dishes, his early introduction to the restaurant industry sparked his passion for food, which eventually made him one of the most acclaimed chefs on the East Coast.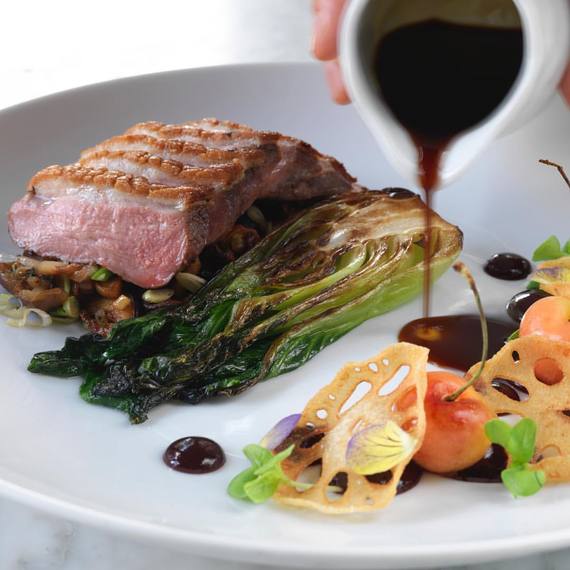 Image via Deuxave / Facebook
"Not many people can say they knew exactly what they wanted to do at the age of 14," Coombs notes. But he remembers feeling a sense of certainty that he was destined to be a chef:
I loved the energy of the kitchen and the people who worked in it. I had always felt like an outlier, but in the kitchen I fit right in. Growing up, my family never used seasoning in the food we ate. But when I first experienced what herbs and proper seasoning could do, I was hooked.
That's how Coombs' love affair with food began: working lowly jobs in restaurants during his teenage years, gradually learning the tools of the trade. "It was the first time I realized that I had a passion for cooking -- which, in the late 90s, wasn't exactly cool," Coombs recalls of his early days working in the restaurant.
But the path from being a dishwasher to a top chef isn't an easy one, especially at such a young age. "This was a time before food knowledge was so openly shared: you really had to develop relationships with other cooks and chefs to get recipes. It's not like today where you can just watch a YouTube video," Coombs says. "Early on when other cooks asked me my age, I would always tack on a couple years so I'd be taken more seriously -- I was tired of being told I was too young."
Still, remembering the lessons about hard work instilled in him by his father, Coombs pursued his passion relentlessly. During high school, he took any entry-level job he could get in the industry, whether it was prepping food or mopping floors. In 2002, he moved on to study at the Culinary Institute of America, and soon after graduating, he accepted a job as a cook at The Inn at Little Washington in Virginia.
After returning to Boston and working at various restaurants, however, Coombs realized that the corporate chef route wasn't for him. Instead, he tried his hand as a consulting chef for dbar, a local bistro. There, he had more freedom and was able to infuse his passion into the menu. Sure enough, within the first 12 months of hiring Coombs, dbar's sales nearly tripled.
Having proven himself as one of the country's most promising young chefs, Coombs' career really began taking off. Coombs went on to partner with dbar's owner Brian Piccini, who gave Coombs control over the kitchen and a title as co-owner.
And dbar was just the beginning of Coombs' growing culinary empire. In 2010, Coombs and Piccini opened Deuxave, a restaurant specializing in gourmet French/American cuisine in a casual but refined setting; three years later, they opened Boston Chops, an upscale steakhouse in Boston's South End.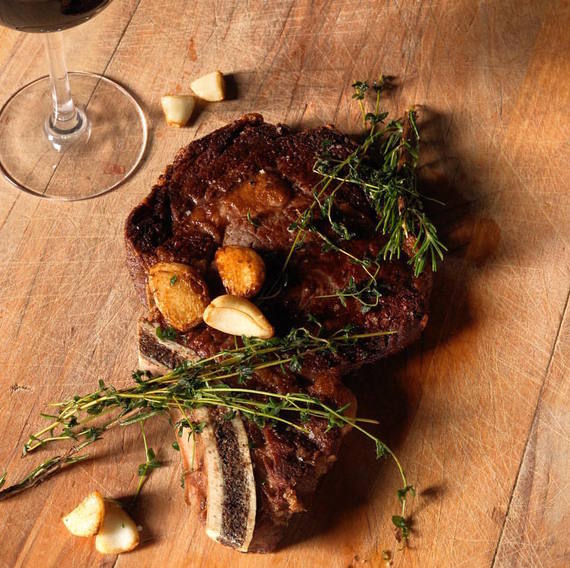 Image via Boston Chops / Facebook
But despite his immense success as the owner of three restaurants, Coombs never forgets his humble beginnings. Indeed, although his restaurants have won many prestigious awards -- including Wine Spectator's prestigious "Best Award of Excellence" -- Coombs measures his success not in terms of awards, but in terms of creating opportunities for his team and giving back to the community.
"I want to create another 100 jobs in Boston in the next 12 months," Coombs declares. His vision is that he can provide passionate cooks like himself with an opportunity to break into the industry, regardless of their economic background. Ultimately, he hopes that any food lover who's willing to put in the work -- even those who have to do coin-rolling races to pay the bills -- can end up owning their own restaurant . . . or three.
Calling all HuffPost superfans!
Sign up for membership to become a founding member and help shape HuffPost's next chapter