In early 2011, a wonderful soul named Randall posted a narration on YouTube about the honey badger, putting the phrase "Honey Badger don't care" into virtual indelible ink. Shortly after we saw that video (and played it over and over again), our already large blended family expanded by one. We adopted a Sharpei/English Bulldog mix from a local dog rescue. Despite being covered in deep scars, emaciated to the point of being able to clearly see his spine, ribs, and hips, and limping on one foot, the dog was exuberant and joyful. He announced his gleeful presence in our home by promptly lifting his leg on the cat. That's when we knew his name would be Honey Badger. Because Honey Badger didn't care.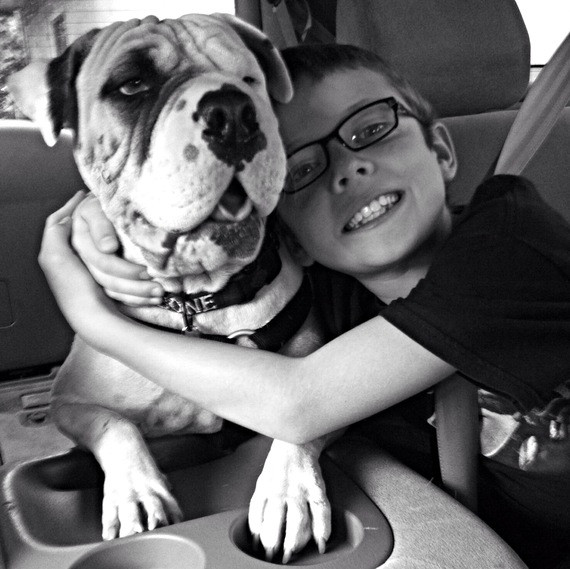 Honey Badger was a true labor of love. He wasn't a puppy, but his "delayed childhood" more than made up for any puppy stages he'd missed out on. He gnawed on everything he could find, including flat drywall. My favorite part of this picture is a tie between 1) the pride and elation on his face and 2) the perfect slobbery imprint of his face on the wall, complete with the trails of slobber running downward underneath it.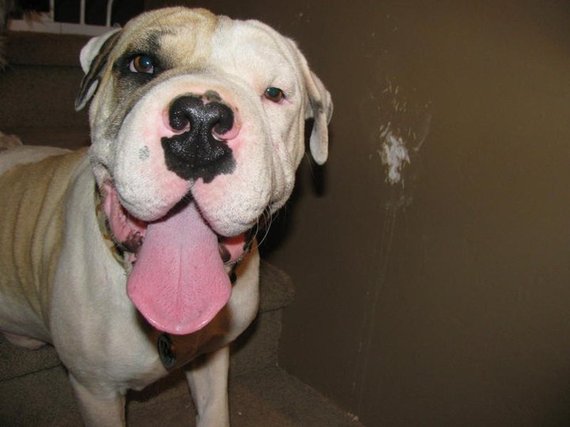 When he wasn't chewing drywall, Honey Badger ate shoes. And purses. And books. A garden hose. A vehicle registration form and plate stickers. Our TV remotes. A child's blood glucose monitor. Nothing seemed to escape his reach, no matter how vigilant we tried to be.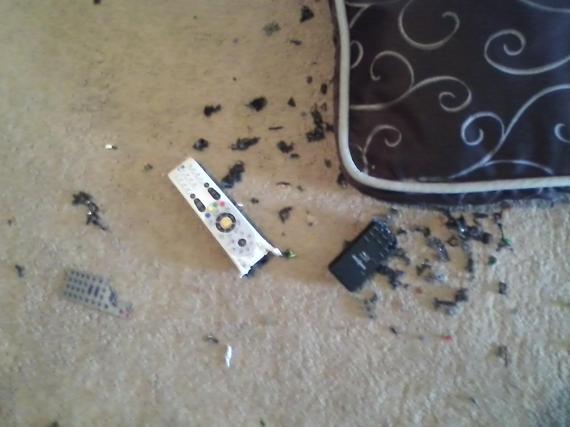 We once left the house for a day that first summer, and Honey Badger was safely locked in the tiled kitchen/dining area with access to myriad toys, soft doggie beds and a doggie door to the backyard. When we arrived home, Honey Badger's paw prints were all over the dining table. His dog bed was shredded outside on the porch. A dining chair had been severely chewed at the base. And our beautiful walnut kitchen island was partially eaten.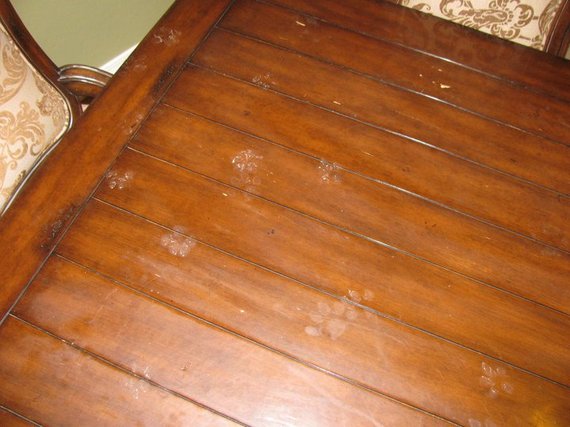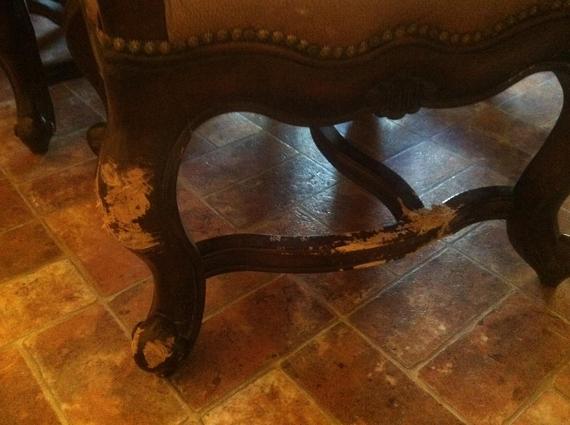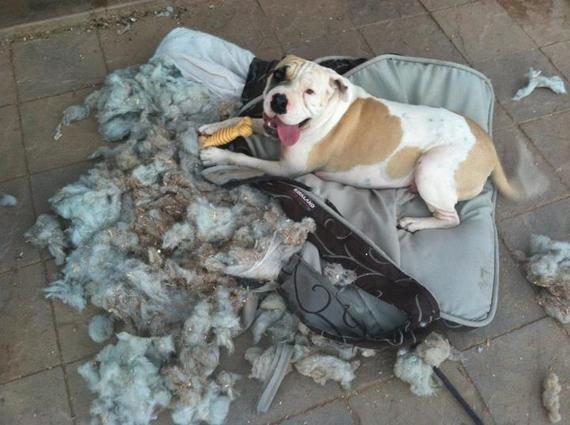 Despite the immense frustration, we adored Honey Badger and worked to redirect his destructive behavior. And despite the stress and disappointment that came along with having some (many) valuables destroyed, Honey Badger did something pretty amazing for me. You see, before adopting Honey Badger, I could be a fairly high-strung mom. As the mom of a blended family of eight, with six kids in a nine-year age span, I relied heavily on structure and order. Both good and necessary things -- believe me -- but I was also determined to be perfect. To perfectly execute my role as Supermom, have a perfectly clean house, send the kids to school in perfectly clean and matching clothes, etc. etc. As if six kids weren't enough of a reminder that choosing one's battles is essential in life, Honey Badger gave me enough reality checks that first year that I had no choice but to surrender some control.
The ultimate test came when Honey Badger chewed the upper left corner of a small, nearly flat box that had been delivered to our house one day. It was our oldest son's expensive high school graduation announcements. The old me would have paid to reorder new ones with rush shipping. Instead, we slapped address labels on them and sent them out as-is. Shockingly, I just didn't care! I don't think anyone else did, either. And Honey Badger certainly didn't.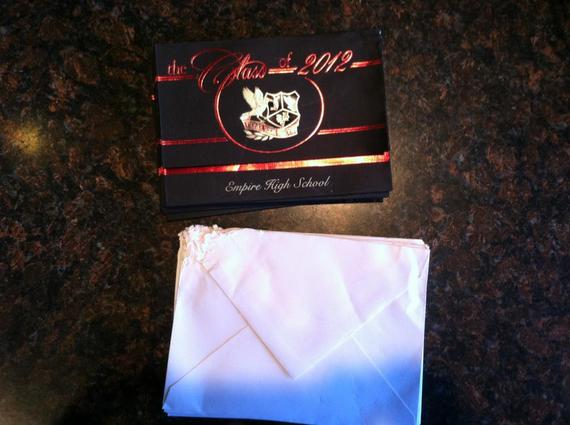 Today, Honey Badger is a mellow fellow. He spends his days snoozing on his beloved bed and spends his evenings happily sharing the couch with me. He's chubby and snores, and he loves to chase squirrels outside. Two of the kids have grown out of the house, and the ones remaining sometimes go to school with mismatched socks and unmade beds covered in books and action figures. My house is clean, but it's not spotless. I'm a loving and devoted mother, but I'm not Supermom. My life is productive and meaningful, but it's not perfect. And I'm ok with that. I choose what is important enough to care about. I don't care so much about the rest. And Honey Badger doesn't care, either.
(To see Randall's YouTube video, click here -- fair warning that it's NSFW.)
Related
Popular in the Community