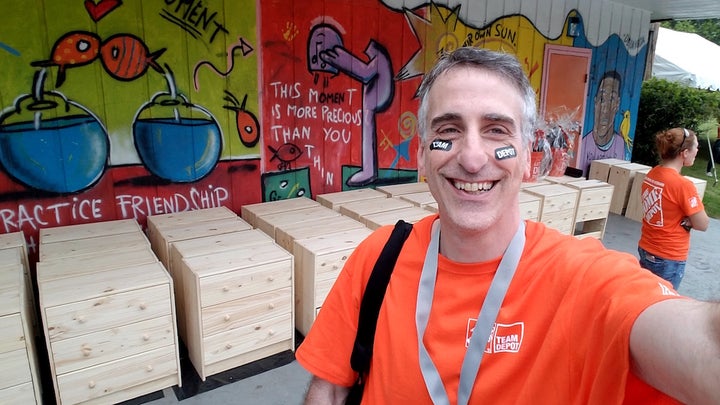 I know it sounds crazy to say that building dressers restored my faith in humanity, but let me explain. If you spend time listening to the news, or you're frequently on social media you can come away with the idea that things suck.
Maybe that is not the precise term for the current state of things, but it pretty well sums it up for me. Republicans versus Democrats, 99% versus 1%, urban versus rural, cops versus minorities, Trump versus well, pretty much anyone who isn't Trump.
It's easy to get lost in the fighting and assume nothing good is happening. But good is happening all around us, every single day, by folks of all political persuasions.
It took a trip to Atlanta and some time building dressers for me to understand and see the good that makes America great.
A Huge Thank You To Team Depot
There are large companies that do a token amount of social good, just so they can tack it onto their marketing packages. Thankfully, Home Depot is not one of those companies.
The Home Depot Foundation and Team Depot is a team of over 385,000 volunteers that work to improve the homes and lives of U.S. military veterans and their families and aid communities affected by natural disasters. And perhaps most amazingly, Team Depot is well on its way of achieving its goal of spending $250 million by 2020 to improve the lives of military veterans.
Having spent an afternoon with these folks, all of who were giving up their Sunday to volunteer, I can tell you ― they are passionate about what they do and this is not a marketing stunt.
Hey Trump, Turns Out Non-Profits Make America Great
With politics dominating the news, it can be hard to remember what makes America such a special country. To learn what makes America great, just spend some time working with a local non-profit. These small non-profits, with basically no budget but incredible goals, are truly an inspiring example of what makes America great.
The slogan for House Proud Atlanta, a non-profit with a staff of two is "Neighbor helping neighbor to ensure Atlanta homeowners stay warm, safe and dry throughout the year."
Forget your political ideologies, check your ego and differences at the door, this is something we can all agree on ― helping a neighbor out.
Turn off the TV, get off social media, stop complaining and spend a few hours each week helping out a local non-profit in your neighborhood. The work you do will have an incredible impact on your community and the feeling you get by simply helping out will restore your faith in humanity.
Resources:
Popular in the Community