As we pulled up to the fish-processing center, the rancid smell of fish seeped in through the closed windows and began to permeate my space and clothes. We stepped out of the van and walked around piles of dead fish lying in the sun to dry. I was appreciative of the breeze, although not so fresh, coming from the sea to save my lunch.
I smiled as the shark's teeth greeted me with a grin from one of the piles. My smile came from a place of gratitude. Gratitude for safely exiting the old rickety boat I had just been on now knowing those deadly critters were ready to greet me in case of an emergency.
Women, and a few men, were sitting under a makeshift shade structure scaling the catch of the day. They created two piles - one of the fish that would be dried and sold and another of the waste. Imagine piles of guts lying there baking in the 100-degree heat. I found the source of the offensive smell and now understood why we had to wade our way through masses of flies swarming my face.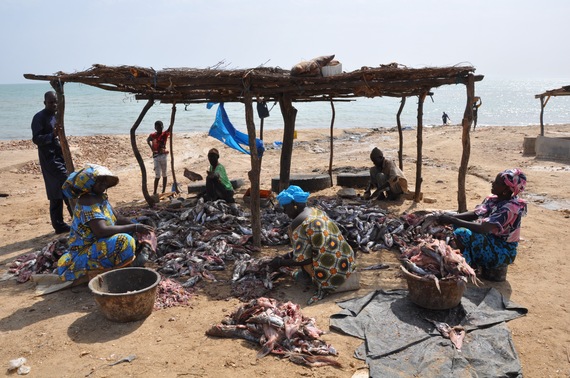 Photo Credit: Jessica Zemple
My heart hurt more than the sour smell turned my stomach. To me, it seemed like a hard lot in life - to show up every day, sit in this smell, and work endless hours for pennies. (I am sure one can get accustomed to the smell given enough time, but something I was not willing to test.)
To them, it was their only choice. With only a few years of education, there are not a lot of options for your livelihood in this small village of Mballing, about an hour south of the Senegalese capital, Dakar.
Then my entire perspective turned. In speaking with the women, I saw the joy they had in their lives and the pride they had in their jobs. Their contagious smiles stretched across their entire face. They laughed. They showed gratitude.
Their gratitude was because "some strangers from far away were helping them". The strangers are the people of Qualcomm. Qualcomm Wireless Reach has sponsored over 100 projects, with 65 currently active, to use technology to improve the lives of people in over 45 developing nations.
In Senegal, the application is called WISE which provides the fishermen and fish processors with market prices to negotiate better prices, GPS to help in emergencies and stay in the fishing zones avoiding unnecessary (and life changing fines), and education for improving their processing techniques that previously had just been passed on from generation to generation. WISE also provide the devices for the people.
Qualcomm Wireless Reach has partnered with other organizations such as FHI 360 to help with the implementation, Tigo, the local wireless carrier for reduced fees with devices and services, and the local government to roll this out more broadly.
What may seem so simple to someone in the western world has turned these lives around. While we have to try hard to be disconnected from technology, it is still a rare commodity in places like Mballing. The efficiency and higher prices for their fish have increased their income tremendously helping these families living in poverty you cannot even imagine.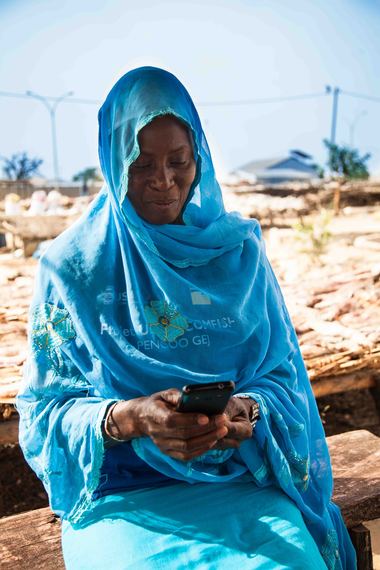 Photo Credit: Pete Santa Maria
Just as Qualcomm Wireless Reach has changed the lives of these beautiful people. These people have changed my life. I will remember to take the time to talk to people to really hear their story. Life is not always as it seems on the surface. Had I not taken the time to be with these women it would be sympathy and the horrible smell that would be imprinted in my mind. Instead I will remember their smiles and that the material comforts I have does not always mean life is better.
Now it is your turn. Slow down and connect with those around you. See what you might just learn about them...and yourself.
REAL LIFE. REAL NEWS. REAL VOICES.
Help us tell more of the stories that matter from voices that too often remain unheard.