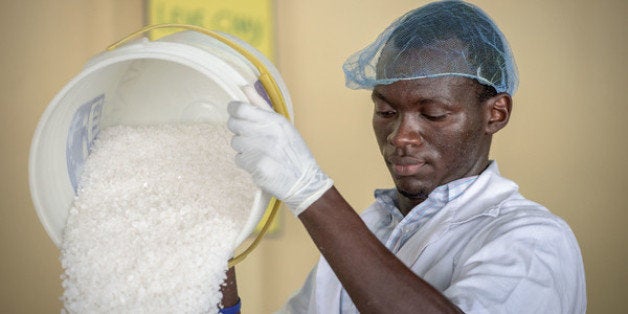 When Jim Reimer was about to retire in 2012 from his career with the global food and agriculture company Cargill, he knew that he wanted to do something useful with his time.
Reimer led salt operations in Latin America for the Minneapolis-based multinational. When his retirement date drew nearer, he placed a series of calls to business contacts to inform them that he would be leaving the company.
One of the people he called was the Rev. Tom Streit, C.S.C., who founded the University of Notre Dame Haiti Program, a research program focused on neglected tropical diseases in that island nation. Both men knew each other because Cargill had contributed financial resources and salt as an in-kind donation to the organization.
"It's funny that you called," said Father Streit, Reimer recounted. "I've been sitting here praying about a problem that we've been having with our salt. Why don't you come down here and help us figure it out?"
Salt is important in Haiti, because it plays a key role in the battle against two debilitating diseases: lymphatic filariasis (LF) and iodide deficiency disorders (IDD). Both are widespread, but they're also very treatable. In fact, the World Health Organization has set a goal to eliminate LF worldwide by 2020.
Founded in 1993, the Notre Dame Haiti Program, has partnered with the Haitian Ministry of Public Health and Population and others to eradicate LF in Haiti through the use of mass administration of an effective antiparasitic drug, diethylcarbamazine (DEC).
Father Streit knew that China had successfully used DEC-fortified salt as an alternative to pills to eliminate LF several decades prior. Because the Haitian health ministry had already begun iodizing salt to address IDD in 2006, the Notre Dame Haiti Program started working with the government to add DEC to the salt formulation.
The practical problem was how to produce enough medicated salt for the entire Haitian population, and do it in a cost-effective, self-sustaining manner. That's where Jim Reimer was able to help.
"I have a particular set of skills," Reimer said, reflecting on how Father Streit had called on his business expertise. "There are lots of other things I could have done, but if I wasn't going to do this, I didn't see a lot of other people lining up to do it. It seemed to be a 'good work prepared in advance' for me to do."
Not much later, he found himself on the island, working with the Notre Dame Haiti Program and the Haitian Ministry of Health, poring over business plans and technical designs with the goal of expanding the salt operation to increase the production and distribution of fortified salt throughout Haiti.
At that time, the salt project was not commercially viable, Reimer said. "The challenge was finding a practical way to go from a lab-size operation that produces a couple of hundred tons a year to several thousands of tons a year."
To get there, the salt plant expanded operating capacities and also started producing salt for industrial customers, like leather tanneries and beverage companies that had to treat large amounts of water. Those sales then helped fund the food-grade medicated salt operation.
"The salt project runs as a non-profit," Reimer explained. "We have some activities that have positive margins, and those help us with areas that have negative margins. We still require donations to make budgets, but we're creating a road map to make this a self-sustaining salt business that accomplishes a humanitarian goal."
Since 2012, the plant went from making 200 tons of salt in its most productive year to 300-400 tons per month. The product is distributed around Haiti under the brand name Bon Sel Dayiti.
Thanks to Notre Dame's 22 year partnership with the Haitian government, the country is in the end stages of LF elimination. But the work will continue until the all the people of Haiti have access to iodine fortified salt.
"We've been able to get help from Cargill team members," said Reimer. "Technicians that solved problems in the lab, engineers who helped design the plant, and supply chain experts. There is also a reputational advantage. When you say, 'Cargill is our technical adviser,' people start listening."
On a personal level, Reimer said he feels blessed that he was able to take the skills he built up for decades in a commercial setting and use them to make a social and economic impact.
Calling all HuffPost superfans!
Sign up for membership to become a founding member and help shape HuffPost's next chapter