In my former days, I was a Hollywood publicist. Glitz and glamor were part of the job and planning A-list events was my forte. In the days before social media, I had fashion stylists and couture event planners in my Rolodex.
So, how would that transfer into my current role as doting mom planning my daughter's first birthday soiree? Today, I can barely find my iPhone, let alone have a rolodex, and I use Pinterest and Etsy at midnight while fueled up on wine and espresso. But, my love and dedication to extraordinary events is still part of who I am, whether I'm wearing a designer pencil skirt and stilettos or a lightly-ironed maxi dress paired with designer flip-flops. My competitive nature is also easily sparked. I mean, if these people on Pinterest can craft these magical masterpieces worthy of re-pins, I should be able to as well... right?
1. Theme It. I was originally opting for an extremely girly baby party, however, my sister reminded me I may only have this year to pick the theme of her party. Realizing that next year, she may request a Doc McStuffin or Dora the Explorer party, I limited our options and my anxiety to Neverland and The Great Gatsby. My husband chose Neverland.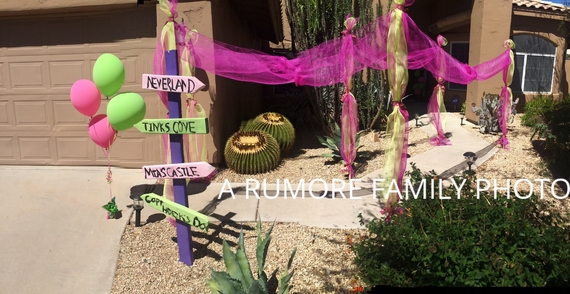 2. Invitations. An invitation is the first glimpse your guest has of your event, so I was aiming at perfection. I also noticed a trend in first birthday invitations was to include a snapshot of your tiny tot. I found an online company, KC Creative Design Studio, that had a great design with option of adding a photo. I woke up the next morning thrilled that we had some simple components to make a quick Tinker Bell costume for the birthday belle to wear. Voilà -- invitations complete.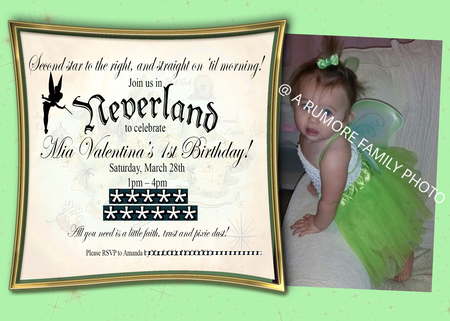 3. Entertain Me. A friend mentioned that she would never host a child-focused party without a bounce house, so I secured a Tinker Bell bounce house. I was also hoping to have some characters in attendance, like Tink and Peter. I immediately realized I had nobody who owed me a ridiculous favor, nor anyone to bribe. I also live in the Phoenix area, so we don't yet have all of the cool and convenient party options like I would have had when I lived in LA or Chicago. I was relieved to find Arizona had a company called Fairytale Events which specializes in sending princess people and characters to your party. They also offered things like face painting, playing party games, reading -- whatever you may want. To accompany the fairy characters, we ordered adorable fairy wings and headbands for the girls and pirate paraphernalia for the boys to channel their inner Captain Hook.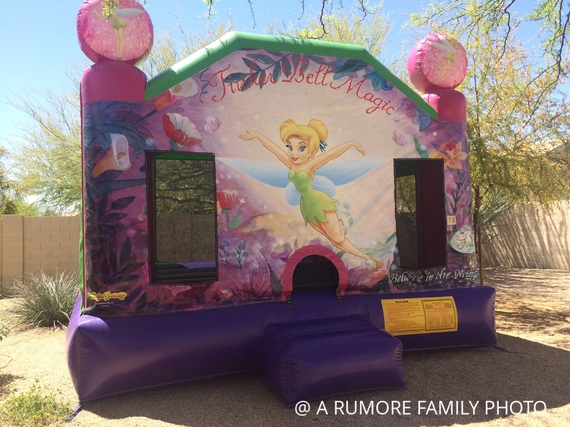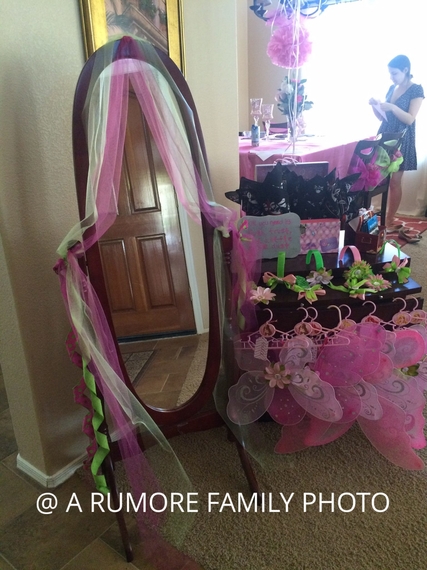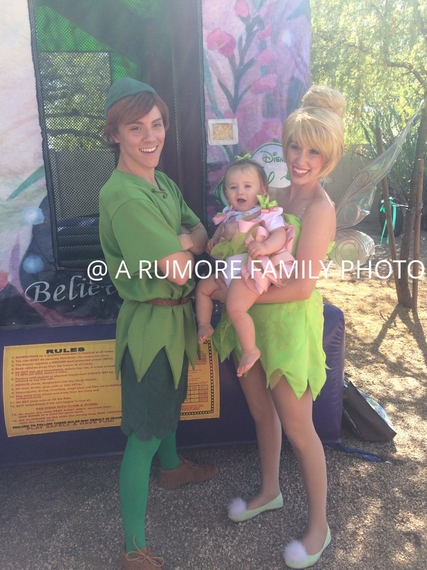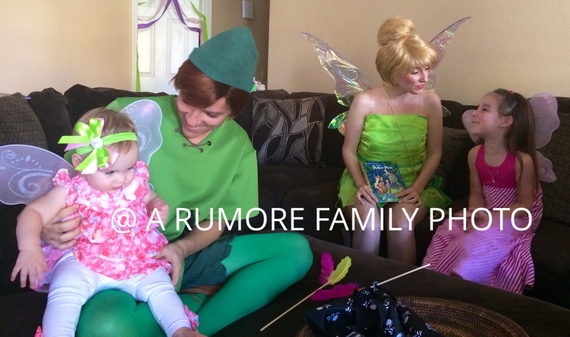 4. Ambiance. For about two months, I was on Pinterest multiple times per day. I was committed to pinning and replicating. I also met with a local florist, found a balloon company that delivered and found a few Neverland games.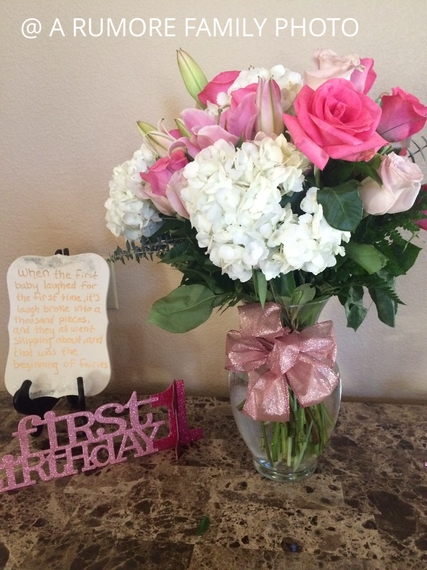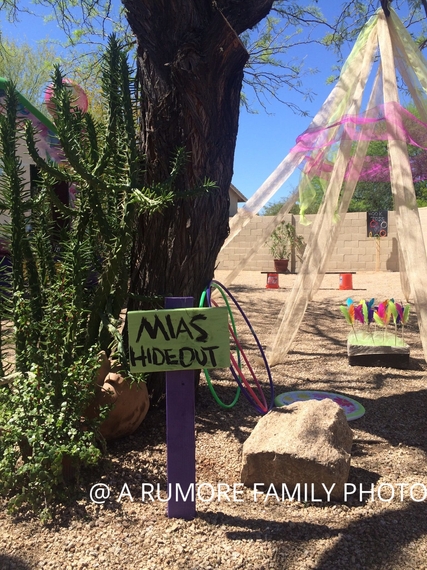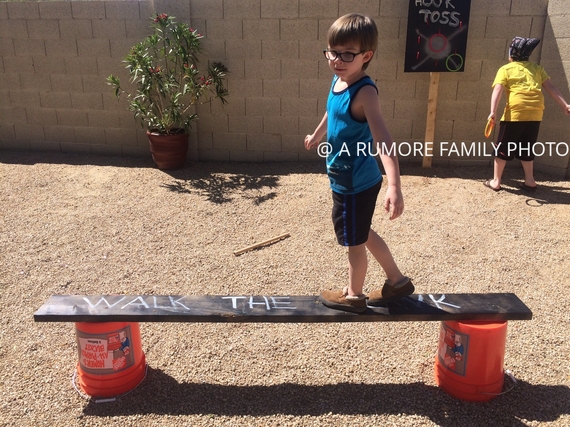 5. Eat, Drink and Be Merry. My husband is a total foodie, so it was a challenge maintaining a fairly simple menu. We opted for a few salads focusing on fresh seasonal vegetables and fruit along with grilled chicken, burgers and black bean burgers. I also have a slight obsession with extravagant desserts, so perfectly designing the cake was essential, with an emphasis on the "smash cake." We had a personal dessert chef work her magic, which turned out to be pretty unbelievable. Drinks were simple: Tinker Bell mini fruit punch, mini bottles of Martinelli's apple juice and bottled water for the kiddos with beer, wine and a spring spiked lemonade for the adults.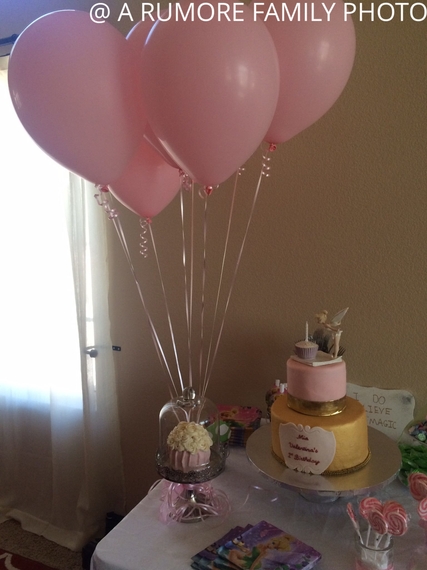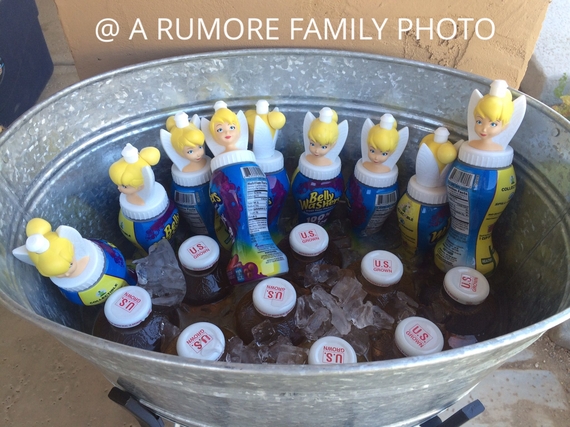 6. My Tips Planning in advance was key. Also, know your budget. Champagne dreams on a beer budget is doable if you plan efficiently, but be forewarned that children's events can quickly rack up a tab similar to a small wedding. I was also lucky to have a helpful husband plus two grandmas and one aunt in town to assist. Last but not least, remember... a 1-year-old will have absolutely no memory of their first birthday party. This is more for you.
Support HuffPost
A No-B.S. Guide To Life
Related
Popular in the Community