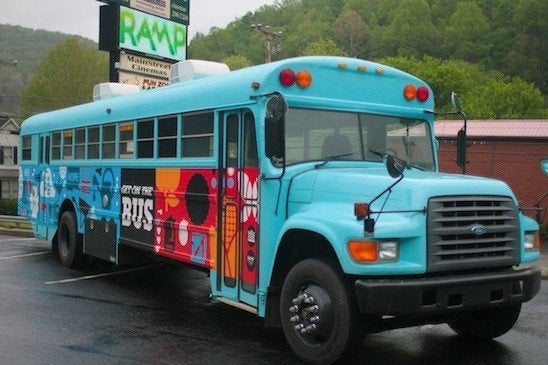 What place do you think of when you hear "food insecurity" or "hungry kids?" Probably not the United States.
But child hunger is a reality for many Americans, especially those in rural counties, who shoulder disproportionately higher rates of entrenched poverty and have less access to healthy produce, accessible/affordable grocery stores, food banks and emergency food assistance.
More than two million rural households -- and 20.2 percent of children -- in the United States lack regular access to enough food to live a healthy life. And that statistic is even more staggering in the Appalachian region of the U.S., including Martin County, Kentucky, one of the poorest counties in the nation where RAMP, a non-profit working to combat poverty through nutrition and economic development, focuses its efforts.
In Martin County, 33 percent of residents live below the poverty level and 69% of children are eligible for free or reduced-price lunch. Food accessibility, nutrition and hunger issues abound, in part because of Martin County's isolation from major metropolitan areas. It was from this County, in the heart of Appalachia along the eastern border of Kentucky and West Virginia, that in 1964 President Lyndon Johnson announced his War on Poverty from the front porch of a home in Inez, Kentucky. But in 48 years, not much has changed. And to make matters worse, Martin County's remoteness serves as a major barrier not only to healthy food, a good education, and basic economic opportunity, but also (perhaps a little ironically) to federal and other emergency support systems.
The underlying problem however is not just the availability of healthy food, but also physical access. In an area with no public transportation, no trains, taxis or alternative transport, and a large percentage of the population without their own vehicle, families are forced to rely on friends and neighbors to get to the few grocery stores, and more often than not, local food pantries. In town meetings RAMP held with community leaders, mobility or accessibility to "wheels" was the number one item requested. Summer is especially hard for children that normally eat at school, often two meals a day. This great need is why RAMP decided to invest in a mobile solution to bring food and resources directly to children and families in the community.
RAMP is using a re-vamped school bus to improve access to healthy food and economic resources.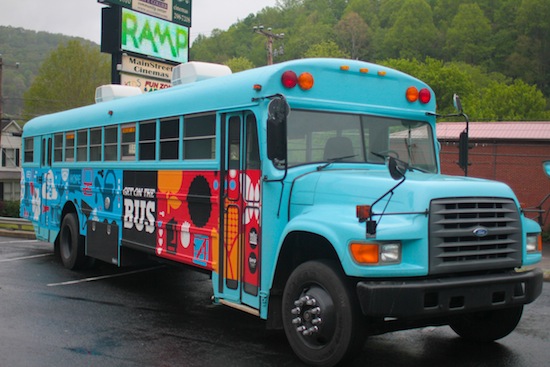 This summer, the RAMP Mobile Community Co-op Bus will fill a critical gap in service by taking healthy food and other community resources directly out into the remote hollows in Martin County. Working with resource counselors and local staff, the Mobile Co-Op Bus is expected to make five-to-six stops each day, reaching residents on "both sides of the hill" and servicing hundreds of children each week.
Last month, the RAMP bus -- a full sized former school bus painted a bright blue -- made its debut in Martin County. It arrived at the Roy F. Collier Community Center in Inez where residents greeted the bus with fanfare, toured it, and provided input to RAMP on where they would like the bus to be available in their community. Local elementary, middle, and high school students explored the gardening supplies, perused books in the library, excitedly took turns at the laptop station, and celebrated outside with healthy snacks.
Until recently, RAMP's nutritional assistance programs have operated almost entirely through the public school system. But due to RAMP's partnership with Whole Foods Market® that generously retrofitted the school bus with computers, gardening supplies, a small library, and kitchen area, RAMP can now take its programs to bring healthy eating and income generating initiatives directly out to those that need them most.
The RAMP Mobile Community Co-Op Bus brings us "one bus closer" to healthier kids and economic opportunity in one of the most poverty stricken areas of the U.S.
But there's still a long way to go as we head into what might be called the "hunger season" for American children. As Marian Wright Edelman recently pointed out in her May 18, 2012, Huffington Post blog, children in the U.S. become particularly vulnerable to hunger and food insecurity during the summer months, when school lunch programs are no longer available and federally sponsored summer feeding programs are limited. And indeed, the resource counselors who work with RAMP to implement programs in Martin County report that summer is a particularly tough time for children. Please keep this in mind this summer and decide how you can help, as you enjoy that slice of scrumptious watermelon and BBQ at the beach - there are still too many children going to bed hungry in this country - the United States of America.