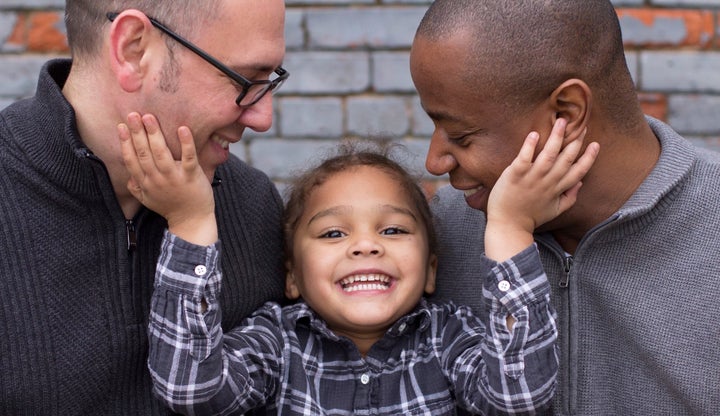 The circumstance behind Scott and Joel Tinsley-Hall's first meeting was incredibly unusual. But as RaiseAChild's contributing writer Danielle Lescure shares in this "Let Love Define Family®" series installment for Huffington Post Queer Voices, it was a risk worth taking.
Scott Hall, originally from Illinois, found himself in the Pacific Northwest in 2005 having been recruited there for work. Joel Tinsley, a Baltimore native, had just finished his tour of duty in Europe and taken a friend up on her offer to share a place and explore a new city.
"The funny story behind us meeting is Joel's friend didn't think his social life was moving fast enough so she secretly put an ad on Match.com," said Scott. "Lo and behold, I was one of the first ones to respond. At that point she had a decision, 'I got to tell Joel that I did this.' Luckily, he wasn't too upset and responded."
"Yeah, I saw his email and all his pictures. We were such a match already that I didn't get too upset at her," said Joel with a laugh.
"And so we planned to meet that next weekend and I cancelled," said Scott.
"I think he was meeting someone else that day," replied Joel.
"As I recall, I had double booked," Scott laughed. "The next weekend we made plans to meet and I had made reservations at two restaurants. One was more upscale and the other was a little bar with a pool table. I had decided that when he gets in the car I'll choose which one we'll go to. Luckily, as soon as I saw Joel, it was love at first sight. We had a nice dinner and walked along the water. It was simply a magical evening."
"Yeah, it was really romantic. And we've been together ever since," said Joel.
Within two weeks they were living together. Over the next few years, the men moved to Illinois to be near Scott's family and then on to Baltimore to be close to Joel's. It was there they finally decided to act upon another conversation they'd been having for several years.
"We were together quite a long time, eight years," continued Scott. "It got to the point where I was turning 40 and I said if we are going to have kids I want to do it now. I want the kids to at least be in college when we retire. He said okay let's look into it. I started researching both private adoption scenarios as well as foster-to-adopt. We had some neighbors, another same sex couple, who went the private adoption route. Multiple times they were matched and it fell through. So we said let's foster to adopt. Let's just go to the initial classes and see how it turns out."
The licensing process required two months of classes and they found themselves among a diverse group of potential parents-to-be.
"We had a great mix of people in our class. There were all different family types which was very good to see," said Scott. "And there were a few that had difficulty accepting that same sex couples could do this too. While nothing was said to our face, we could tell. But never did we encounter any hesitation from the social service personnel."
"Oh my goodness, not at all," Joel agreed. "They were quite excited and it actually made me feel good how accepting and excited they were about us coming in and joining the class. They made us feel completely welcome."
Upon completing the classes, they were told it might be awhile before their first placement. The Tinsley-Hall's decided to take one last trip together as a parentless couple before returning home to await a call. They didn't have to wait long.
"It was only a couple of weeks after we returned from vacation that I was at work and got the phone call from Miss Carolyn [their social worker] and she described a 20-month-old girl and I just went through the roof," said Scott. "They taught us in our classes to ask all kinds of questions and I didn't want to ask any. I just wanted to say, 'Bring her to me now!' I knew I had to talk to Joel. I said, 'Are you ready to do this? I have such a good feeling about this.' And he said okay let's do it."
"At that point, you know, you're never going to be ready," said Joel. "If you want kids, you've just got to dive in and do it. I came to the realization that I just have to jump."
"But you know, once you jump you find that you are ready," said Scott.
"I don't know how to describe that first moment we saw our daughter," admits Joel. "She came to our house and it was like, it was so comfortable."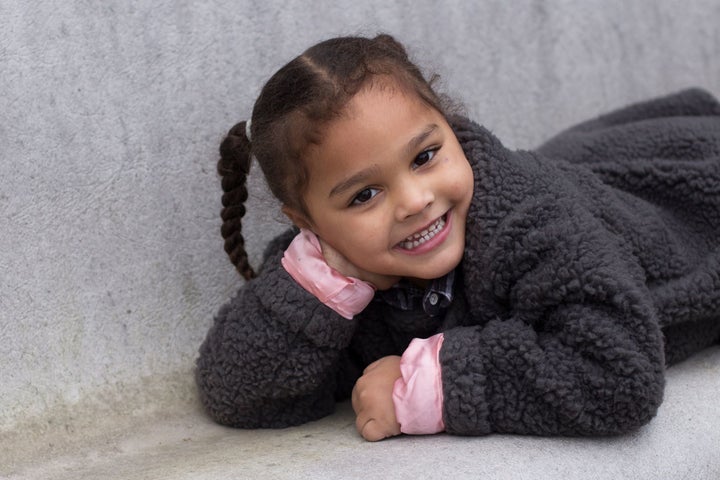 "I tell you she was the most beautiful thing I ever saw in my life," Scott shared. "She ran toward us. She wasn't scared; she ran right toward us. At that moment when we scooped her up in our arms, we knew that she would be our daughter forever. There was no doubt in our minds. Within nine months of LaRay being placed with us, the adoption was complete and she was legally our daughter. But it was like she was our daughter from day one. We still have the dress that she came to us in. I don't think I'll ever get rid of it."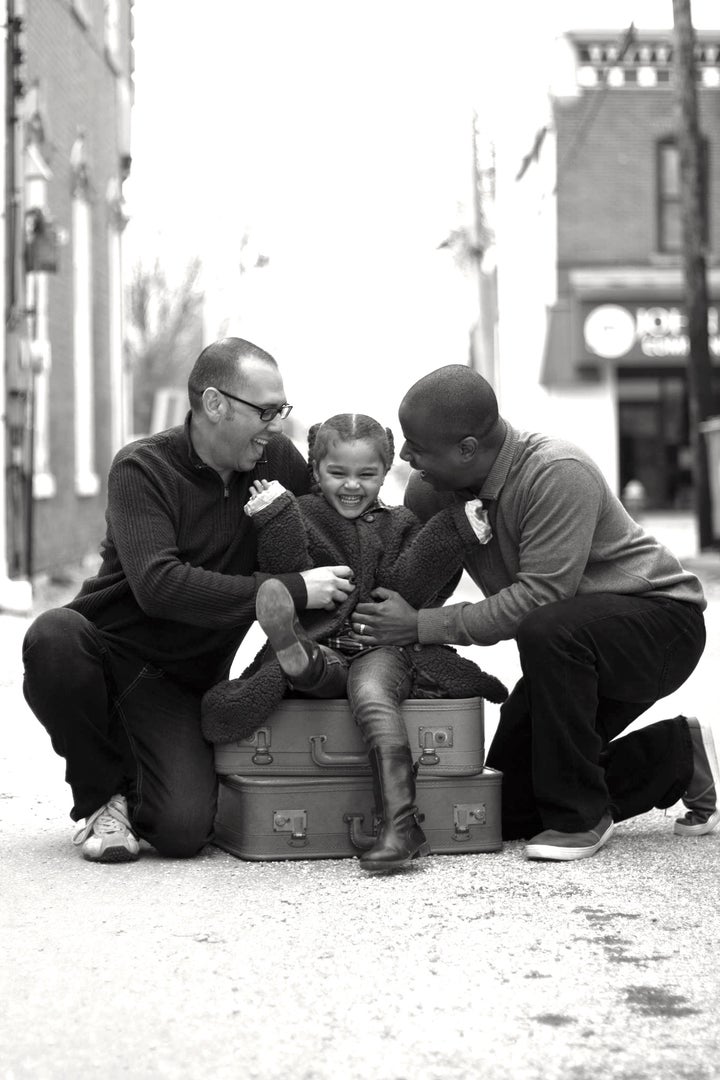 Not long after LaRay's arrival, the family moved to a new home in another county and became licensed as foster parents in that area. One inspection away from completing the process, a phone call from social services asked for their help with a family of three siblings in need of a placement. Out shopping with LaRay when the call came, both men agreed they had plenty of room and would take the kids.
"Joel's brother was here at the house and had let them in, and they were sitting on our couch waiting for us when we got home," said Scott.
Now, two years later, the judge recently ruled against reunification with their biological mother. Scott and Joel are currently going through the adoption process with the two youngest, a 3-year-old girl and 6-year-old boy, and hope it will be finalized by summer.
The oldest sibling, a 7-year-old girl, requested and has been granted placement with a separate foster family. She decided she would prefer being an only child and also wanted to have a mom in her life having been very attached to her biological mother. Thriving in her new home, she knows she will always be a part of her sibling's lives.
"We've told her that you'll always be a part of our family. You'll still be over for sleepovers and birthday parties and things like that," said Scott. "It's bittersweet."
Scott and Joel readily acknowledge that being foster parents means sometimes losing the children they've grown attached to; and they encourage other potential foster parents to understand the rich rewards outweigh the risk.
"It's hard. When you first sign up to be a foster parent, DSS [Department of Social Services] is very clear about what you're signing up for. We know we're signing up for the possibility that they will not stay," said Joel. "I think there's a fear, for people who are considering foster to adopt that you don't want to do it because you might lose that child. I would say to them yes it might happen, but during that time you provided love and a home to a child who didn't have it. It is important to concentrate on the progress they've made."
Their oldest foster daughter, the one leaving, is a wonderful example of the positive progress that love and nurturing, however temporary, can bring.
"When she came into our care she was at a grade level below the other kids in her class," said Scott. "Now, eighteen months later, she's right on par where she should be. You celebrate those successes."
"And you feel like you've done some good," continued Joel. "And that's rewarding. Even though the child may not stay in your home, you've made a difference and you can feel proud of that."
"And that will stay with her for the rest of her life," concluded Scott.
The couple also acknowledge their foster children sometime struggle to understand their situation and ask questions that don't always have easy answers. The men do all they can to gently and carefully, yet honestly, answer each one.
Even little LaRay has wondered about her past and her Daddy and Papa have tried to fill in the blanks as best they can. Scott is still moved as he reminisces about one hole in her life he was able to help fill.
"She always said, 'Papa where's my baby pictures?' This is something I never really thought about. Not having baby pictures is a hole for somebody who doesn't have them. It's like a piece of their history is missing," he said.
With a photo from the social worker and a little detective work of his own via social media, Scott was able to track down her baby pictures.
"It means a lot to her. She still says, 'Can I look at my baby pictures?,'" he continued. "Something that we don't hide from her is the fact she has a birth mom and a birth dad. And she wonders about them from time to time. I say her mom loved her so much that she let Daddy and Papa be her forever parents. And that's the way we approach it."
"We try to be very transparent with our kids about everything," added Joel.
With a home full of active youngsters, the couple stresses the importance of nurturing their own relationship while also nurturing their children.
"That's one thing I would say to other foster parents or people who are interested. It's great to provide a home for the kids and to have a family but you have to find time for yourself as well. That's very important for all parents," advised Joel.
Scott recalled a recent drive he and LaRay took to visit her cousin and her response when he suggested stopping at McDonald's along the way.
"Even though it was going to McDonalds that prompted it, she said, 'Papa, I love you more than my heart,'" he said. "The best part about being a parent is when you get those affirmations that you're providing love and the child feels that love and they return love. That's the best."
"I would have to say being a foster parent is one of the best decisions that we've made," Joel said.
"It led to us having a beautiful daughter," said Scott.
"It led to a happy family," said Joel. "So I would tell other people who are interested in being a foster parent, definitely go do it. It will be one of the best decisions you've made in your life."
Interested in learning more about becoming a foster or adoptive parent? RaiseAChild is a national 501 (c) 3 nonprofit dedicated to building loving families for foster children™. RaiseAChild has engaged more than 3,000 prospective foster and adoptive parents as the nationwide leader in the recruitment and support of LGBT and all prospective parents interested in building families through fostering and adoption. For more information, go to RaiseAChild.org or call (323) 417-1440.