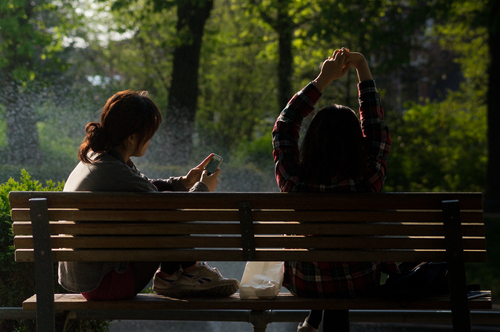 I have always considered myself ahead of technology trends, but I have downloaded and deleted Snapchat at least three times in the last two years. For the first time using consumer tech, I did not know what to do. I felt ancient. Then this summer, I met my 3rd generation cousins who are college students in Miami. I was so excited to meet them and eager to stay in touch. "Do you have Snapchat?" Uhm. No. I admitted I didn't know how to use it.
Snapchat's user experience was counter-intuitive at least to me, and much of the app's functionality was hidden. For example, I learned from my cousins that if I held my finger down for a few seconds [how am I supposed to know that?] I can play around with Snapchat Faces -- because a picture of me puking a rainbow was something I never envisioned in life when I begged my mother to buy me Rainbow Brite doll back in 1983. Their enthusiasm for Snapchat made me realize that I was at a major crossroad in my life: I could become a has-been or learn how to use this almost seemingly pointless piece of technology. I decided to start using Snapchat regularly -- most recently documenting a cross-country road trip with my father.
Snapchat is strange but in an interesting way. It doesn't work like anything else I've seen out there. Sometimes, given my experience building my startup, I am at a loss as to how something like this could take off so quickly and be worth $19 billion. It's fascinating to me.
So why should you care about Snapchat? Snapchat has nearly 100 million daily active users. About 65 percent of those 100 million daily active users are creating their own content every day according to Snapchat's CEO, Evan Spiegel. When I first created user-generated content mobile app Blurtt, I was working under the 1 percent rule. What is the 1 percent rule? A rule of thumb that states only 1 percent of the users of a website or mobile app will actively create new content. Snapchat has blown that assumption out of the water.
Here are some things to keep in mind when thinking about Snapchat:
It's ephemeral. A SnapChat story lasts 24 hours. If you do not log in for days, unlike Facebook or Instagram, you cannot "catch up" on your friend's newsfeed.
The feedback loop is limited to views and replies. You cannot like or share on other networks. You can pay to re-view a post, and if you take a picture of the screen to "save" the Snapchat, the person who created the Snapchat will get notified.
It doesn't matter how many friends you have because unless you have someone's phone number or email address, discovering friends or new people to follow is difficult.
You can add text, filters, and emoticons to a photo without ever sharing on Snapchat defeats the whole point of Snapchat as a community. In fact, I'll share a little small life hack I discovered using Snapchat. I take a lot of pictures, and I run out of storage a lot. If you take a photo on Snapchat, you can save it directly to your camera roll and bypass the storage limit on your phone. You can thank me later.
The main reason I ended up appreciating Snapchat and my very limited list of friends on it -- is that Snapchat seems more authentic. Every other network saves your history -- all your posts, pictures, comments, likes. It's a popularity contest -- everyone posts their best stuff. With Snapchat, you can create a story and then in 24 hours -- poof -- it's gone. Snapchat teaches you how to live and let go -- while sharing your real life with your real friends.
What are some creative ways in which you can think about using Snapchat in your life or at work?
Last year, GrubHub did week-long Scavenger Hunt where they posted a challenge and chose ten random winners to get $50 of free grub. It reminded me of one of the "team bonding" experiences when I started business school -- a scavenger hunt. A digital savvy school could create scavenger hunts for their students to help them get familiar with the school campus. This type of challenge driven engagement strategy could be a fun way to get people out of the office or classroom. Instagram's epic growth in the early days was due to community driven projects like #InstaWalks. Katherine Leonard, Content Strategist at TOKY Branding + Design, explains how Warby Parker's innovative approach to Instagram marketing back in 2012 yielded over 678 photos snapped with the hashtag #warbywalk. That's more engagement than most brands see from platforms like Facebook and Twitter.
Amazon offers special deals for their Snapchat followers. You can follow Amazon for exclusive codes on deals. Time limits on deals could make it more interesting to keep people coming back and seeing what you have to offer.
This does not seem very interesting to me as a form of engagement, but I found a great post by Luiz Centenaro, CRO consultant in Austin Texas. Luiz makes a great point in his post in that building your Snapchat community is not something that is easy to do but you can use other social networks to build your Snapchat following.
If your brand or company is going to have a Snapchat strategy, creating content daily is a must. You cannot simply announce "follow us on Snapchat" like you do on other social media networks and hope that it works. Snapchat's demographic is 70 percent female, most likely to be in college, and between the ages of 13 and 24. The main reason they use it for is creativity. So -- don't be boring. Have fun with it. Now that I know how to use it, I love Snapchat and believe marketers can have fun with this emerging platform -- if they are creative enough to find ways to use it.
REAL LIFE. REAL NEWS. REAL VOICES.
Help us tell more of the stories that matter from voices that too often remain unheard.