Locals call it "Rapist Lane."
At night, no lights ignite it. In the day, idle buses line its sides, slated to eventually shuttle workers home from a nearby factory. The road, stretching only a quarter kilometer through Yelahanka -- a suburb of the leafy southern Indian city of Bangalore -- is full of warning signs for any woman who peers down it, from the wall of buses, to men urinating. No commercial activity enlivens its days save the passage of a lone vegetable seller at four in the afternoon and an ice cream cart an hour later.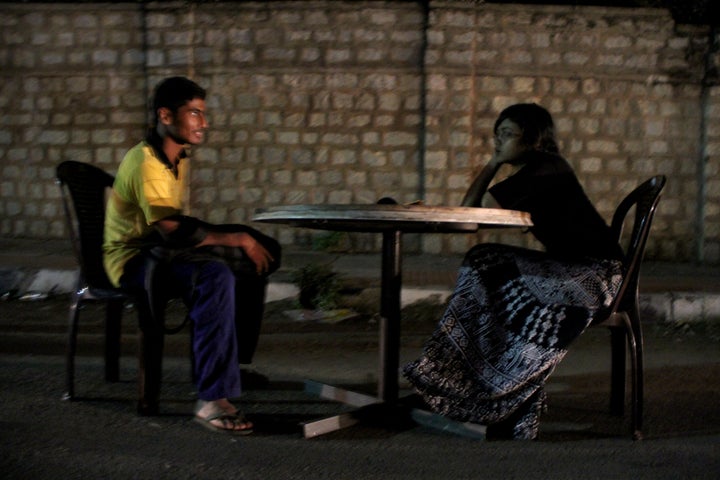 An instinctive feeling of unease overshadows reality here, as it does India itself. Since the brutal gang-rape in 2012 of a medical student in Delhi, Western and domestic media have echoed their own damning title -- "the rape capital of the world" -- though recent studies place India third in reported rapes (first is the United States, where a woman is raped every 6.2 minutes, according to statistics, versus every 10 minutes in India).
In Yelahanka, too, statistics belie perception. No police records indicate that a rape has ever occurred on its infamous street, according to Jasmeen Patheja, a local artist. The incongruity struck her as significant. For more than a decade, Patheja has run Blank Noise, an art collective staffed by student volunteers called "action heroes," who attend the nearby university. When Patheja heard rumblings from volunteers of the street's nickname, she recognized the gaps between perception and reality fragmenting the country.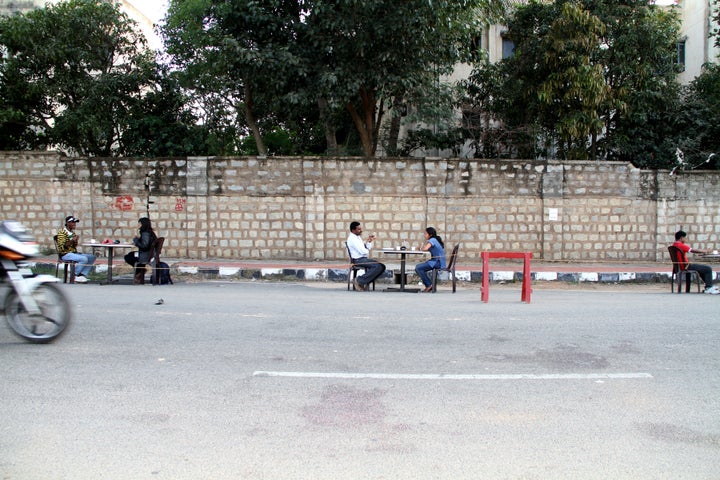 The group's attempt at bridging that divide resonated far outside their enclave this month, as the project took first place in the International Award for Public Art, a Sino-American initiative that annually recognizes work aimed at changing civic thought somewhere in the world.
Titled "Talk To Me," Blank Noise's winning project made use of the basic act of conversation. Armed with samosas and chai, the collective's members -- many of them young women nervous even to visit the project site, Patheja says -- invited passersby to sit at tables they'd set up on the notorious lane. The aim was to spark empathy between people of different backgrounds, genders and castes, a force Patheja believes could transform the country. Underpinning the effort was a rhetorical shift: impelling Blank Noise members to refer to the road instead as "the Safest Lane."
"The first step was to start calling it that," Patheja recently told The Huffington Post, speaking from Bangalore by phone. "Then we tried to change our attitude towards it, and actually make it the safest lane."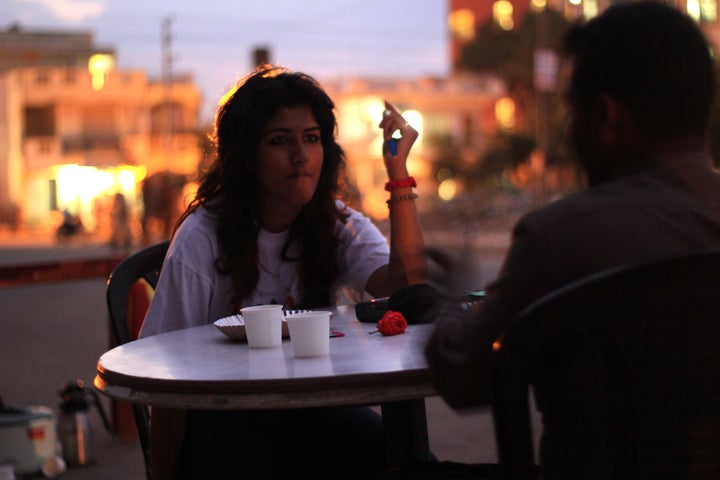 Launched in 2012, the project has since been staged on streets in Delhi and Kolkata. Its animating insight is that feelings can reveal more than statistics. At each site, action heroes typically start off the discussion by describing their experiences with street harassment. The listening strangers, invited by a flyer explaining the project's aim, then elect to sit down and carry on the conversation with someone, or move on.
One Yelahanka action hero, 20-year-old Anamika Deb, found herself approached by a male doctor. The conversation veered to a touchy topic -- the doctor's questionable approach to meeting women, which involved prowling campuses in search of girls to talk to. Deb later described to a reporter the value of discussing the system's drawbacks in person. The tablemates enacted an exchange the likes of which neither had done before, Deb explaining why women would reasonably find such a gesture threatening, and the doctor asking how he could reform his clumsy approach.
"Just because we sat across each other, I could see he earnestly wanted to speak to women," Deb said. "He had experienced much rejection on the way, and was quite taken aback when I told him his methods were not likely to work."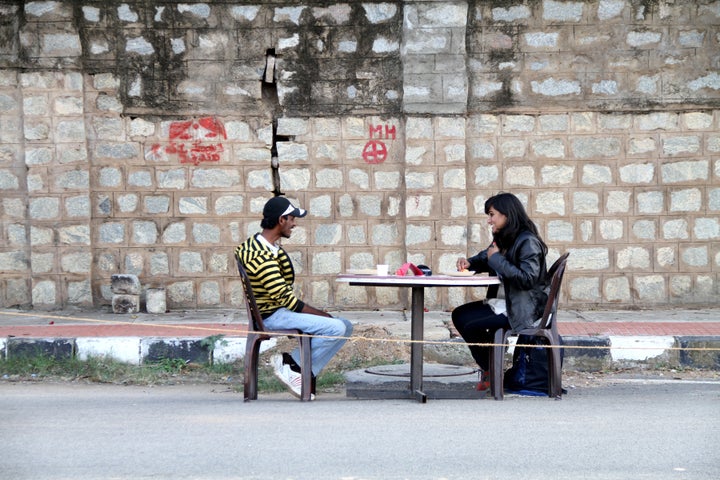 The anecdote reveals the particular complexity of India's sexual violence, rooted in beliefs inevitably flattened by the news cycle, from caste resentment to repression to gender bias.
Media reports lacking in nuance arm jingoists who would see no progress take place. Steps that might alter public perception are often ignored by officials who cite countervailing numbers that haven't been properly examined. Many of these statistics, as the economist Amartya Sen has pointed out in one of the rare statistical analyses on the subject, are plagued by problems of self-reporting and larger misconceptions of what rape is.
Writing in the New York Review of Books nearly a year after the Delhi tragedy, Sen posits that statistics must be treated delicately if the issues skewing them are to be diagnosed. That something is rotten in India is a feeling hard to argue with, no matter the official evidence. An un-examined acceptance of the reported frequency of sexual violence obscures the government's weakness in "monitoring rape and taking steps to reduce it," Sen argues. Oversights that lead to flawed records also keep the sickness aflame, he adds, blaming "inefficient policing, bad security arrangements" and a "slow-moving judicial system" for enabling rape culture. In other words, India could very well be the rape capital of the world, for reasons that prevent us from knowing if that's the case.
In the absence of reliable data, emotions are one barometer for the health of a society. Yet, the civic disinterest in addressing women's feelings -- however unsupported by localized statistics -- is evident. Busted lights stay unfixed and police cars rarely neutralize the presence of parked buses, despite the common wisdom that empty vehicles attract would-be rapists in search of enclosed spaces. (The haunting events in Delhi, after all, unfolded on a private bus.) Consequently, women avoid certain streets and men huddle on them unfazed, the line between both sides growing brighter.
Even if only slightly, chai and chats could begin to fade that border. "With a conversation, there's empathy," Patheja said. "There is a possibility of making human beings out of stereotypes, and perhaps leaving with a new idea about assumed differences."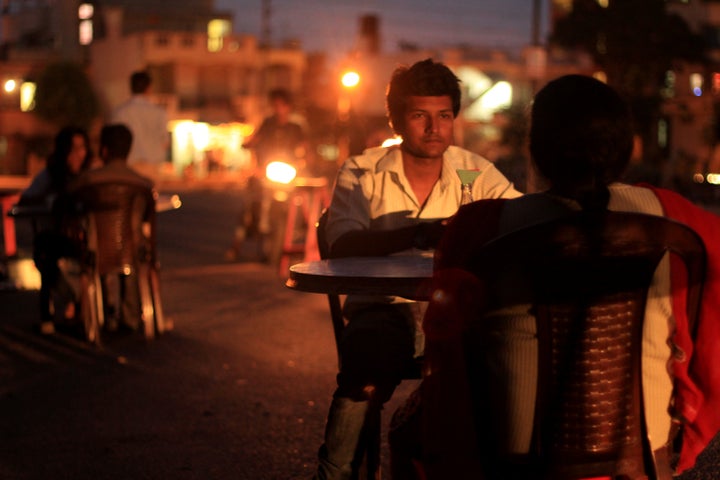 Related
Popular in the Community