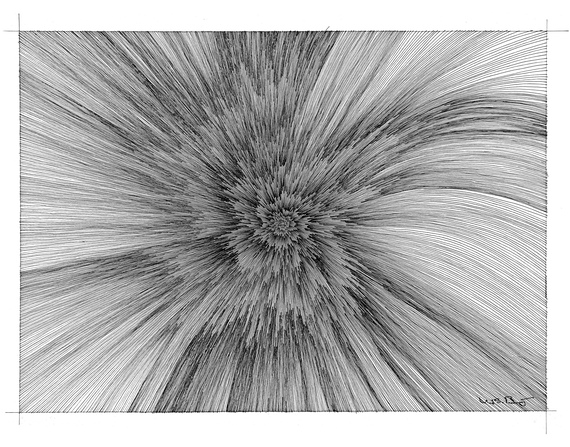 As my mailbox becomes inundated with flyers advertising extravagant Labor Day sales, I can't help but think about all of the people who became unemployed in the recession. How have their lives transformed over the last six years? Where are they now?
He has a striking resemblance to Santa. His curly white beard and level of jolliness are impressive. His wide eyes, filled with spirit and a zest for conversation, are particularly notable given his situation.
Scott had worked for several decades as a heavy equipment operator in Massachusetts. But his company closed in 2009, and he struggled to find a new job as a middle-aged man. To make matters worse, after years of job searching, Scott was diagnosed with Horner's syndrome, a rare condition that causes cluster headaches, confusion and exhaustion. Horner's syndrome has transformed his life and permanently altered his employment prospects.
"I've been told by a neurologist that I shouldn't be working anymore," Scott explained. "I have trouble with my balance and my focus and things like that. I can't be running a crane, I'd kill somebody or myself."
Money ran out, and Scott was eventually forced to sell his house in June of 2013. Scott found himself homeless. Over the past year, Scott has lived on the streets during the warm Boston summers and in shelters during the dead of winter. Right now he is living in the woods.
"I'm a simple twist of fate," Scott mildly explains.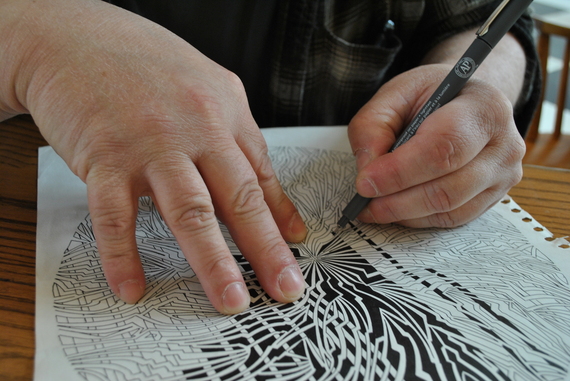 Despite the challenges Scott has faced, he is confident that he can build a brighter future for himself. Amazingly, this former construction worker is turning his lifelong hobby -- drawing -- into an income. Scott spends his days at the library. Sometimes he reads. Most of the time he draws. His artwork is the one aspect of his life that he has complete control over:
"Art is a place where I can make what I want to see happen."
Intrigued by an email from Scott asking to join ArtLifting, a company I co-founded with my brother to help homeless and disabled individuals sell their artwork, I set up a meeting to see Scott's artwork.
He brought an oversized grey portfolio, a little beaten-up and sealed closed with duct tape. He opened the portfolio and lifted out the first piece. It took me a few seconds to catch my breath and take in what I was witnessing. The 3' by 2' spiral drawing had the most delicate ink marks I had ever seen. Each stroke no wider than a millimeter, each line deliberate in its positioning. Scott estimated that he had spent about 1,000 hours on this piece.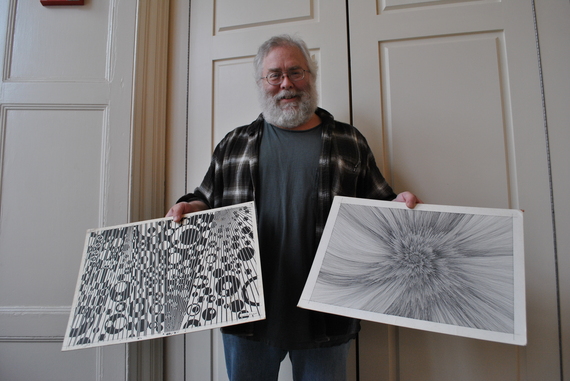 I was jolted out of my awe when Scott pulled out the next piece from his tattered grey portfolio. Then the next, and the next. Piece after piece, Scott unearthed 70 total works, each covered with intricate abstract designs inked with perfection.
Scott is currently selling prints of his artwork on ArtLifting.com and is excited that after 40 years of drawing, he has sold his first pieces of art earlier this summer. On September 18, Scott will have his first high-end gallery show in the Makerbot Store on the lux Newbury Street in Boston. He can't believe that people other than his family members are interested in his artwork.
Regarding the recession, Scott shared, "One way or another, I'll get myself back on my feet slowly. I've resigned myself to the fact that it is going to take a while." Scott's determination and positive outlook despite such unfavorable circumstances are just as impressive as his work.
After seeing the Scott's success and that of other artists featured on ArtLifting, my brother and I decided to launch a Kickstarter campaign to empower more homeless and disabled individuals across the country. We want people who face challenges such as unemployment, domestic violence, and chronic pain to have a chance to earn an income and share their talents.
As Labor Day approaches, I urge you to celebrate individuals like Scott who fight everyday to make a better living for themselves.
Popular in the Community