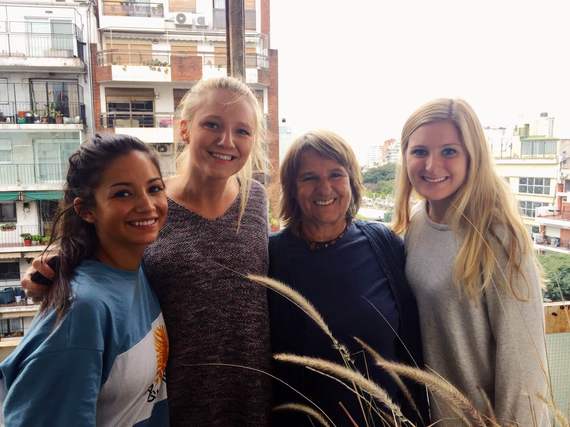 Living with a host family will make your study abroad experience more well-rounded, enjoyable, and even life-changing-and you will forever have a home on the other side of the world.
Many students are deterred from opting for a homestay when weighing their study abroad choices, simply because they don't want to live with strangers. However staying with a local family, living and breathing the culture and being a participant in your new country will make your experience so much more beneficial in all aspects of your trip.
You will soon realize that these strangers are warm, welcoming, and caring people who want to help you have an incredible time abroad, share their culture with you, and create a well-rounded environment for you to dive into your experience. You can try to compare pros and cons, but you will find that the list of positive aspects of a homestay is far longer than you imagined-and here are just a few examples.
Learning a second language in the classroom is nothing compared to the immersion you will receive when living with a host family. You may have already mastered the grammar basics and some useful vocabulary in your language of choice, but did you learned the regional slang? Have you engaged in conversation over dinner about life, politics, and culture in your new country? Can you name all the different ways that a parent may call you son or daughter?
Language learning is done best when the ear is constantly being attuned to a new dialect, and the tongue is practicing new foreign words, rolling consonants, and elongating vowels. If your goal is to improve your skills, live your life in the language you are learning, and spend time with people who are native speakers.
Becoming a part of a new family means adopting their customs, and it gives you the right to ask questions about why that culture behaves in a certain way and how traditions came to be. From throwing little siblings' birthday parties to dancing at cousins' weddings, and from trips to visit grandparents outside the city to attending religious services on holidays, you are in a position to view the everyday life of a culture not only from a front row seat but as a participant.
You have the opportunity to dive deeply into the culture. Ask your host mother to teach you to make a traditional food or craft, and show her something from your country. You can make an effort not only to learn about culture, but to exchange it.
Authentic (and free) Food
There is nothing like home-cooked spaghetti sauce made by your Italian host mother in Florence, or a fresh-off-the-grill cut of beef tended to by your host father in Buenos Aires. Food is a lens into history and tradition, and it is one of the many aspects that make a place unique. Living with a host family gives you the opportunity to sample the most authentic versions of dishes you may have tried before -- but this recipe is one that's been handed down for generations.
Not only do you get to enjoy fresh homemade meals, but more often than not they are included in the fee of your program, cutting down on your everyday expenses, reducing your restaurant trips, and keeping you full and satisfied.
Especially for study programs in big cities, the choice to stay with a host family is usually the most economic one. Apartment options will be pricey and won't include meals, but in a homestay you will eat well, sleep soundly, and you might even get lucky with a family maid to clean your room and do your laundry -- or your wonderful host mother will be up to the task.
Imagine the regret that apartment-living students will feel when they learn that your host family took you on a weekend excursion to show you more of the countryside! Host families do an incredible service: they reduce the financial stress of a study abroad trip and expose you to your new country, all while taking care of you and making sure that your stay in their home is a fantastic one.
While study abroad can be the experience of a lifetime, there is no doubt that there is an element of loneliness that comes with it. You are on your own in a place completely foreign to you, and on top of dealing with culture shock you have to try to make friends with other people in your program. Some people may excel at this, but for others it is a daunting task and comfort can be found in the stability and safety of a homestay.
Coming home to open arms and double-cheek-kisses from your Ecuadorian host mother is the ultimate relief after a day of language frustration, schoolwork overload, and homesickness. Your host family is also connected to your academic program, and they will be able to communicate with them if you are having problems in your new country, need to visit a doctor, or just generally need some extra help. They are there for you.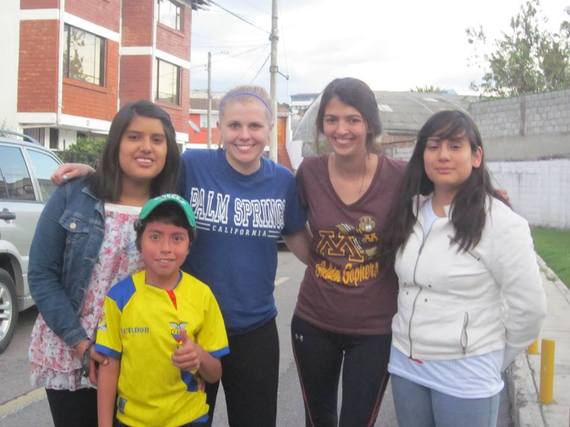 Photo Credit: Hannah Pursley
As if you aren't already completely out of your element, your host family may push you to examine the limits of your comfort zone and encourage you to get out of the house and experience your new country. If you spend too much time video chatting friends back home, your host mother will call you out on it and push you to make local friends. If you don't go out at night, she will tell you that you aren't having enough fun. She's not your typical mother -- she will encourage your independence and find joy in your new discoveries.
Involve her in your life abroad. Help her cook, show her pictures from your weekend excursions, and introduce her to those new friends she told you to make. You just may find that staying with this foreign family was the best thing that ever happened to you.
Always Have a Place to Return To
At the end of your experience abroad the goodbyes will be hard, but they definitely don't have to be forever. Every student who stays with a host family makes the promise to return to the country and visit them one day -- be the exception who turns that into a reality.
Your host family's support will extend beyond the contracts of your study abroad program, and they will delight in receiving updates from you on social media or through the occasional letter or holiday card. Remember that they were an incredible part of your experience, and when you are making travel plans in the future, keep in mind that you will always have a free and loving place to stay on the other side of the world.