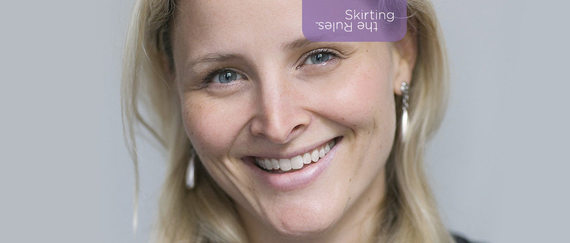 As of 2012, there were more than 31 million mothers with children under the age of 18 in the United States alone. About 70 percent of them were working moms, according to the U.S. Department of Labor. That's more than 21 million women trying to find job where they are accepted both as professionals and as mothers.
After becoming a mother herself, journalist Katharine Zaleski realized that many workplace cultures are set up for men. She wanted to help women be valued for their productivity instead of judged for their status as moms. In 2014, Katharine left journalism to team up with technology expert Milena Berry to found PowertoFly, a company dedicated to matching women with tech-related jobs all over the world. Now more than 1,000 companies--including brands such as Hearst, Buzzfeed and Time, Inc.--are using PowertoFly to find diverse female talent to grow their teams.
Skirting the Rules caught up with Katharine at a Chantelle Art of Being Salon in Manhattan to learn about how one of the greatest successes of PowertoFly is that it allows more talented women to be seen by the tech-company executives who are doing the hiring, which can be a challenge if you're a woman in this traditionally male-dominated field and even more so if you've taken time off to raise kids. PowertoFly's platform features optimized search and sourcing tools and targeted job promotions that make it easier for women to be connected with the best job fit. This platform also benefits tech companies, opening the door to qualified talent and more diversity and speeding up the hiring process.
According to the U.S. Census Bureau, over 80 percent of women will become mothers by the time they reach their forties. And if 70 percent of them are working, that adds up to a lot of moms who will be looking for companies that value diversity. By making it easier for qualified women in tech to be connected with companies who are making diversity a priority, PowertoFly could be helping generations of women to come.
And it also helps tech companies. For example, when it comes to meeting deadlines, Katharine believes moms have an advantage. After working with so many mothers through PowertoFly, where 50 percent of staff members are moms, Katharine believes that moms make for some of the most productive employees. "Moms work hard to meet deadlines because they have a powerful motivation--they want to be sure they can make dinner, pick a child up from school, and yes, get to the gym for themselves," she says in a Fortune.com article.
Moreover, having women on your team can help your company's bottom line. Studies show that diverse teams perform better than non-diverse teams, in part because a larger mix of experiences and ideas leads to more creative solutions. So it's no wonder PowertoFly is taking off around the world. "We've been able to build [it] into the fastest-growing platform where companies find women who want to join their inclusive cultures," Katharine says. This is a win for working moms, who will better thrive in a corporate culture where they are valued for what they can bring to the table rather than held back because of their gender, as well as tech companies, who will usher in more creative teams by encouraging diversity.
Reporting by Jessica Demarest