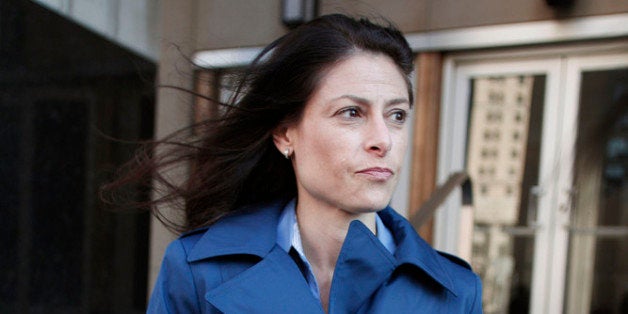 "Before I even brought this case, a lot of the national groups suggested that we not bring this in Michigan," attorney Dana Nessel told me in March 2013 regarding the case that she would go on to win, resulting in last week's striking down of Michigan's ban on gay marriage. Over 300 gay and lesbian couples were married before the Sixth Circuit Court of Appeals stayed the decision pending appeal.
"We were told, 'Oh, you'll never win,'" Nessel said. There were also strong concerns expressed about the Sixth Circuit, which will now hear the case. Nessel described it as a "little bit more conservative than some of the other circuits,'" with nine Republican-appointed justices at the time, and seven Democratic-appointed judges. But as she also pointed out, it has often been conservative, Republican-appointed judges who've ruled in favor of gay marriage -- from Judge Vaughn Walker ruling California's Proposition 8 unconstitutional to, more recently, Judge Robert Shelby striking down Utah's ban -- and Nessel felt it was worth taking the risk.
"Sometimes you just go ahead and try to do what's right and hope it works out for the best," she told me. And she predicted at that time, in March 2013, that she would win at the district court level: "I've gotten so many signals from this judge. It is clear he wants to strike down the ban."
Indeed, Judge Bernard Friedman, appointed by President Ronald Reagan, didn't just strike down the ban; it was in fact his idea to challenge it, which is what gave Nessel those signals, of course. Nessel's firm, Kessel and Nessel, took a pro-bono case on behalf of April DeBoer and Jayne Rowse, challenging a law that prevented them, as lesbian parents, from co-adopting three children they raised. Judge Friedman said that challenging that law wasn't the right way to go and said it was Michigan's marriage ban that they should be challenging. He then gave Nessel 10 days to put a case together.
She was flabbergasted. On the one hand, it was enormously exciting. On the other hand, she had 10 days to mount a marriage case, with few resources. When she appeared in court to make the case, however, Friedman announced that he was putting the case on hold, pending the outcome of the Supreme Court's decision on Prop 8, which would come a few months later. Some national gay groups had filed a brief asking Friedman to do that, and, in the end, it was probably prudent. After the high court decided that the Prop 8 proponents didn't have standing and thus allowed the lower court's ruling to stand -- bringing gay marriage back to California but offering no decision on other bans across the country -- Friedman ordered a trial in Michigan, which took place in the past two weeks, followed by his swift decision last week.
Still, Nessel was frustrated by the national groups' urging her not to take the case in the first place. Interestingly, some of the biggest gay marriage wins of recent years have been cases that national LGBT groups warned against. It was reported last week that the respective high-powered firms of Ted Olson and David Boies took in $6.4 million for the Prop 8 case. The money raised eyebrows among some lawyers with whom I spoke, who said major firms almost always take civil rights cases pro-bono.
But a spokesman for the Los Angeles-based American Foundation for Equal Rights (AFER), which brought the case to Olson and Boies and raised the money, including among many Hollywood donors (one of the founders of AFER included actor and director Rob Reiner), told the Washington Blade, "Our donors feel very strongly about return on investment." And other observers said the cost was a bargain compared with the tens of millions of dollars it would have cost to bring Prop 8 back to the ballot in California.
AFER initially was criticized by gay groups who thought it was much too risky to take Prop 8 to the federal courts and tried to intervene. But eventually they all came on board, especially after seeing the big win at the district court level.
Of course, Olson and Boies didn't get a ruling at the Supreme Court. The case that did win at the Supreme Court was the Windsor case challenging the Defense of Marriage Act, brought by attorney Roberta Kaplan, a partner at Paul, Weiss, Rifkind, Wharton & Garrison (who worked pro-bono), and the ACLU, on behalf of Edie Windsor, who also didn't initially have the support of gay rights groups, which had turned her away. If getting Prop 8 killed in California was a bargain for the price, then getting DOMA struck down -- pro-bono -- was highway robbery. It is that case that has had far-reaching effects, with the Supreme Court's DOMA ruling used in every subsequent federal decision that has fully or partially stuck down marriage equality bans in states, including in Utah, Oklahoma, Virginia, Kentucky, and now Michigan.
It's interesting how some cases that national LGBT groups warned against not only were net positives but spurred still other cases that the groups warned about but which also advanced progress. And, in the end, the cautious national groups, which we shouldn't forget often laid much of the groundwork, came aboard. In Michigan, Nessel would eventually get help from national leaders, including attorney Mary Bonauto, who, with Gay and Lesbian Advocates and Defenders (GLAD), had won the marriage case before the Massachusetts Supreme Judicial Court and also won a challenge to DOMA in Massachusetts (a case that the Supreme Court didn't take, opting for the Windsor case instead).
For Nessel, there's something else that was important in bringing the Michigan case.
"The other way I feel about this is that a lot of the national groups are based in New York or California or Boston," she said in that interview with me early last year. "But in Michigan we are suffering so badly here. To have groups from organizations that are in the coastal states say, 'Hey, you guys have to wait, and one day you guys will have the same rights,' it's really disheartening to hear that, because our people are really suffering. Yeah, maybe we live in a flyover region, but our gays and lesbians are not any less important than the families that live in those regions."
Related
Popular in the Community