Nearly three decades ago, at age 12, I remember walking on Venice Beach while on vacation with my family. A man had set up a booth along the boardwalk showing graphic detail how animals were caged and kept confined for food, separated from their families, and how they were abused and eventually slaughtered. I read it in great detail and then went on with my carefree vacation and my merry life.
Fast forward 10 years later. Now I'm 22 and I am living in California and walking down that same stretch of beach. I see about 100 feet ahead, in the same location, the same guy in the same booth! I didn't need to approach the booth because in that moment, everything I saw a decade earlier suddenly hit me.
First I realized that the horrors I had read with such great interest 10 years ago, was all caused by me and my choices. I could make a conscious choice in my life to prevent the suffering of others, or I could make the conscious choice to perpetuate the suffering of others.
That was the beginning of how I started thinking how every choice I made had an impact, so with those choices, I had the power to create harm or good.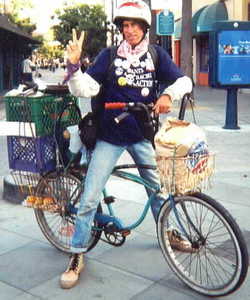 That guy on the beach (who I later learned is named "Jingles") is a constant reminder to me that we never really know who we have influenced. We influence people by what we wear, the bike we ride, the job we have, the car we drive, what we eat, what we buy, the time we spend in silence and time we spend in activity. It all has an impact.
It is amazing how much impact just one person can have on the world. I knew that man might never know that his choice to sit on that beach and educate people about animal suffering, would change the course of my life. And yet, for 25 years, Jingles' commitment to ending animal suffering has led him to set up a booth on Venice Beach, without acknowledgement, without praise and without recognition.
Now Jingles has become our inspiration for launching the Unsung Vegan Heroes Awards under the umbrella of The Pollination Project. This year we received nearly 80 nominations of individuals whose work to end animal suffering goes largely unnoticed, unacknowledged and un/underpaid- yet this doesn't matter. Their commitment to bringing compassion to all beings is their driving force.
All the problems we are facing as a society and the challenges in our world, seem like a loss of our highest humanness, and a disconnection from our hearts. Jingles is just one reminder of the inherent goodness that resides in all beings, and the power that comes with having a heart filled with love, and a commitment to implementing that love in the world.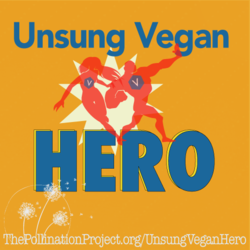 I was humbled when an amazing team of judges, including Nick Cooney of Mercy for Animals, Bruce Friedrich of Farm Sanctuary, lauren Ornelas from Food Empowerment Project, Stephanie Klempner and Faizan Jaleel, two of our top grant advisors at the Pollination Project, Bela Shah of Service Space and the Dalai Lama Fellows, activist Julia Butterfly Hill, 13 year old Thomas Ponce of Lobby for Animals, Carrie LeBlanc of CompassionWorks International and the wonderful women of Our Hen House, came together to make the difficult decision to determine which 10 of the 80 very worthy nominees will receive this years' awards.
The Award includes a $1000 no strings attached gift to each winner, an additional donation made in their honor to any animal rights or vegan charity of their choice, plus lots of public acknowledgement.
We will be announcing the 2014 winners tomorrow, October 1st, in Our Hen House and on our website and social media. May these Unsung Vegan Heroes inspire us all with their humility, their fierce compassion and their love.
Calling all HuffPost superfans!
Sign up for membership to become a founding member and help shape HuffPost's next chapter