Whole hog barbecue was on its way to extinction.
When octogenarian pitmasters and restaurant-owners Stephen and Gerri Grady retire from their Dudley, North Carolina whole hog place, Grady's Barbecue, it will retire along with them, as will their chopped barbecue plate with coleslaw and hushpuppies. The same goes for second generation pitmaster Larry Dennis' Bum's Restaurant in Ayden.
For years, barbecue scholars have claimed that traditional barbecue, especially the ancestral wood-smoked whole hog that originated and proliferated throughout Eastern North Carolina, was dying off.
There's a new generation of pitmasters preserving the art of Eastern North Carolina whole hog barbecue, the oldest, most time-honored style of barbecue in the continental United States.
The trend has opened the door to greater diversity among pitmasters, says Fertel, whose book chronicles the dynamics of race and history in whole hog barbecue. Tyson Ho, a first generation Chinese-American from New York City brought whole hog to Bushwick with his Arrogant Swine and has been widely praised for his craft. Second generation pitmaster Rodney Scott, from rural Hemingway, South Carolina has been able to open a highly lauded concept, Rodney Scott's BBQ, in one of the hottest food cities in the U.S., Charleston, SC. "That's a big deal for a black pitmaster from small town South Carolina," says Fertel. "It gives me hope."
Why is this such a big deal? These new pitmasters along with a group of O.G. barbecue families are upholding a tradition that has been around since long before the United States became the United States.
The technique originated with Native Americans, evolved with African-Americans and was adapted into restaurant settings by white restaurateurs throughout the region — usually with little to no credit given to the black pitmasters in the back of the house.
Since Colonial times, Carolinians have been slow-cooking whole animals over hickory and oak coals in open pits, chopping the meat up and flavoring it with a simple sauce of vinegar, black pepper and salt.
Eastern North Carolina barbecue and a smattering of other whole hog areas have remained truest to the original style. The only modern addition to real Eastern North Carolina 'cue — sometime in the early 1800s — was the inclusion of cayenne pepper in the sauce.
From its inception, barbecue has been considered a communal affair. On plantations, black pitmasters cooked whole beasts, ranging from mutton and half-cows, to hogs and opossum, as a means to feed large groups of people. It was often a celebratory event, coinciding with the tobacco harvest or for large-scale political, religious or social gatherings.
When barbecue restaurants began opening in 1920s, 1930s and 1940s, the commercialized format largely stayed true to its Antebellum origin; although, pork began cementing itself as the protein of choice in the Carolinas.
They were centers for the community. The name in the front of the building often belonged to a white family, while highly qualified, underpaid African-American men often provided the labor as pitmasters. "The word pitmaster is really complicated," says Fertel. "John T. Edge was the first to talk about it in depth. Workers, for the most part black, were masters of something. Master of a place, the pit house. Masters of this culinary art form that became world famous."
It takes years of experience to do it well, a skill that has long been passed down from generation to generation.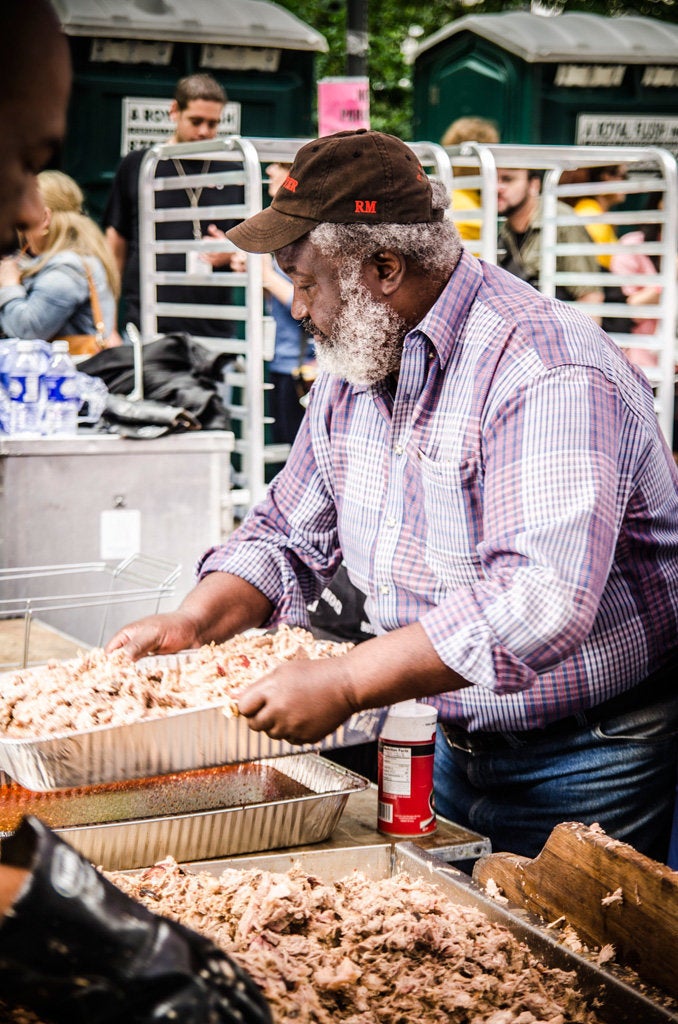 Famed whole hog pitmaster Ed Mitchell grew up in the Eastern North Carolina tradition. As a kid, he watched his grandfather slow-cook whole hogs on his farm. In Mitchell's family, learning to smoke a hog is considered a rite of passage.
After serving in Vietnam, graduating Fayetteville State University with subsequent careers at Ford Motor in Boston and in local North Carolina Real Estate, Mitchell started helping his mom at her Wilson, North Carolina corner grocery store shortly after his father passed in 1991. On a whim, he started smoking hogs at the shop with the same 150-year-old "pig-picking" technique his grandfather taught him. It was a reliable form of additional income and a means of connecting with his cultural history.
"As I began to recognize the importance [of whole hog], I became very proud to understand that my ancestors had skill sets that very few could do," says Mitchell. "It began to be like a honor to do something like that."
In early 2002, John T. Edge, director of the Southern Foodways Alliance, hailed Mitchell's 'cue as some of the most authentic, traditional eastern North Carolina whole hog in the region, propelling the pitmaster into the national spotlight.
Mitchell has gone on to open and shutter a few highly lauded whole-animal restaurants in the Raleigh-Durham area, but earlier this year he launched the first of three new concepts, a food truck and catering business, Ed Mitchell's Q on Wheels, which will soon be followed by a new brick-and-mortar, Ed Mitchell's Q at the Creek, coming later this year.
Just as his grandfather taught him, Mitchell is passing along his encyclopedic-level barbecue knowledge to his son Ryan, a former investment banker, who joined the family business after a layoff in 2010. The idea of following in the family tradition became far more appealing than working in corporate America. "It's how I earned sneaker money for Jordans," says Ryan, then laughs.
Ed is lucky to have Ryan continue the family legacy. Understandably, the progeny of many family-owned Eastern Carolina barbecue restaurants want to pursue less grueling work.
Whole hog is "Diminishing to some degree, because the skill set in order to do that has demised," says Mitchell. "The art hasn't been passed on to the younger generation."
There are other families also carrying on, like Sam Jones of generations-old The Skylight Inn in Ayden. But these stalwarts have changed with the times in order to stay relevant. When they open new locations, Jones and the Mitchells often offer additional meats (like chicken), chefly side dishes and craft beer.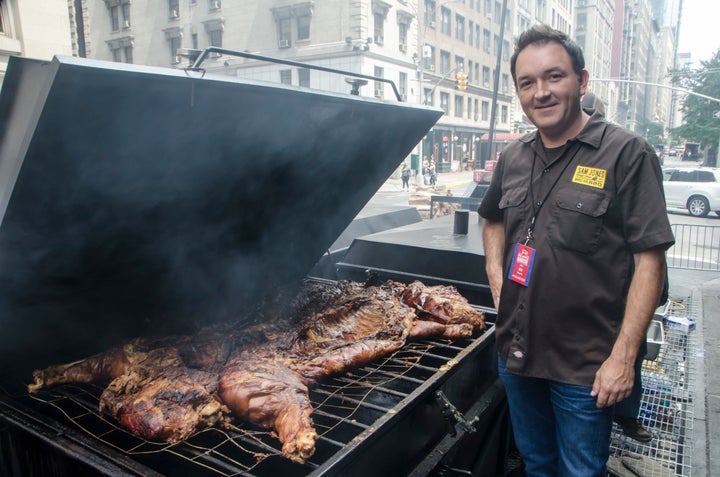 This up-to-date style of dining is in line with the new guard of barbecue, pitmasters like Aaron Franklin in Austin and whole hog experts, Elliott Moss of Asheville's Buxton Hall and Wyatt Dixon of Picnic in Durham.
Their high-end approach is what some in the barbecue community, like Dan Levine, co-founder of the Campaign for Real Barbecue and author of BBQJew.com, have dubbed "Yuppiecue."
Yet, this revival and restoration of Eastern North Carolina barbecue custom in cities does not mean there is no loss in the whole hog tradition. The populist atmosphere that for generations defined small town wood-cooked, whole hog barbecue restaurants, where doctor and lawyers would dine next to plumbers and tradesmen, is disappearing with the demise of the old class of eateries. "The barbecue restaurant as a center for the whole community may be a thing of the past," says the co-founder of The Campaign for Real Barbecue and co-author of Holy Smoke: The Big Book of North Carolina Barbecue. "A lot of people can't afford or don't feel comfortable in these [new school] places."
Many generations-old barbecue restaurants have either closed or switched to gas or electric heat. Notes of wood-smoke in whole hog 'cue are subtler than in pork shoulder or Boston butt. So, more Eastern North Carolina restaurants transitioned away from labor-intense wood to easier cooking techniques (i.e. gas or electric heat) earlier and more frequently than in regions that use smaller, primal cuts of meat.
The technique is incredibly physical and painstakingly slow, taking somewhere between 12 to 24 hours. To do it right, pitmasters rise in the early hours of the morning, haul around huge animal carcasses (we're talking 150 to 200 pounds) and carefully move around piles of logs and burning hot coals.
It's hard work, says Reed, "Around here I can point to far more places that have closed or switched to gas cooking than new ones opening."
The transition to millennial-friendly craft beer and pasture-raised hog may be taking Eastern Carolina 'cue away from its populist origins, but these hardworking pitmasters have managed to pull an important piece of American culinary history away from the brink of extinction.