This is a future that FOWNDERS is acutely aware of.
An Accelerator By Millennials, For Millennials
FOWNDERS is a different type of startup accelerator. When you think of the word "accelerators", you naturally think of an open-space office in Silicon Valley teeming with cool toys where startups apply to receive mentoring and funding. FOWNDERS is slightly different. Not only does it incubate social enterprises and nonprofits mostly, it also happens to be based in the heart of Newark, New Jersey - on the opposite coast where the majority of the US startup scene resides.
And its CEO, Stephen Bienko, believes it has the potential to help shape the future of employment for young people in America.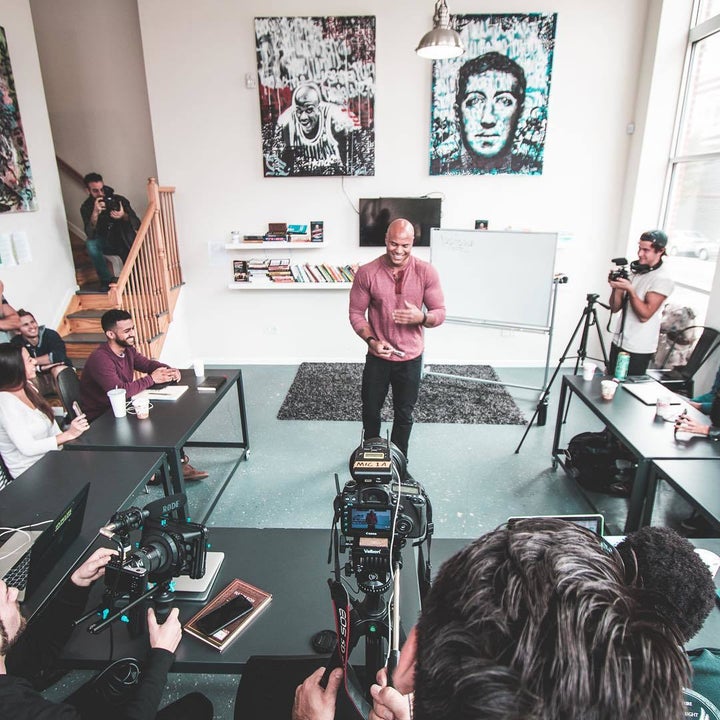 Do You Really Need To Go To College?
The brainchild of Gerard Adams, the cofounder of the company dubbed the "the Voice of Generation Y" and sold for $50 million, FOWNDERS offer accepted companies a 12-week immersive curriculum that consists of personal development and civic improvement initiatives.
Beyond its focus on enabling social entrepreneurship, however, is a core desire to help young people create their own meaningful careers, particularly in a time when half the current jobs in America could be replaced by automation and globalization.
"The challenge is many jobs are gone and won't be coming back," Bienko says, "but at the same time there are thousands and thousands of new jobs waiting for people with the right skills to fill them. It's not just about raising the minimum wage and creating jobs - we need to make sure people have the skills and competency to operate in our new technology revolution."
With companies like FOWNDERS teaching young people the skills to create and grow their own livelihoods, Bienko also advises young people (and their parents) to rethink whether college is absolutely necessary.
"We use to all jump on the college bandwagon. We thought kids needed to go to college because the job market was craving it. But right now, when a 17-year-old graduating from high school who knows how to code can start a company and begin a career, we need to rethink whether students need to go into debt just to get a useless degree."
Bienko's belief is no doubt shared by FOWNDERS' co-founder, Gerard Adams, who droppd out of college after one semester and sold his company years after for $50 million before the age of 24.
Creating Careers, Not Jobs
When asked what FOWNDERS could do to make sure more young people can still find and maintain jobs in the ongoing technological revolution, Bienko is quick to paint a future in which FOWNDERS plays a key role a in Newark's growing entrepreneurial ecosystem.
"We need to stop saying the word 'jobs' when discussing employment for Millennials. Millennials don't want jobs - they want careers. For that we need to create a new system for young people to learn the skills they need to adapt and thrive. If we can create an ecosystem in Newark that prides itself on entrepreneurship and technology, we can help at least one district secure its place in the future of good paying jobs"
FOWNDERS's first cohort has eight startups that consists of a mental health wellness platform, an education nonprofit, and a VR company, amongst others. The accelerator is also in discussion with Newark Department of Education to find ways to introduce entrepreneurship into high school education, and keeps an open-door policy to visitors.
"We want young people to come in here and rub elbows with the entrepreneurs who are inside our facility right now, so we can begin creating that ecosystem."
Learning From History and Embracing The Future
Bienko believes that FOWNDERS can bring an important lesson from the often elitist and secluded tech world to the more urban communities like Newark - that young people can innovate their way out of unemployment, build their own careers, and it doesn't have to just happen in San Francisco or Palo Alto.
"Years ago in the city of Detroit, automakers built their companies off the backs of thousands of skilled workers, but thousands of workers also build their legacies and families off the backs of GM and Ford. We need to learn from both the good and bad parts of that history, and start preparing people for companies that will hire people who can create the next generation's technologies."
This piece was originally published on Breaking Hoops, a blog about innovators making a positive impact in the world. Like our Facebook page to stay up to date with the latest stories!
Popular in the Community