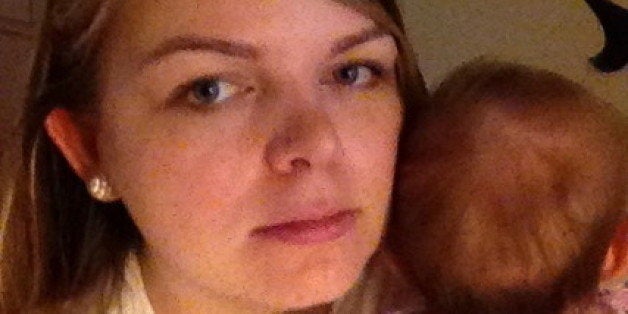 The first morning I woke up in my mother's house, alone, with my two-month-old baby was the hardest morning of my life. My eyes were still swollen from the night before, the night when I knew my marriage was ending and there wasn't a damn thing I could do about it. My daughter was swaddled in the crook of my arm, partly because there was nowhere for her to sleep in the house and partly because I couldn't bear for her to be more than a few feet away from me. My stomach hurt thinking about all of the things he had said the night before, all of the promises broken through text messages and all of the silence he had used to fill the hours since.
If you had asked me then, "Do you think you'll ever be fully happy or content again?" I would've hesitated, said no, and started crying.
(Boy, it's nice to be wrong sometimes, isn't it?)
I thought my life was over. I was completely convinced that I was going to live out my days fighting for him, pining for him to come back and die the mother of an only child, depressed and angry with the world.
So I did what any self-respecting woman in the 2010s would do in that moment.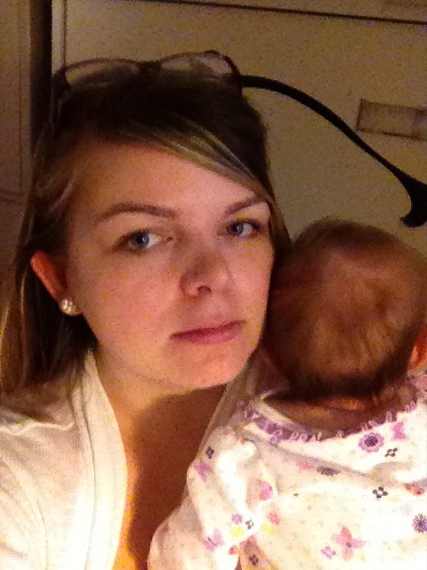 I remember, moments after the camera shutter clicked, thinking, "Why would I want to remember this moment? Why did I do this?" I stared at the girl in the picture, willing myself to connect with her, but I couldn't. All I saw was a shell of a woman. A woman who had poured her entire identity into being his wife, their stepmom, her mom. She was nothing without them, I thought. Who would want anything to do with her? She had given everything to a family that no longer existed and now what? Now she was here. She was here and she was alone and she was unemployed and she was two months postpartum and everything was her fault.
I hovered over the trash icon, but never clicked it.
Instead, I stared at that picture every day over the next four or five months.
As my separation continued, and as I still fought for my marriage, I looked at that girl in the picture. Each day, I recognized a bit more about her. I thought the way she held her baby was incredibly protective. I thought the way her baby faced out into the world, confident in her mother's arms was incredible. I thought the way she still had on makeup and jewelry, despite reeling from the biggest upset of her life, was inspiring.
The more I looked at her, the more I saw a woman bursting with things to do, things to say, and things to show. Maybe she was a shell, but she was a shell full of love, of intelligence and, most of all, strength.
That selfie revolutionized my healing. Instead of thinking "I have so much farther to go," I marveled at how far I had already come. Instead of despairing about all of the things I wanted to accomplish, I pumped my fists at how much I already had. Instead of wailing about being a single mom and raising my sweet girl on my own, I cried at how happy, strong and incredible she was already.
It seemed silly to take that selfie at the time. I felt vain and stupid and ridiculous. I thought, "Who does things like this in the middle of a crisis?"
And now I'm glad I did. Because I looked at that girl in the picture for months after it was taken and I see her for who she was.