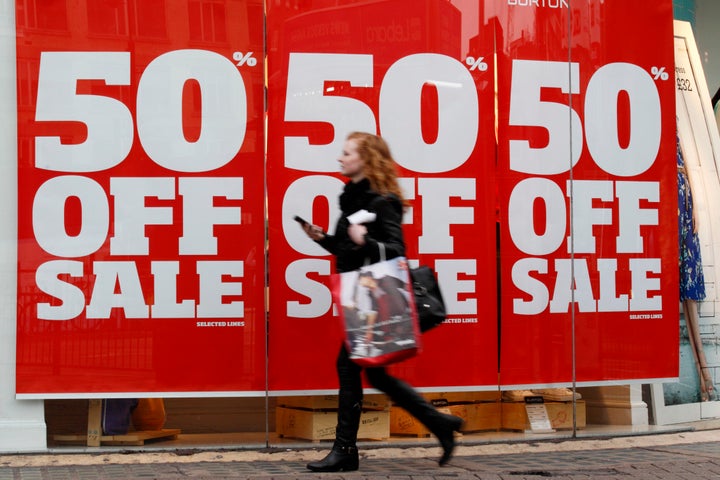 I have a confession to make: I hate sales. It's nothing to be proud of. In fact, I am embarrassed to admit it. Sales always bring out the worst in me. I become an impulsive, anxious and rushed shopper. I manage to squeeze into the wrong size and convince myself that the right high heels will fix the length issue of a much-too-long dress. Both end up taking residence in my closet, never to be worn.
The mere knowledge that sale items are limited is anxiety-provoking and downright stressful. I steer clear of these situations, and much to my husband's dismay, normally end up finding "just what I was looking for" at the full price. However, I recently entered a sale that I couldn't resist head-first. My gut told me to keep walking and avoid the designer shoe sale, but my curiosity got the best of me.
I quickly realized that this sale was offering some of my favorite designers (think Chanel, Prada and Gucci). I sent my husband a quick text letting him know I would be a few minutes late, then off I went, like a maniac, to see for myself.
My pace quickened and my eyes zoomed in on the red "Size 7" sale sign (despite the fact that when it comes to designer shoes -- at the right price -- I can force my foot to be anywhere from a size seven to a size nine). As I began to admire the shoes, I noticed that the lady next to me, also looking at the size sevens, was beginning to really invade my personal space. Her perfume was way too strong, and I could practically read her text messages. Her Louis Vuitton extra-large handbag nearly knocked me over, and her other shopping bags rested comfortably (for her), by my feet. After a few excuse me's and I'm sorry's, she walked off to try on two of the shoes I had been considering.
This brings me to the next part of my confession: It's not just the anxious feelings that sales bring out in me that's troubling. What really irritates me is the other shoppers, and the bad manners that sales bring out in them. When push comes to shove (pun intended), many of my fellow shopaholics are rude and obnoxious. I get it. We all love shoes, but it's no excuse for bad behavior.
As I continued to look at the shoes and make my final decision about which ones to try on, the extra close and extra-large Louis Vuitton bag lady came back around. This time, she asked which shoes I was looking at, and did I mind if she grabbed and tried on "those" perfect Prada pumps? I took a deep breath, and politely responded that I was just about to try that exact pair, but I'd let her know if they didn't work out. I was not about to have a physical fight over shoes, but come on, this was a bit ridiculous. She was less than thrilled and hastily snatched another two pairs of shoes to try on. I felt her eyes on me as I took the shoes and went to a nearby couch. The pumps fit perfectly, and the summer sandals did, too. Just as I was mentally calculating the discounted price, I felt a tap on my shoulder. Before I could turn my head, I smelled her perfume and knew instantly that it was her. By this point in the game, I was ready to put up a good fight. I wanted the shoes. They were in my possession, and for all intents and purposes, they belonged to me. But before I could say anything at all, she asked if I would mind following her back to her "area"?
She explained that she normally shopped with her daughter, but that she had just gone away to college, and that she needed some female advice. My mom is my shopping partner, so I empathized, and quickly joined her. I couldn't help but chuckle when I noticed that this perfectly manicured woman was reduced to hopping around in two totally different shoes (she says she just couldn't decide).
After pulling a St. John suit from her bag, she explained that she needed to know which shoes I thought went best with this dress. I came to learn that she had just moved to the area, was fairly lonely and desperately missed her daughter. She pulled out a few different suits and asked my opinion on her purchases. I obliged and spent the next 30 minutes exchanging fashion advice. I couldn't help but agree that the pumps I purchased were perfect for her outfit. Don't get too excited, or give me too much credit: I held on tight to my purchase, and politely picked out a few non-sale shoes that would complete her look.
I still don't like sales. I'm not proud that a sale brought out my most competitive side. However, I am proud to have helped a fellow shopper. I later bragged to my husband that I am, after all, capable of finding what I need at a good price. I had even done a good deed, and this woman (whose name I still don't know) went home feeling a little more fashionable and a lot less lonely.