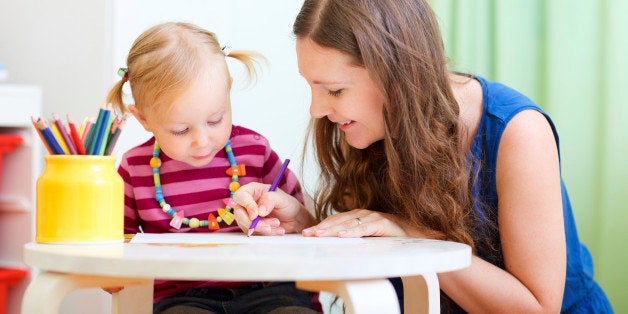 Most of us begin the New Year with good intentions and a renewed commitment to making positive changes for our families and ourselves. Sadly, research shows that only a scant 8 percent of us succeed at achieving our resolutions, despite our best intentions. It's suggested that the best way to beat the odds is to set reasonable, more obtainable goals and take small steps to reach them. As a working parent, I'd add one more suggestion: Don't go it alone. While you may not think of a babysitter as a key to keeping resolutions, the support she can provide may be just what you need to get to the gym, reconnect with your spouse, care for yourself and your home, and better enjoy your kids.
Here are five resolutions that are among the most common for parents, and tips on how a babysitter can help you succeed at them, ultimately helping you create a more balanced, less stressful life:

RESOLUTION: Incorporate regular exercise into my schedule to improve my physical, mental and emotional well-being.
It's hard for anyone to squeeze regular exercise into a busy life, but parents face an especially tough, uphill battle to make it happen. We're often fighting fatigue and struggling to fit our own needs around an infant's complete dependence on us, kids' busy schedules, and home and work responsibilities. Regardless, there's no denying the importance of regular physical activity. Determine the ideal time in your schedule to incorporate exercise and hire a sitter to take over the duties you typically handle at that time, such as carpooling the kids to school or taking over bedtime a few nights a week. If you have a regular nanny or sitter, ask her to stay later or come a bit earlier so you can squeeze in a good workout.
RESOLUTION: Spend more time alone with my partner to strengthen the relationship that's often pushed to the bottom of the list.
You don't need a holiday party as an excuse to get out and enjoy time alone with your spouse. A regularly scheduled sitter for a weekly date night is ideal and well worth the expense. If you can't plan a regular date night, commit to more spontaneous time alone for the two of you. Escaping for dinner and a movie, a tough hike or a long bike ride on an afternoon date will make you feel like your pre-kid selves.
RESOLUTION: Have more fun with my kids.
Playing Barbies or another round of Uno might not always be enticing, especially when you have dinner to cook, email to catch up on and laundry that is threatening to overtake the house. But, you yearn to spend more time having fun with your kids, rather than just slogging through the daily schedule together. A sitter can help by freeing you to give full attention to your home and work responsibilities so you can then shift your focus to your kids without being distracted by your to-do list. She can also help by caring for one child, a baby home napping for instance, while you enjoy a fun outing with an older child.
RESOLUTION: Make time for myself.
We'd all love to carve out a bit of time for ourselves, but just how do you find that extra hour in the day? Schedule it. For me, if it's on the calendar, it's just as mandatory as getting my child to school or taking the dog to the vet. When you put it on the calendar -- a yoga class, a book club meeting, lunch with a friend -- also book a sitter, so the deal is sealed. Planning time alone helps to alleviate the periodic resentfulness you may feel during the week when you sacrifice your own needs to care for your family's, and it'll give you something to look forward to enjoying.
RESOLUTION: Get it together by getting organized!
Start the year off on the right foot by hiring a babysitter to cover your childcare duties for an entire day. Maximize your productivity by planning ahead and making a list of the tasks you'd like to accomplish in your childcare-free day. Even simple tasks, such as organizing your closet or decluttering can be incredibly rewarding when accomplished. Think of all you could knock out or organize when there's a babysitter to keep the kids entertained, and you've planned ahead to keep distractions at bay!
It's easy for good intentions to get lost in the daily grind and never amount to real change. Hiring a sitter to cover you no matter when or why you need one, whether it be for an hour, a day or even longer, can be the support you need to keep you on track to becoming a happier, healthier You in 2015. You'll be better person and a better parent for it.