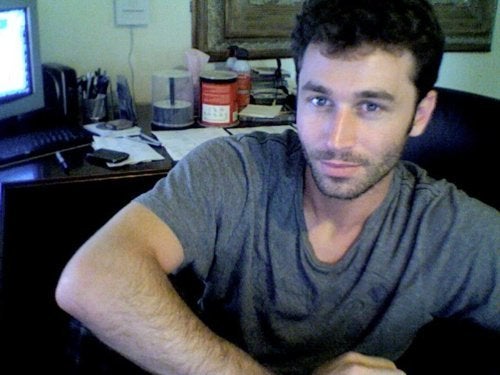 Measure B has passed in Los Angeles County. So what? Now porn stars have to wear condoms. Shouldn't they be wearing them anyway? Isn't this a good thing?
As a gay male who enjoys an adult film or two from time to time, I know that most of the boys I drool over wear condoms. This shouldn't be such a big deal for the heteros, but straight performers have been rallying against the measure since the push began to get condom use on the ballot. My blog was initially aimed at slamming the industry by holding straight performers to a gayer standard. But then I met James Deen.
I was skeptical about reaching out to him. Who wouldn't be intimidated by a Twitter bio that reads, "my name is james i am a simple guy who likes to eat sleep and watch tv... oh ya i also bang chicks for a living :-)"? Or a blog that includes entries like "Hanging Out With Ava Addams And Jessie Jane... ANAL SEX" and "James Deen LOVES Chastity Lynn With Every Pubic Hair He Has." This guy sounds like a douchebag, right? I was wrong.
Eloquent, researched and charismatic, Mr. Deen shattered my preconceived notions in the first five minutes of our conversation. This guy knew his s@$%.
"We expected that Measure B would pass," Deen explained to me. "We went in knowing that we were going to lose, but we were willing to try. The majority of the population has no idea how the industry works."
So how does the industry work? Deen and others claim the industry is self-regulated. Every 14 days the performers undergo detailed STI tests. They report those findings when they show up to shoot. The results of the tests are shown from one performer to the other before the production of the film begins. If a dirty test is revealed, or if the performer has neglected to get tested, the co-stars can opt out of working with that individual. Deen claims that a few cases over the last 10 to 12 years have ignited a movement toward safer sex in porn.
"I don't want to move," Deen said. "I don't want to leave Los Angeles. But at the end of the day, this won't physically affect me. It's just latex. But from what I hear from female performers, they object because of health reasons."
When I called porn legend Nina Hartley, she said Deen was right.
"Shooting scenes with condoms are noticeably more uncomfortable," she said. "The friction burn is real -- both vaginally and anally. Condoms slip off. Condoms rip. And they get stuck inside. They aren't built to withstand our shoots."
Wow. I don't know whether to be grossed out or concerned.
Hartley, a porn star who also has a Bachelor of Science in nursing, says people vilify the lack of condom use because they ultimately have no idea how long these shoots can last.
Stoya Stealth, another female performer in adult films, backed up Hartley's statement.
"During one shoot we were having equipment problems and lighting problems," she explained. "If you condense the amount of time we were actually having sex, it probably added up to almost four to five hours."
Um, four to five hours of penetration? No wonder these people hate working with condoms. According to a 2008 survey of U.S. and Canadian sex therapists, satisfactory sexual intercourse for the average couple lasts from three to 13 minutes. Sad but true.
By this point the porn stars have effectively schooled me on why condoms suck in adult films (no pun intended). But how accurate are their STI tests? And is that enough to justify losing the rubber?
"I have had over 165 negative HIV and STI tests," Hartley stated. "I have been tested every three to four weeks for the last 12 years. How many people out there actually know their HIV status? Testing works for us, and condoms work for outsiders."
Stealth reiterated Hartley's position, stating, "I'm tested every 14 days, and it costs me roughly $185 each time I shoot once a month. I'm picky about projects, and I only want to work when it's 'good.' If I pick up gonorrhea from someone, then people in the industry will go hysterical. I'll become the dirty porn whore. I won't let friends share cigarettes with me if I have a head cold. I'm like that with this kind of stuff."
Even the lovable James Deen wears a glove when he screws someone other than a fellow performer.
"Out of the hundreds of girls I have slept with, I've only had sex with five non-performers without condoms," he declared. "And, I was in a relationship with those five."
In a blog, AIDS Healthcare Foundation president Michael Weinstein claims that according to the Los Angeles County Public Health Department, "thousands of performers have been infected with thousands of STDs over the last few years."
Hartley pointed me to this report that debunks Weinstein's blog, reporting that the professionals behind the L.A. County Public Health Department studies "have for years been ardent proponents of governmental oversight of the adult-entertainment industry, as well as virulent critics of the industry's most popular health clinic, the Adult Industry Medical Health Care Foundation (AIM), which was forced to close its doors after being sued by AHF over gratuitous charges of HIPAA privacy violations that were eventually dropped."
After several phone conversations and research conducted on my part, I think these porn stars have a point. STI testing should be made mandatory, not condom use. It seems to work for them, and the industry works just fine under its own regulations. Porn stars, ditch the rubbers and get tested.
Popular in the Community