How do women measure success? Is it by mothering and having a career? How do they carry out both forms of work to their satisfaction? What helps? What hurts?
This is a weekly series about successful women who participate in the workforce in a range of ways building their careers while mothering. These women fly under the radar of the media but need to be heard. They are silently successful and warrant recognition. They are compassionate, persistently hardworking women who deserve our admiration and offer advice to new mothers. Each week I will spotlight a different remarkable woman.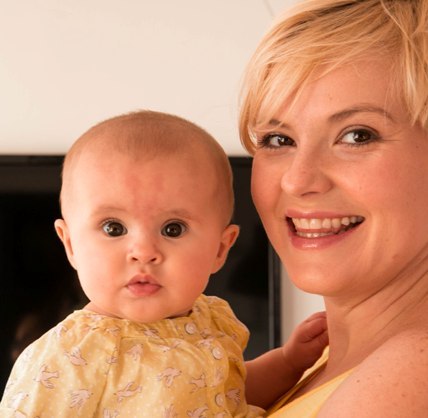 Kimmy Gatewood is a free lance entertainer with a one-year-old. She is an actor/writer/producer well known for her work with the Apple Sisters, a comedy trio with Rebekka Johnson and Sarah Lowe. She's also a filmmaker and currently the Head of Digital Production at Not Safe with Nikki Glaser on Comedy Central.
She aptly pointed out that the title, "working mother," isn't a wise one because she correctly thought "my husband would never be asked to describe his experience being a "working father." In fact he is the primary caretaker due to her work schedule. This mutual support surely helps them work and parent at the same time.
Kimmy was glad to become a parent and found it to be a new opportunity in her life, but she surely felt conflicted working and mommy-ing at the same time:
I was most definitely conflicted when I started. So much guilt accompanies your hormones and your huge boobs. I was breastfeeding when I started working in an office, so I was still connected to her physically when I pumped. My co-workers were very understanding, but I felt like a bizarro version of myself that was slightly bloated and emotional all while trying to write comedy about sex and dating.
I was very adamant about my stance that being a mom wasn't going to make me disappear. I was 5 weeks post-partum when I made it to the interview stage of the American Film Institute (AFI) women's director's workshop. I went because it was a dream to be in it! Even though now I realize, I was certainly in no condition to be talking professionally to other humans. Or answer the deep questions about my style of filmmaking - "uh...poop?" Needless to say, I didn't move on.

I was so eager to get back into auditioning, I went out on an audition for the show Rosewood 4 weeks after having the baby. I had really impressed the casting director 6 months ago, but this time, I couldn't even remember my lines and I was wearing a huge diaper under my skinny jean. Didn't get that one either.

Exploring the importance of motherhood to her, Kimmy had a lot to share:
I didn't realize how much my mother loved me until I had my own baby. I apologized to her a hundred times for ages 13 and 24. I have a totally different relationship with her now. As for the importance of motherhood - I don't know. A friend of mine recently commented that there are two types of people in this world "parents" and "children." I thought that was a perfect way to sum up how I feel. I was someone's kid for a long time and now I'm someone's parent. My daughter is too little, but I like to think she's really proud to have a mom who is actively in leadership positions in entertainment.

It's fascinating to hear how Kimmy uses her 'mother material' to invent her entertainment material:
Being a mom has coincided with my material. Being in entertainment, I use my personal life to fuel comedy and stories, so I don't see this as any different than my other life experiences (like dating, breakups, marriage). This year, I made a 10 episode comedy series called "Milk Factory" with Awestruck. I was approached because of my prior relationship with them and because I was a new mom. You can watch it on Awestruck's channel on Youtube
Kimmy has serious and comical advice for new mothers who want to embark on careers:
Don't do what you're told to do. Do what's right for you and your family. Have fun, find people with kids the same age as yours. And hire a maid! I feel successful that I've created a network of supportive parents that I can talk to about my feelings - be it late night texts or a funny post on facebook - they kept me grounded. I find my job challenging and rewarding. I feel successful that I have a terrific family who are always laughing. I have an awesome happy kid and a wonderful, amazing, progressive, supportive husband.
As many career women and mothers who have joined this series before, Kimmy stresses the need for support from a network of others who understand you, enjoy you, and give a helping hand.
Please leave comments to give Kimmy the applause she deserves not only on stage but as a mother of a one-year-old!
If you would like to participate in this series, contact Laurie and she will be glad to include you.

Laurie Hollman, Ph.D. is a psychoanalyst and long-time working mother with great advice in her recent book, Unlocking Parental Intelligence: Finding Meaning in Your Child's Behavior, found on Amazon, Barnes & Noble, Familius and wherever books are found.
Related
Popular in the Community