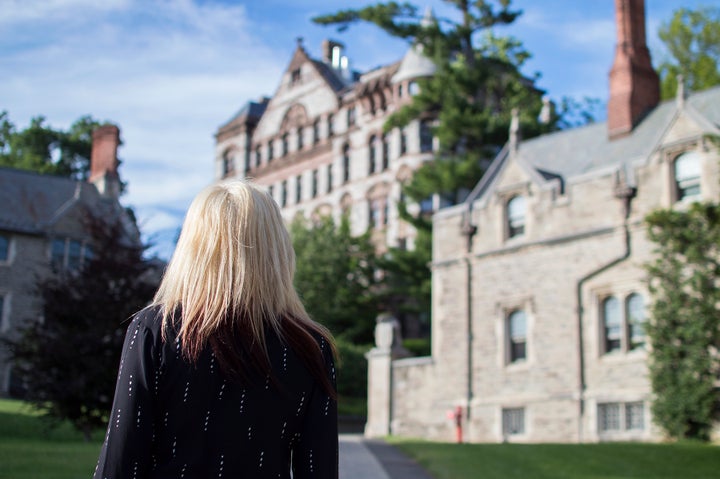 The most repeated story about the career of Jessica Lynn, a lecturer whose name is aflutter on the Ivy League, is a story of exceptional unlikelihood. For parents fraught with anxiety, it is the stuff of nightmares. And at a growing number of best-ranked U.S. colleges, the greatest tragedy of one transgender woman's life is now, curriculum.
While Ms. Lynn, 51, is used to retelling the details, we would be remiss, she said, to mistake the pangs of love and grief that come with losing a child—the lilt of a voice that still tremors and shakes without warning, growing softer at times, too—for on-stage theatrics.
"Some words will never go hollow," Ms. Lynn said. "Not with repetition, not with the kindest words from the lips of students. Not even with the standing ovations, when I'm lucky enough to have them."
"Until I'm reunited with my child, I will do everything, everything in my power, to be heard."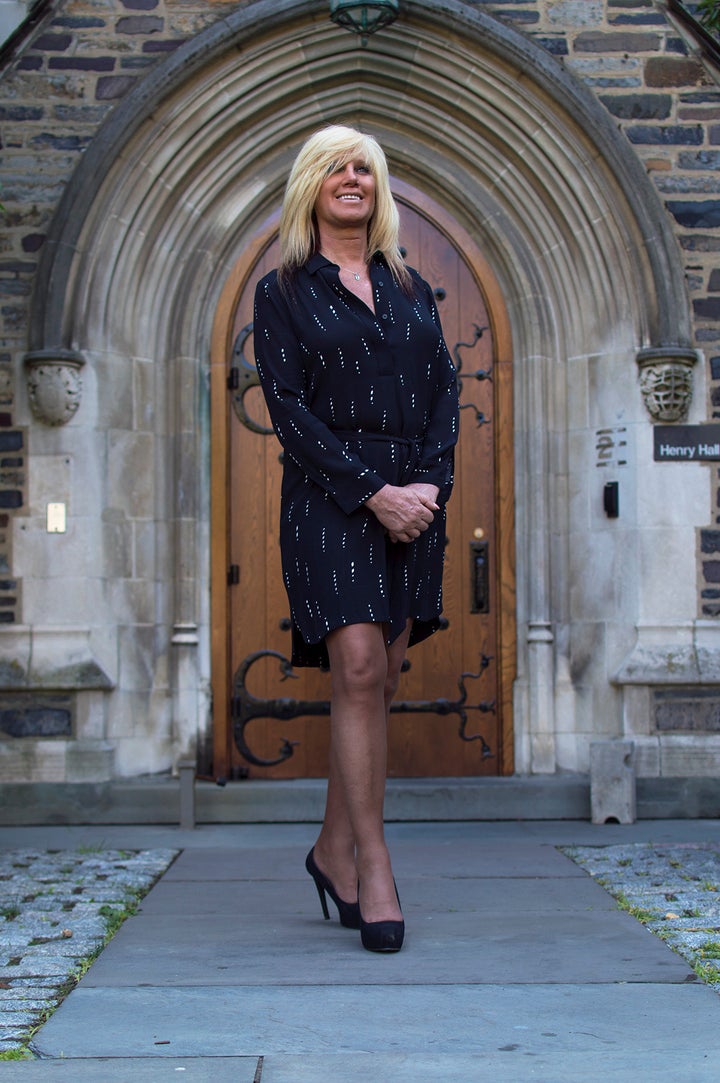 The broad strokes are these: At the age of 48, caught in the crossfire of a Texas judge with a penchant for bigotry (in Collin County, one of the country's most conservative), Ms. Lynn lost all parental rights to her young son due to her transition, becoming the first biological parent in U.S. history, with a previously active, supportive role in their child's life, to be swiped clean off their child's birth certificate. Just two years earlier, a California state court had granted Ms. Lynn full legal and physical custody of all three of her sons. Investigations out of the Department of Justice and the office of storied Houston attorney Phyllis Frye, found Ms. Lynn to have been grossly discriminated against by the Collin County court, for being transgender.
The ruling emerged from a dispute between the divorced, then-separated couple from Santa Barbara County, known in court papers as Jessica Lynn (formerly, Jeffrey Butterworth) and her former spouse, Ms. Butterworth. Dallas family law attorney John McCall Jr., Ms. Lynn's one-time legal counsel, said being a transgender parent is "just another reason" to give courts the jurisdiction to distance or alienate children from their parents, expressing uncertainty over the potential prejudice, implicit or otherwise, of the presiding judge, Scott Becker.
"I doubt a man cannot have bias against a father who decides to be another mother," said McCall Jr., continuing, "Custody battles for minor children are problematic in general, and if the second adult does not fit the perfect image, the opposite sex, there is no longer the Norman Rockwell image of a nuclear family. All courts tend to favor the parent that lives with the child."
Long before her transition, Ms. Lynn and her eventual spouse began their 16-year relationship in 1990 and announced their engagement the following year. Ms. Lynn would later assert, as supported by court documentation, that her former spouse was made aware of her burgeoning questions about gender identity at the outset of their relationship. Ms. Butterworth would deny those claims in court. She became pregnant with their first child, Jeffrey Jr., that year, who would be the oldest of their three shared sons. Their middle child was born in 1993, and their youngest, in 1999.
In 2007, the couple ended their relationship, court papers said, and by then, Ms. Lynn was awarded full custody of all three children. Ms. Lynn and Ms. Butterworth agreed that Ms. Lynn would finance her former partner's dental school, plus two years of living expenses, in exchange for her partner's temporary care of their two youngest sons in the interim of her gender-affirming surgeries. Her former spouse and their two youngest sons moved to Plano, Texas, while their eldest son, then 19, joined his father in Santa Maria. Two years later, Ms. Butterworth would petition to cut off Ms. Lynn's contact with her two sons, and succeed.
When asked about his decision not only between parents, but between a life with his brothers and a life with his father that felt admittedly uncertain, Jeffrey Jr. said it was not at all difficult to make. "I knew my father needed all the support she could get."
Under allegations of parental neglect, Ms. Lynn's former spouse was able to wean all contact between Ms. Lynn and their sons in her care—the middle of whom was made aware of his father's transition and had been initially supportive with close contact, but was claimed "unsupportive" at the time of his mother's testimony. Their youngest son was not made privy to the details of his father's absence. Ms. Lynn sought immediate visitation privileges, agreeing to mediated, supervised intervention with a psychologist. She was turned down at every step, and met with open contempt from the court.
"Well, I'm not going to be the one to tell [Ms. Lynn's youngest son] that he has two moms. I don't mean to be silly about it, I just—I don't know the format," Judge Becker said in court, according to the minutes. Under the assumption that she was likely to "alarm or harass" her youngest son, Judge Becker placed Ms. Lynn under a censure that if granted further communication with her child, "there should be no mention of the sex change."
"I'm putting you on notice now, that if you violate this order and it's proven that you have violated it, you don't have to worry about forking over any money," he said, alluding to her depleted savings, "You're going to jail, if it's proven."
Judge Becker could not be reached for comment.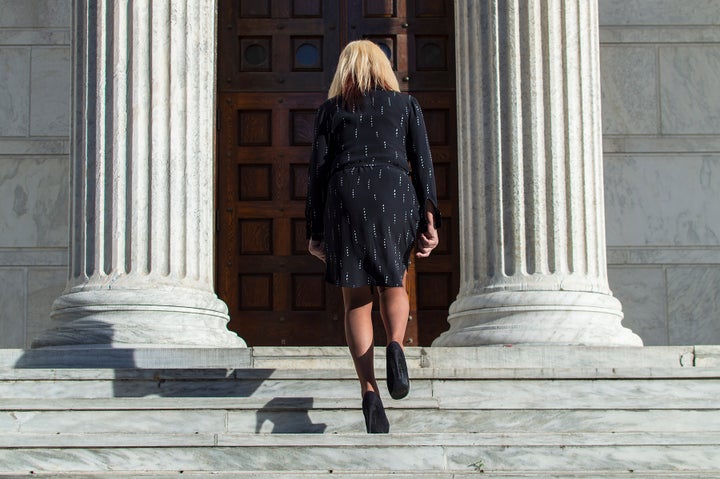 "Jessica had passed every test they had given to prove she is a good parent," Jeffrey Jr. wrote in an email, "but the court would not allow any of it, results to the tests they themselves had ordered, because they proved Jessica deserved her parental rights in full."
Among those tests: a 22-page psychological evaluation from Dr. Benjamin J. Albritton, a tried-and-true conservative appointed at the behest of the court. McCall Jr. aired initial concerns to Judge Becker over an evaluator with a doctorate from a private, evangelical university with a mission of promoting "integration between theology and psychology," given the defendant's identity. Nevertheless, and against all odds, Dr. Albritton found all claims of parental neglect, unsubstantiated.
"On the contrary, collateral sources," estimated at 16, "describe Ms. Lynn as a devoted, conscientious, and caring parent." On the issue of visitation, Dr. Albritton's evaluation was clear: "It is recommended that Ms. Lynn participate in individual psychotherapy with a Dallas area psychologist or mental health professional during the reunification process, to assist her with appropriate responses." Only there was no reunification: Ms. Lynn would never be allowed to speak to her youngest son again. Every page of Ms. Lynn's evaluation was thrown out in court, and the testimony of Jeffrey Jr. in his father's favor would do little to sway the ultimate verdict.
On June 26, 2013, Judge Becker came to a verdict in the case of Ms. Lynn's former spouse's petition to terminate all of her parental rights, granting termination on the grounds of Texas Family Code 161.001 on three counts; "conduct that endangers the emotional well-being of a child," failure to support, and voluntary abandonment. With the drop of a gavel, she had lost all rights to her sons. On Christmas Eve of that year—racked with grief over the verdict and the sudden death of her brother, buried in legal debt—a final court order, postmarked on December 21, 2013, arrived in the mail three months after the fact. Article 12, signed off in Judge Becker's loose cursive, was a biting final word: "It is ordered that Jeffrey A. Butterworth's name shall be removed from the birth certificate of the child the subject of this suit."
Upon the recommendation of the U.S. Justice Department, Ms. Lynn sought the legal counsel of transgender attorney-at-law Phyllis Frye. There, she was introduced to Angela Oaks, the lawyer who would later deem her case "a travesty."
"My first impression?" Oaks spoke into the phone. "Her heart was broken."
"I looked up the order to confirm her statement that her rights were terminated: It's not that common, so I hoped she was mistaken. She wasn't. Unfortunately, by the time we spoke, she was beyond the appeal deadline. There was nothing I could do for her."
What Oaks could do, rather, was urge Ms. Lynn to take up public speaking. Now, Ms. Lynn relays the advice Oaks gave her as a defeated parent to almost all of her lectures. "Go out there and change the world. You can't let this happen to anyone else."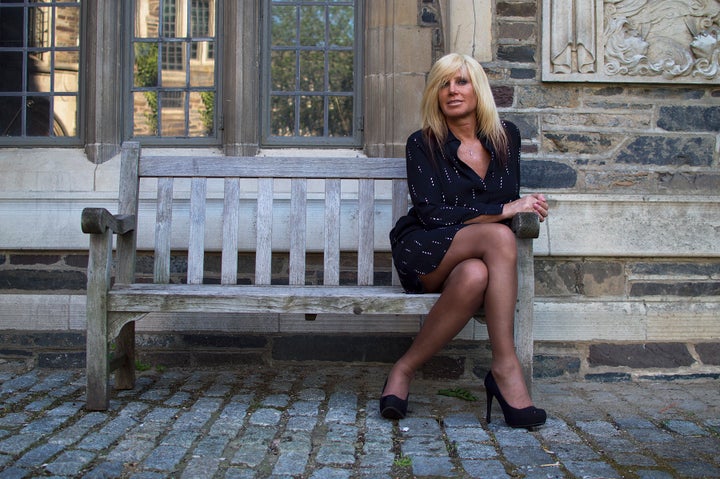 Today, Ms. Lynn is one of the most in-demand college speakers in the country, but her breakthrough has been more gradual than that "light-bulb moment" story would imply.
After the ruling, she spent years living in relative obscurity, booking stray, 15-minute gigs at the community college she herself was attending at night, and at any red-roofed church that would have her at the pulpit. She built herself up by steady determination, and though her name is not a household one, her new life's work has made cheerleaders of a handful of LGBT luminaries: Martin Weinburg, Janet Mock, Zachary Drucker, and a favorite of Oprah's, Dr. Marci Bowers.
"I met Jessica as a pre-op for her surgery with me," Dr. Bowers said when a reporter called, citing her longtime friend as fiercely loyal with a personality that "pops forward with lightness." "Like me, Jessica believes that understanding comes when you can laugh about a subject. She mixes frank assessments and language with anecdotal stories, so neither of us come off as boring or tired, that's for certain."
"Her struggle is one against a legal system that is unfair to those who are simply good parents, seen as less than equal due to their transition," said Bowers, adding, "She has had the tables turned on her."
If Ms. Lynn has her way, those tables are in for a new turn. She is suddenly the subject of long-table discussions in pockets of Hollywood, as the newly-minted screenplay based on her life story is rumored to have made its rounds from Morgan Freeman to Sandra Bullocks' camp. This year, on the personal recommendation of an assistant professor at the University of Pennsylvania, Harvard University extended Ms. Lynn an unprompted invitation, a career first. Ms. Lynn, a high-school dropout, said she had never felt more proud. Next year, she will kick off her first academic tour of Europe at the invitation of the University of Cambridge.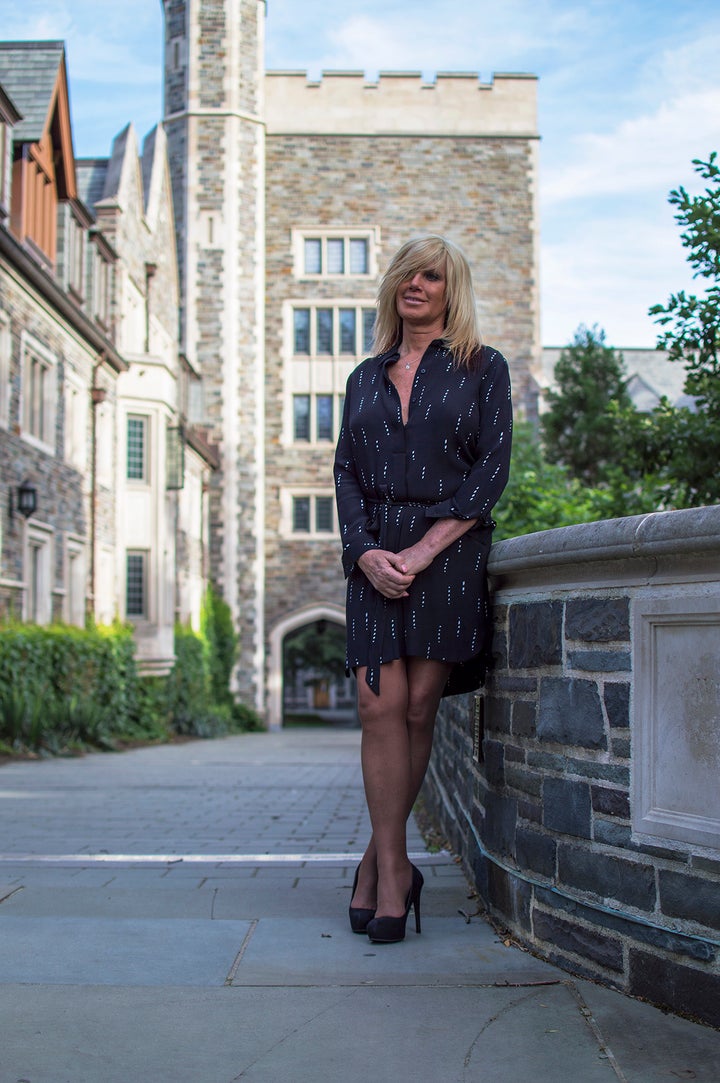 Ms. Lynn's progress comes after a few breaks that fell short. A New York Times column that she hoped might draw attention to her legal case, goes unnoticed. A starring role (of sorts) in MTV's "True Life: I Have a Transgender Parent," is met with mixed reviews. Producers issue a quiet apology for editing errors, but only behind closed doors. Over the years, reporters come and go, losing enthusiasm over original ink after uncovering the heavy legwork of a faintly reported-on case. They drop her story, one by one.
Then, the floodgates cracked open: Ms. Lynn tasked the professors that brought her in to their colleges to publish reviews of her speeches. In a matter of weeks, she had more booking requests than she could keep track of.
"In forty-one years of teaching this class at the University level, I had never seen a standing ovation for a guest speaker, until today," Colorado State University wrote. "Raw, honest, and uproariously funny," Mississippi State University wrote. "I can't recall a speaker holding thirty undergraduates' attention for ninety minutes as she did, especially late in the day, late in the week, and on St. Patrick's Day," Wagner College wrote.
"One of the highlights," "a real highlight," and "the highlight," reviews read, of courses, semesters, and college educations. In a heartbeat, Ms. Lynn was a hit.
Unaccustomed to the throes of reality T.V. stardom, or the hands-off, laser pointer-on approach of her contemporaries (whose appearances run up to $200,000), Ms. Lynn is akin to the activists of a bolder era, not to be bothered with white-tie dinners. She spends what little time she has to herself working pro bono on behalf of her non-profit organization, Your True Gender. Sometimes, that work takes the form of counseling bewildered parents through the rocky first steps of parenting a transgender child, or speaking to at-risk LGBT groups.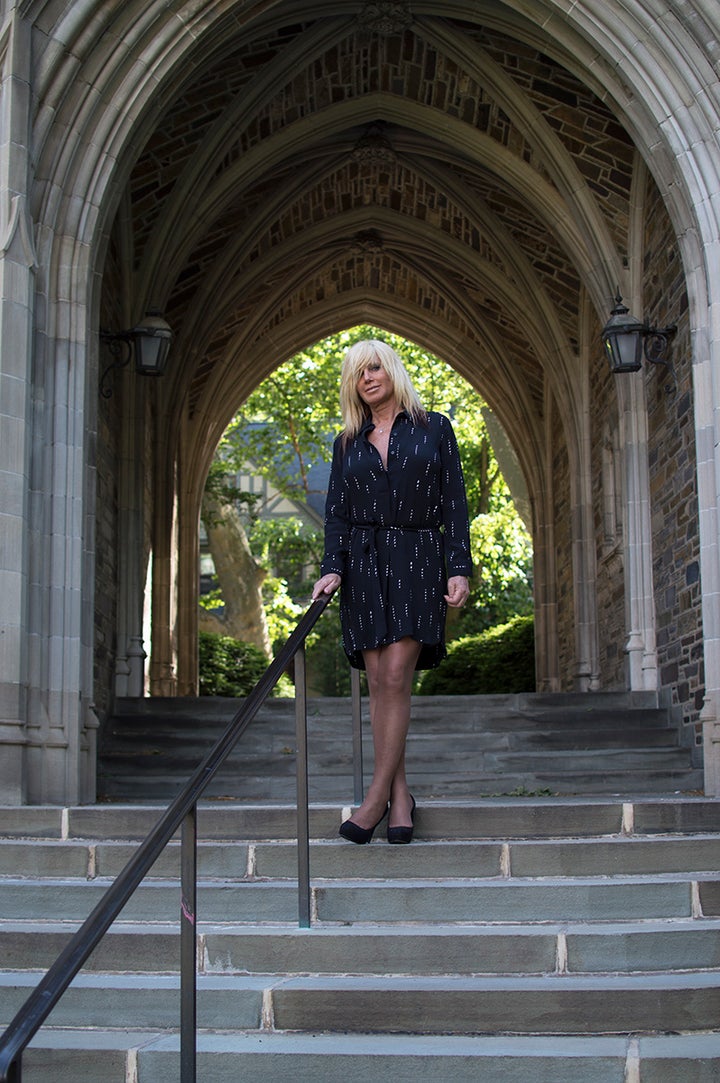 Despite the accolades of the Ivy League, Ms. Lynn has not met her star-making turn. For now, the rituals of her daily life go unchanged during the off-season. Between semesters, she returns to her single home in Santa Maria where, on most days, she still works in construction. Today, she's shingling an old roof. Yesterday, it was a kitchen cabinet. It helps to make ends meet, she said, and offset travel costs before the honorariums come trickling in. Over the phone, she laughs, saying, "You think Janet Mock would go put a roof on a friend's house?" Jeffrey Jr. lives a short drive from his father's house, and said his relationship with Jessica has never been stronger.
"Jessica's opening up a discussion on a subject that so few people know the truth about," he said over the phone, pausing. "Whether they don't know, they think they know, or they just refuse to learn, it is the new frontier in civil rights. My little brother has no idea how hard Jessica fought to stay in his life, and he may never. All my father asks is to be a part of her son's life, and she's not alone."
Jeffrey Jr. still sends letters to his brothers. He has not received one back, to date.
But whether Ms. Lynn is aware of it or not, her voice is emboldened with every passing mention of transgender rights (or, a lack thereof) on the campaign trail. When she lectures to Harvard—or if her screenplay is picked up, as it likely will be—a large, new audience awaits Ms. Lynn, or so hopes Angela Oaks. "What sets Jessica Lynn apart is how she has handled the aftermath; she is educating anyone who will listen. She's out, she's proud, she's pissed off at the legal system, and she's making noise everywhere she goes. What a powerful reaction to loss."
And far from despairing, Ms. Lynn is flourishing in the light of broadened exposure.
"You get used to the pain, but you don't, you never do. I remember the first time I spoke, how it felt to finally be heard. It hurts me to see students cry. But when they say, 'You've changed my mind about the transgender issue,' that is a light that will never go out. That is another child's life, and it's one step closer to mine."
REAL LIFE. REAL NEWS. REAL VOICES.
Help us tell more of the stories that matter from voices that too often remain unheard.