By Aaron Rhodes and Raymond Braun
When Raymond and I first met more than a year ago, we immediately bonded over our shared background. We both grew up in small, conservative towns in Ohio (not far from each other, actually!). We both knew we were gay from a very young age. And we both felt passionately about wanting to raise awareness for issues impacting LGBT youth around the world, so future generations of LGBT people could grow up feeling more affirmed and confident in who they are. When we were kids, you couldn't get married in ANY of our country's 50 states, so it has been amazing to see history unfolding throughout our lives as public opinion is changing and more and more LGBT people are finally gaining equal rights.
That's why we thought it was important to be standing on the steps of the United States Supreme Court earlier this week, when the court heard a case that will determine whether marriage equality becomes the law of the land in the entire United States. As we said in our video together, that date will forever go down in history. It's a moment that will be written about in textbooks and that we can tell our grandkids about... and we wanted to be part of it, show our support and most importantly, share the experience with young people around the world. I flew in from LA just for the day, and I can say with confidence that it was one of the best days of our lives.
It's difficult to describe the energy, momentum and love that we felt at the Supreme Court. It was unlike anything that either of us had ever experienced. We saw huge crowds of people from diverse perspectives all standing there with signs, flags, songs and photos to show their support for equality and their belief that everyone has the right to love and be loved. We met a grandma who supports marriage equality, a Sunday school teacher who teaches her children that Jesus said to treat all people with kindness and love, straight college athletes who showed up to support openly LGBT teammates and countless couples with inspiring stories about how their relationship endured despite years of discrimination and unequal protections.
The colors, energy, kindness and love outside the Court got us so excited. We wish we could capture that love and share it with anyone out there who feels isolated, unaccepted, insecure or is struggling because of their sexual orientation or gender identity. In our video, we tried to capture the mood and some of the amazing moments from the day.
We also had the chance to speak to two LGBT equality advocates and heroes for our generation: Chad Griffin, the president of Human Rights Campaign and Jim Obergefell, the named plaintiff in the Supreme Court case. Jim is also from Ohio (one of the 13 states in the US where same-sex marriage isn't yet legal) so we felt a special connection to meeting him.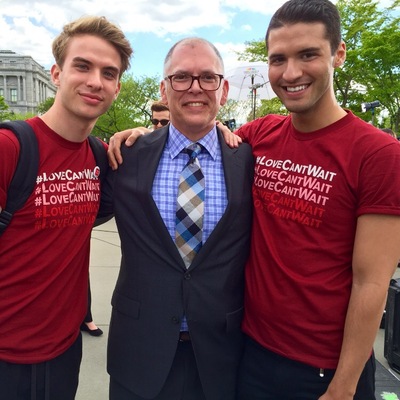 At the end of the day, the overwhelming emotion we were left with was hope. Hope for a future where all kids can grow up with the simple right to love whomever they love and have that love recognized. Hope that people can and will change their minds to be on the right side of history. And hope that, at the end of June, we can celebrate one of the greatest civil rights milestones of our generation. #LoveCantWait
Aaron Rhodes (of The Rhodes Bros) is a YouTuber, LGBT activist, model and soon-to-be actor in the upcoming TV series Scream Queens. He rose to fame when his YouTube video, Twins Come Out To Dad, went viral, receiving more than 18 million views, landing him and his brother Austin on The Ellen DeGeneres Show and becoming the most viewed coming out video on YouTube. Subscribe to Aaron's channel and follow him on Twitter and Instagram.
Raymond Braun leads social campaigns for YouTube. He is currently on a volunteer leave of absence from his job to focus on launching an LGBT-themed YouTube channel. He was named to the 2014 Forbes 30 Under 30 class for his work on LGBT marketing, community engagement, and partnerships for YouTube and Google. Watch Raymond's first video and subscribe to his channel (youtube.com/raymondbraun). You can also chat with him on Twitter and Instagram.
Calling all HuffPost superfans!
Sign up for membership to become a founding member and help shape HuffPost's next chapter