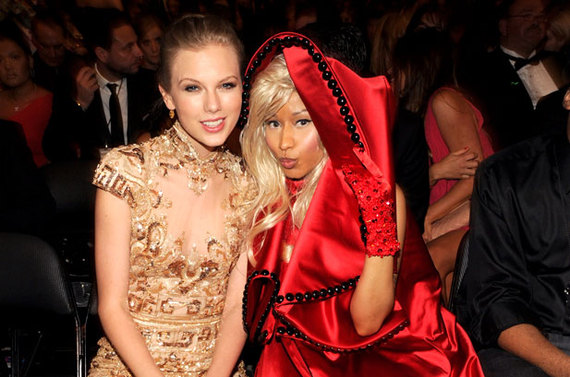 Last week social media fans saw a new feud erupt between two of the biggest female artists in the entertainment business. While the feud was short-lived and didn't involve any catfights or hair pulling, it actually did a great deal for both women's brand images and their social media personas.
The feud started when Nicki Minaj took to her official twitter to tweet about MTV, after the network announced their official VMA nominee lineup. The television channel revealed their list of nominated videos for "Video of the Year," leaving off Minaj's much-talked-about video for her single "Anaconda."
Upset by the snub, the rapper posted on Twitter stating that if she was a different "kind" of artist, that her video would be nominated for both best choreography and for Video of the Year. The rant went on to talk about how many parodies there were of the video and how famous her video became, particularly around Halloween, when it was used as inspiration for several costumes. The real issue came when Minaj posted:
"When 'other' girls drop a video that breaks records and impacts culture they get nominated. If your video celebrates women with very slim bodies you will be nominated for vid of the year."
This post got the attention of Taylor Swift, who responded directly to Minaj stating she has done nothing but "love and support" the rapper and that "It's unlike you to pit women against each other. Maybe one of the men took your slot..."
This is where the war really erupted, and most of the feuding actually took place between fans of both parties and started a heated dispute about race and feminism in the entertainment business. So many fans were looking to see who would respond next and escalate the feud to a new level. A few more comments were exchanged via social media and eventually the feud died down, when Swift apologized on Twitter and Minaj started squashing rumors that there was an actual fight. There were some very important takeaways from the conflict:
Both women started getting more followers.
When social media users and fans started hearing that there was an online brawl going on between these two female performers, both artists started getting even more Twitter followers. They had given the public a reason to start following them, and the public responded. While starting a fight isn't the best approach, it is important to remember that if you want people to follow your social media account, they need to have a reason to.
Both artists re-affirmed their brand image as strong women.
Both Swift and Minaj are hailed for the strong brand images they have, both of which focus on being independent women who support other women. Both artists reaffirmed this image with their Twitter feud, and while they both got positive and negative attention, their pro-women message was not lost among the public.
Swift showed that you can always spin negative attention.
During the height of the feud, many started accusing Taylor Swift of being too harsh on Minaj, or for thinking that the rapper's posts were entirely about her. Swift knew the spotlight was on her and took the opportunity to do two things: first she apologized publicly. She was humble and painted herself in a very real and relatable light, something that did a great deal of good for her brand. Second, she invited Minaj to join her on stage if she won the VMA award. This created a buzz and had thousands of fans claiming they would now tune into the event to see if Swift would really follow through. With a simple tweet, Swift was able to boost her brand image and create excitement for an upcoming publicity event. This is pretty powerful for 120-character message.
This Twitter feud may have only included a few hundred words in total, but by in engaging in this "online debate" both artists left a pretty big impact. Both women saw a boost in the popularity and effectiveness of their social media accounts and re-solidified themselves as strong female figures that stand up for their beliefs and the rights of women in entertainment. Online arguments still aren't recommended, but this proves that there are ways to turn a potentially ugly disagreement into a brand-boosting event.
Calling all HuffPost superfans!
Sign up for membership to become a founding member and help shape HuffPost's next chapter