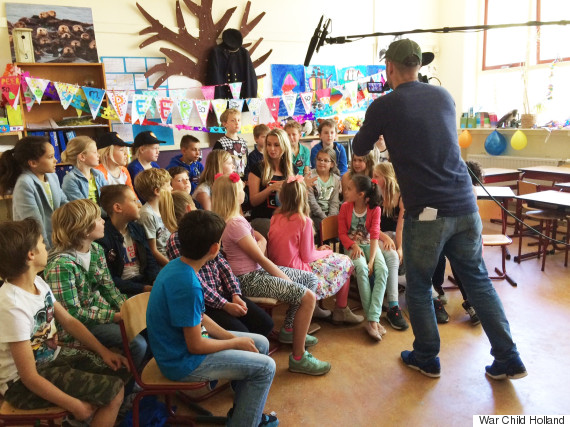 6th grade children in the Netherlands are waiting to talk to their peers in Gaza.

"What are you afraid of?"
On-screen, the kids roar with laughter as the young Dutch girl answers their question. This is not your average conversation -- it's a meeting between worlds, facilitated by video calling. Teasing the girl about her fear, it's clear to see that kids will be kids. But when the classroom of 6th graders from the Netherlands asks the same question, the response of the refugee children in Gaza hits home.
"I often think about the bombing. I'm still afraid."
The differences are stark -- shocking, even. But most striking is how the children engage with each other, regardless of their location or what they've lived through. That visceral response to seeing another child. Wanting to communicate, talking about their lives, making each other laugh.
In a world where conflicts about racial and cultural differences dominate the headlines, that's an impressive feat.
Connecting in meaningful ways
The video call is an initiative of War Child Holland, an NGO that provides psychosocial and educational support to children affected by conflict. In addition to their field work in eleven war struck countries, War Child works to educate Dutch youth about children who live in the middle of violence. Such as Burundi, or Colombia -- and in case of this video call, the Gaza Strip.
Too often children in conflict areas are merely portrayed as victims, who have others speak for them. But this call to hear them speak for themselves, uniting them through modern technology, turned out to be incredibly powerful. Even though video calling is brand new to the kids in Gaza, they sure have plenty to say.
That she loves to read, one girl demurely tells the camera. A boy nearby tells the Dutch class, in a confident voice, that he wants to become a doctor so he can help others. Conversation flows easily with comfortable body language as the children study each other while talking.
When the topic turns grim, they openly offer insight into their lives. War or no war, the resilience and hope of these kids is something adults can learn from.
"Sometimes I have nightmares and I'll lay awake", one Gaza boy tells the Dutch group. "Then I'll go play for a little while." The girl next to him chimes in, a smile in her eyes echoing her words. "I really like talking to you, because this way I have friends across the world."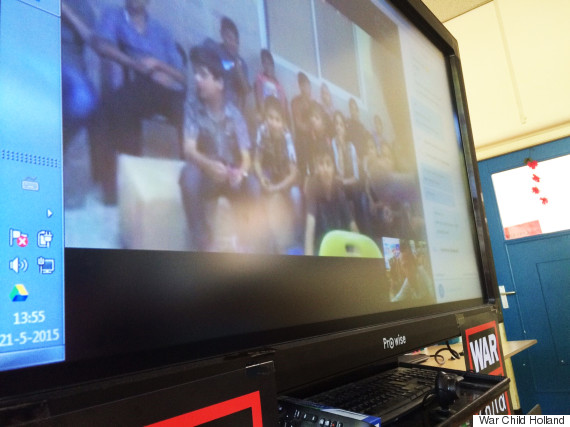 The video call, a first time experience for the children in Gaza, is an immediate hit; as soon as the video switches on, children on both sides frantically wave at each other.
Two different worlds, one open dialogue
Program coordinator Jamal Alrozzi has been working with refugee children for many years. Seeing the kids perk up during the call, and talking to them afterwards, makes it clear to him how valuable it is to build bridges through technology.
"These kids have no chance of meeting other people," he explains as he facilitates the call from Gaza. "The waiting drains their hope. But interaction like this empowers them. They become engaged, they feel surrounded. Not alone. And that is a very good thing."
While the children in the Netherlands may not deal with the isolation of their Gaza peers, they still feel the connection that was created after the call. A thousand miles apart, living in completely different surroundings, they can now imagine what life is like for their new friends. They ask questions of their teacher, and several of the Dutch kids pipe up and say they want to help children in conflict.
Bonds were formed, thanks to technology that went far beyond just connecting them. This call created global citizens, young as they may be, who are now aware of their place in the world and of other children who want to reach out to them. And there's one thing they all want to know.
"When can we talk to our friends again?"
REAL LIFE. REAL NEWS. REAL VOICES.
Help us tell more of the stories that matter from voices that too often remain unheard.