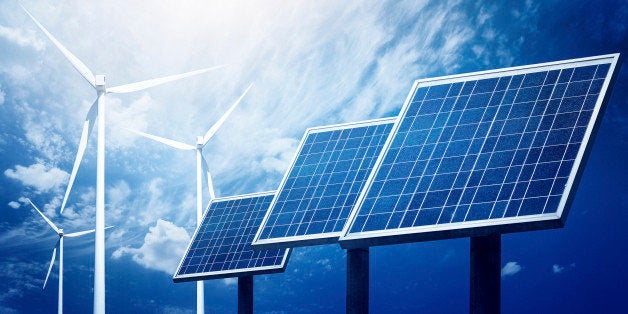 How a Voluntary Carbon Fee is Helping Microsoft and the Planet
By TJ DiCaprio
At the UN Climate Change Conference in Paris (COP21) this past December, 196 nations reached a global climate deal that sent a strong signal to the world--now is the time to prepare for the low-carbon economy of the future. That was a hard-won agreement, but now the harder work begins. How will governments and the private sector take action to decrease emissions? And perhaps more critically, how will they do so at a pace sufficient to meet the goal of keeping global temperature rise well below 2 degrees Celsius?
Pricing carbon: an opportunity for business
While it may be some time before there is a legislative proposal to establish a price on carbon in the United States, tracking carbon emissions and then putting a price on carbon has increasingly emerged as a way to act, and do so quickly. Already, at least 40 governments and 23 cities, states and regions around the world have adopted carbon pricing mechanisms or are planning to implement them. And according to CDP, more than 1,000 companies already price their carbon emissions or intend to in the next two years.
Microsoft was one of the first enterprises to set a voluntary internal carbon fee four years ago, and we've learned firsthand why it is an attractive strategy for climate-conscious businesses. The fee has invigorated a virtuous cycle of environmental awareness, responsibility and innovation within Microsoft that benefits both our company and the planet. The Microsoft carbon fee was recently recognized by the UNFCCC at COP21 as an innovative carbon pricing model worthy of wider replication. Just yesterday, we were honored to receive a Climate Leadership Award for Organizational Leadership from the Environmental Protection Agency (EPA), recognizing our work on the carbon fee and addressing climate change.
Putting a price on carbon
Many organizations want to curb emissions and generate cost savings but are stuck on how to get started. In our model, it begins with understanding our carbon footprint. We track and analyze our emissions across all Microsoft operations in more than 100 countries and create a projection of emissions for the coming year. We then add up the total cost of the environmental initiatives and investments that it will take to get us to net zero carbon. The full cost of these environmental initiatives and investments divided by our projected annual emissions provides us with our annual price on carbon.
Using our carbon price, we then charge our business units a fee based on their projected emissions. By making the cost to achieve carbon neutrality a line item in the operating budgets of our business units, we've established a powerful incentive for each group to find lower-carbon alternatives and to invest in carbon-saving initiatives and innovations. The results have been outstanding. In the first three years alone, Microsoft has reduced company-wide emissions by 7.5 million metric tons of carbon dioxide equivalent (mtCO2e) through investments in efficiency, green power, and carbon offset community projects.

Investing the Microsoft carbon fee
We invest the funds collected through our carbon fee in three primary ways to achieve net zero carbon: 1) efficiency projects, 2) renewable energy, and 3) carbon offset community projects. The fee also supports investments in e-waste recycling, water stewardship, and research for innovation.
The carbon fee funds have also enabled us to make an investment in transitioning to 100 percent renewable energy. To date, Microsoft has purchased 10 billion kilowatt-hours of renewable energy in part through long-term power purchase agreements, like our wind power projects in Illinois and Texas. We have been recognized for our efforts by the US Environmental Protection Agency as a Green Power Partner of the Year.
The agreement reached at COP21 acknowledges that starting in 2020, at least $100 billion per year will need to be transferred to the world's poorest countries to help them adapt to climate change and reduce carbon emissions. Our carbon offset projects allow us to contribute in this spirit. To date, we have invested in more than 35 carbon offset community projects. These investments have saved more than 1,720,000 metric tons of carbon dioxide (CO2) emissions while improving the lives of more than six million people in 22 countries. The projects make significant societal contributions by supporting sustainable development, improving agriculture, educating children, providing healthcare, and empowering women to earn income.
Closing thoughts
As a global technology company, we recognize the considerable amount of energy that our products and services require. That is why we committed to carbon neutrality and began our carbon fee program in 2012 and continue to take actions to address our environmental footprint. Putting a price on carbon has been successful for us, and that is why we continue to work with other organizations around the world to help them adopt this model themselves.
This post is part of a series produced by The Huffington Post and the United Nations Climate Change secretariat, in recognition of the Momentum for Change Awards. The series will put a spotlight on the organizations, cities, industries, governments and other key players behind some of the world's most innovative, scalable and replicable climate change solutions, and is part of The Huffington Post's What's Working editorial initiative. To view the entire series, visit here.