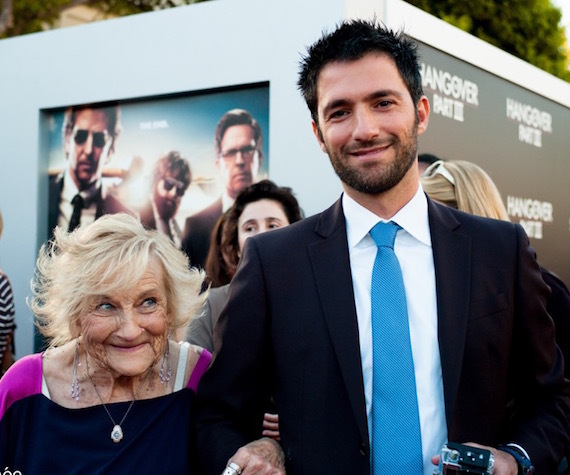 Yaniv Rokah is an Israeli-born ex-barista, currently winning plaudits for filming, writing, directing and producing his first film, Queen Mimi, which just opened nationally. Queen Mimi is a heartwarming, quirky, truth-is-stranger-than fiction documentary about Marie "Mimi" Haist, a formerly homeless woman, now 90, who's become the self-coroneted Queen of Santa Monica's Montana Avenue.
Yaniv, the youngest of 10 children, arrived in New York in 1999, with theatrical ambitions, studied with Lee Strasberg for several years before concluding that stardom might be more accessible in Hollywood. He moved west, only to find his pickings there almost as lean. Why did he have such grief? He was certainly handsome enough to be a leading man but his astrological alignment may have been askew.
A Superbowl commercial for Verizon supplied him with sustenance for a year, and small speaking parts in film (World War Z) and on TV and Internet Series (Jon Avnet's Kendra, USA's Dig, The Beast, NCI: Los Angeles) supported him emotionally, but he needed a regular paycheck, and found it as the early-rising barista who opened Santa Monica's Café Luxxe every morning at 6 am. One morning he noticed an obviously homeless, older woman who also rose and shone at 6 am, climbing out of the bushes where she'd spent the night. He watched her walk to the Fox Coin Laundromat on Montana Avenue right after it opened at 6 am. She stayed there until it closed at 10 pm. Yaniv learned her name was Mimi and that she was not employed by the laundromat, but she worked there, helping customers with laundry, folding their clothes and accepting tips for her services, before going back out on the street. One rainy night, Mimi's life took a turn for the better. The manager didn't have the heart to send her out in the pouring rain, let her sleep inside on a plastic chair and asked her to open the store the following morning. Mimi never slept in the bushes after that night.
The more Yaniv talked to Mimi, the more she intrigued him. He admired her optimism, her live-in-the-moment philosophy as frequently expressed in "Yesterday's gone - leave it there." Mimi always lifted Yaniv's spirits. She may have been down, but she certainly wasn't out. One day Yaniv asked Mimi if she'd mind him recording their conversations and she agreed. He taped the first hour on his iPhone, and soon realized that he was taping more than facts, he was filming a life force. "Mimi's such a inspiration. She's full of life. Sharp. Very funny. I was attracted to her magic personality."
Gradually Yaniv uncovered bits and pieces of Mimi's history despite her reluctance to discuss the past. Her life had been pretty normal for about 50 years. She'd worked, married a schoolteacher and at his insistence stayed home to raise their two daughters, until he found someone else and she divorced him. When she went back to work after the divorce, she found only low-paying jobs so she lost her house. Next she lived in her car for several years until it was towed. She was ashamed of living on the streets and lost track of her daughters.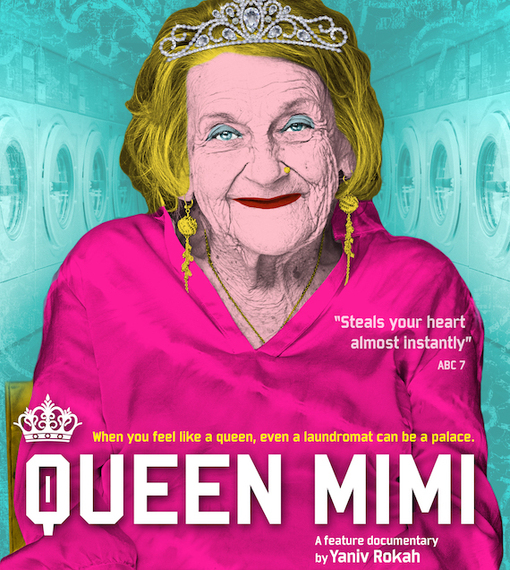 Ten phones and one hundred taped hours later, Yaniv realized that his connection with Mimi could thrust him on a less traveled road to filmmaking entrepreneur. He raised $60,000 on Kickstarter which he used to hire a professional editor - Allie Garret - who turned the film he thought would be about homelessness into a personal, loving and moving portrait of Mimi's joy, to which viewers respond. And so do critics. Mimi won prizes for Best Documentary at several documentary film festivals including the Human Spirit Award at Chagrin, Hot Springs, Manhattan, Sarasota and was nominated for several others. It even got 83% approval from viewers at Rotten Tomatoes and is rated 9.3 out of 10 on IMDB when it opened nationally.
Yaniv considers Mimi a contemporary Cinderella. And if there is a second Prince Charming besides Yaniv in this story, it's Zach Galifianakis who let Mimi housesit for him when he left town and took her to Red Carpet events as his date. As for the glass slipper, it's the apartment Zach supplied her with, furnished for Mimi by Renee Zellweger. And Mimi has lived happily there ever since and expects to live there happily ever after.
Yaniv's film, Queen Mimi, totally captured Mimi's magic and resilience, even though it took her a long time to trust him enough to let him make it. Yaniv's many friends helped him too. Oscar-nominated Peter Spirer became Executive Producer. Barry Bergman, known for launching the careers of AC/DC and Meatloaf, was his music supervisor. Grammy-nominated Deana Carter and Ralph Stevens wrote Celebrate Life, which Carter sings during the closing credits of the film.
Yaniv not only credits Mimi for making him into a filmmaker, but also for making him into an adult. He never gets tired of quoting the advice she once gave him. "When life deals you lemons, make lemon drop martinis."
Queen Mimi is playing in movie theaters all over the US.
Photo Credit: Jennifer Renee
Related
Popular in the Community