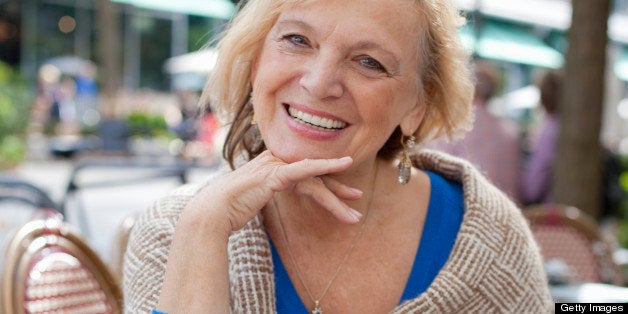 Ladies, let's be honest with each other: It is tough out there for women over 40, 50, 60 and beyond to know how to put together a clothing wardrobe that will be flattering and age appropriate.
Whether in business or otherwise, women are in competition with younger women and are confused as to what their clothing wardrobe should consist of. They might realize that the clothes they currently wear are dated looking, but feel silly when trying on the latest fashion trends.
One of the most common concerns my new clients share with me is, what should their clothing wardrobe consist of, so as to look current but not foolish. In other words, how to dress age appropriate and stylish, but not like they are trying to look younger.
There is a great expression in England that pretty much sums it up: mutton dressed as lamb -- definitely a way of describing an older woman who is dressed in a style that is more suitable for a younger woman
Ex.: Do you think this dress is too young looking for me? (I don't want to look like mutton dressed as lamb.)
The problem with dressing in styles that are for the under-35 set, is that they actually make us look older and sometimes a bit foolish. You've seen some women who are wearing skirts that are too short, or tottering in shoes designed for a 20-year-old, but being worn by a 60-year-old. Your observation is most probably never a positive one.
Often a woman will look great from behind, but when they turn around it is quite clear that she is over the age of when one should wear a particular style. This can be an unattractive shock to the observer and cause even more confusion as to what their clothing wardrobe should consist of.
I am not trying to be mean, but I am sharing with you the thoughts I get from women and men who observe other women, and who desperately do not want to also be the fashion victim or fashion don't.
When I work with a client, I am able to create a clothing wardrobe for her that will take her look out of the past and into the present, but not look like she is trying to look younger. When a woman wears the right fitting clothes and styles specifically best for her, she automatically looks younger and more professional. She is then projecting an image of being capable to be competitive with the younger, and may I say, less experienced woman.
So what can you do to avoid the mutton dressed as lamb dilemma? Here are a few suggestions.
Even if you are lucky enough to have the body that can fit into junior clothes, don't shop in that department. For starters, the styles are designed for teenagers and the quality is not what a woman who cares about her image, should be seen wearing.
Go easy on the bling by staying away from too much shine and sparkle. If a 13-year-old would wear it, then you shouldn't!
Focus on fit and not size. Avoid getting trapped by only wanting to wear a certain size, even if it means squeezing into the garment. Too tight, can make us look heavier and older.
Scarlett's tips have nothing to do with income level or your job, etc. It's not about where you shop, it's about what you buy.
Get your Free Guide: 5 Style Tips To Instantly Make YOU Look Younger, Thinner Taller.
Related