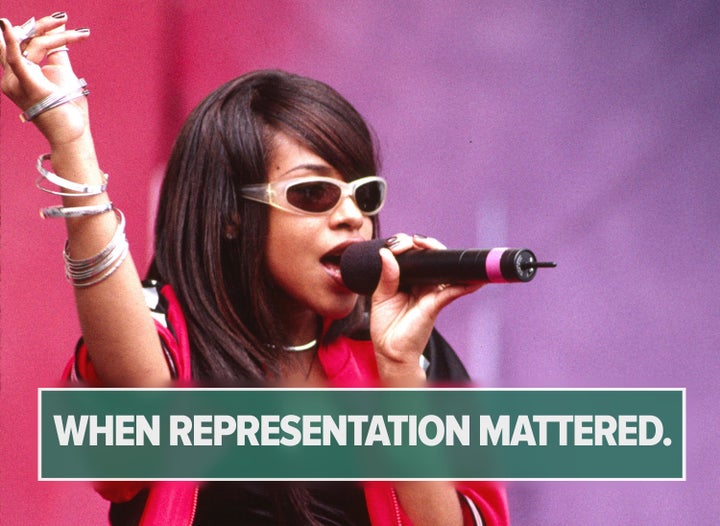 Growing up as a black girl in the South, sometimes, I had a tough time feeling comfortable in my own skin. I would find myself torn between white America's impossible standards of being rail thin with big boobs, and black America's obsession with curves, which included boobs, hips and a lot of booty. I, unfortunately, had none of the above.
I was just slim ― a small top and a nonexistent bottom, bombarded daily with images of women who looked nothing like me.
The glorification of black women with big ol' booties is ingrained deeply in black culture and can be seen in movies like "Friday" when Craig and Smokey were checking out Mrs. Parker while she watered her lawn in pum pum shorts or heard in hip-hop songs like "Back That Ass Up" by Juvenile. I remember each time I watched music videos like Mystikal's "Shake Ya Ass" how insecure I felt watching these women of color get worshipped by black men because of their curves.
Being in the South didn't make it easier. Bigger is better and everyone wanted to fatten me up (at one point I was convinced if I just ate enough cornbread my ass would get bigger). Family members would joke with me about my non-existent booty and slim frame, and while I'm sure they meant no harm, those comments ultimately made me feel like I didn't belong in the black community of women.
I wanted to be considered sexy, to be included in my culture's idea of beauty. I felt inadequate as I was going through puberty and all my peers were blossoming into women while I waited and waited for a thick shape that never came. I felt like I was not quite black enough because I didn't have a curvy figure. My lack of thickness left me classified as "white" by my peers and my light skin and long hair didn't really help my case, either, so I spent my days looking in the mirror wondering why I was not like every other black woman in my family. 
Then, one day, I discovered Aaliyah and her music.
I can thank one of my cousins for turning me on to the R&B singer. I remember being at my cousin's house and going through his CD collection. We were listening to music and decided to put on her album. I was instantly drawn to her: here was this black woman making music who actually looked a hell of a lot like me (in my head at least). 
Here's the thing about Aaliyah: She was an undeniably talented singer and dancer, but she was also considered very beautiful by men and women, alike, and it wasn't because of her curves. She had luscious lips, long hair, small boobs, and a petite frame. Plus, she had so much swag. She wore her hats to the back with baggy pants and was not a girly girl (during the first part of her career). Her girl next door demeanor stood out from the other women on the pop music scene at the time like Janet Jackson and Mariah Carey who were considered sex symbols because of their curves.
It was her video for the single "Are You That Somebody?" released in 1998, that really drove home how much it meant to me to see a woman who looked like me in the spotlight, on red carpets, in films and music videos. I didn't realize how special and seen it made me feel seeing this woman whose body type reminded me a lot of my own explode on the scene.
Aaliyah made it cool to be a not-so-curvy black woman because she had this confidence about her when performing. So I parted my hair to the side like her and accepted that my definition of what was considered beautiful was all wrong ― eventually I changed it to one that would actually include me and my body type. But it's the presence of Aaliyah in pop culture that helped me to discover this unseen narrative of the black woman with a non-curvy body type, and seeing her made me feel like I wasn't alone. After she died in 2001, I kept her posters on my wall, continued listening to her music and watching her in film as a reminder to myself that my blackness wasn't defined by my body type. 
Women come in all shapes and sizes and as I got older I realized that it's my inner confidence that will ultimately radiate to the outside world. Today, there's still a stigma surrounding thickness but women like Serena Williams are a powerful reminder that a black woman's curves can be about more than just her sexuality ― it can also be about her strength and power. Let's not forget that there are women like Zendaya, Rihanna and Kelly Rowland who are helping to change society's perceptions of a black woman's body by completely owning all their melanin, slimness and brilliance. But preteen and teenage me will always and forever remember Aaliyah because she helped me to see myself in a way that no one else had ever shown me before.
This essay is part of the HuffPost Voices series "When Representation Mattered." The series highlights stories from people of all racial backgrounds, religions, abilities, ages, sexual and gender identities on what representation means to them. To submit your story (in written or vlog form) for consideration, email representationmatters@huffingtonpost.com. 
Past blogs in the series:
Calling all HuffPost superfans!
Sign up for membership to become a founding member and help shape HuffPost's next chapter
BEFORE YOU GO
PHOTO GALLERY
Aaliyah Style Evolution