By Catherine Schuknecht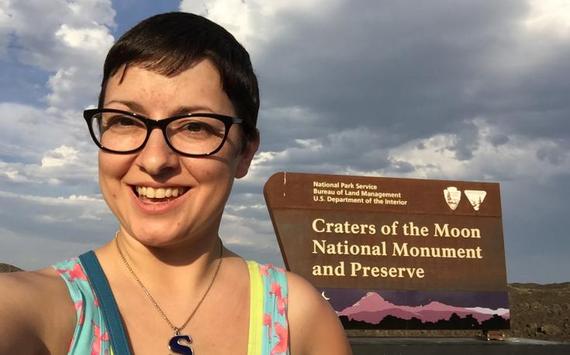 Read the original article here. | Photo courtesy of Megan Simcox
Thirty-year-old Megan Simcox is a nature enthusiast with an ambitious goal: to visit all 59 national parks in the United States before her 40th birthday. But traversing the geothermal terrain of Yellowstone's geyser basin or the rocky trails of Mount Rushmore poses a bigger challenge for her than for most. Last year, she was diagnosed with Multiple Sclerosis, an incurable disease of the central nervous system that can be severely disabling. Simcox is able to walk but experiences numbness, fatigue, and other debilitating symptoms. Sierra spoke with her by phone about her latest adventures, handicap accessibility in our national parks, and her new blog, Explorabilities.
Why did you decide you wanted to visit all 59 national parks?
When I was 18 years old, I made a goal to visit 10 national parks before my 30th birthday. Then last year, right after visiting my 10th park, I was diagnosed with Multiple Sclerosis. I had neglected my symptoms since I was 23, so at 29, I had pretty severe disease progression. Now, I walk with a cane about 90 percent of the time because of numbness in my legs, and I hardly have any feeling in my right hand. I don't know how long I'm going to have use of my legs. About 25 percent of people with MS eventually end up in a wheelchair. I don't dwell on it much, but it's always in the back of my mind. The uncertainty pushed me to make my 59-parks goal. When you're sick, it adds more urgency to life. Once I finish, I want to start traveling internationally to World Heritage Sites like Machu Picchu in Peru and Petra in Jordan. 
What do you write about in your blog, Explorabilities?
I've realized that a lot of the national parks aren't very handicap accessible. That's what I'll be exploring with my blog--what parts of the parks are accessible and what can be done to make them more so. This issue really hit home when I visited Grand Teton National Park. I had a miscommunication with the ranger and ended up on a trail that was way too difficult for me. I tire out very quickly, and I can't walk fast, so I was completely exhausted by the time I got back. Miscommunications like that often happen with MS and other invisible illnesses. There are a lot of people who are less mobile than I am, and they want to enjoy nature too. So now, as I travel to the national parks, I plan to use my blog to rate each one on accessibility.
What can the national parks do to improve their accessibility?
It would be great if there were a wheelchair or motorized-scooter rental service at the parks for people who don't need one for day-to-day use, but do for more strenuous outdoor trips. I would gladly pay $20 a day to rent a wheel chair; it's just such a necessity for someone like me who struggles to walk uphill and over uneven ground. I'm sure there are liability and insurance issues, as well as the environmental impact of having motorized vehicles on a trail. But if NPS could figure out a way around those problems, it would make some of the trails more accessible.
It would also be good to develop a trail guidebook that is written from the perspective of a person with a disability. There are so many levels of disability, it might work to rate trails by the assistive devices that they are compatible with.
Do you have any advice for people with disabilities who are planning solo hiking or camping trips?
Get good equipment. I have a pop-up tent and an air mattress with a battery-powered pump so that I don't use too much energy setting up. My whole camp can be set up in less than ten minutes. I usually take my medicine before I go out on the trail, and I pack extra supplies. I also have a National Parks Service access pass for the disabled, which gives me half off on camping.
Of the parks you've visited so far, which is your favorite?
Yellowstone exceeded all my expectations for accessibility and beauty. It has these large boardwalks that are great for a wheelchair user. All you hear about is Old Faithful geyser, but once I started exploring the geyser basin, I discovered pools, mud pots, geysers, and hot springs. Everywhere I turned, something was happening--it was like the ground was alive.
Calling all HuffPost superfans!
Sign up for membership to become a founding member and help shape HuffPost's next chapter