At a small dispensary in a village just outside Dar es Salaam, Tanzania, I stared in disbelief as I watched health care provider, Recho Mengo, expertly balance a cell phone in her mouth so that she could free her hands to measure a pregnant woman's belly. The phone's flashlight was providing the only source of light in a facility that has no power. I couldn't help but think back to my own pregnancy less than two years prior; the situations were like night and day.
According to the World Health Organization, women in developing countries are dying every 90 seconds from complications during pregnancy or childbirth. As such, not having light can mean life or death. And when students struggle to read by kerosene lanterns in the dark of night, or young girls can't attend school because they must gather firewood and other sources of fuel for the household, the lack of energy can also mean holding back the dreams and advances of a new generation.
It's estimated that some 600 million people across sub-Saharan Africa do not have access to reliable energy. Ghanaian President John Mahama has been nicknamed Mr. Dumsor after the popular word for power outages. Lack of rain has forced the Tanzanian government to shut down hydropower plants, which generate 35% of the country's electricity. From Nigeria to Kenya and beyond, basic activities, such as studying and conducting business, often happen in the dark. Vital services - from delivering babies to caring for the sick - occur in dimly lit rooms.
The paradox is that Africa is home to the world's fastest growing middle classes and that technology has played a large part in this growth. Cell phone use in particular has exploded. In 2002, only 8% of Ghanaians said they owned a cell phone; today 83% use a mobile. Everything from basic communication to mobile banking is done using the cell phone. However, the infrastructure needed to simply charge these phones and to empower sub-Saharan Africa in general, just doesn't exist, leaving hundreds of millions of people in the dark.
Even in Dar es Salaam, Tanzania's largest city, it's hard to escape the crippling impact of blackouts. At Nelwa's Gelato Shop, I met owner Mercy Kitomari, who dreams of growing her business to include solar-powered gelato stands run by women entrepreneurs. But for now, Mercy struggles with the costs of keeping her product frozen. Rolling blackouts mean that Mercy must pay for an expensive generator to keep the power going. During my visit, the shop was in the midst of a power outage. The buzz and whirr of the generator permeated the air.
Whether by using flashlights on cell phones, generators, or solar powered charging stations, people are making it work despite the lack of power. But they shouldn't have to hack the energy crisis by finding creative work-arounds.
The UN's new Global Goals have made a commitment to provide universal energy access in Africa by 2030. Meeting these goals would undoubtedly transform the entire continent. But a key part of this roadmap is in providing clean energy.
During his address at the Power Africa initiative in July, President Barack Obama spoke about the opportunities African countries have to leapfrog over dependency on dirty forms of energy such as fossil fuels, and jump straight to embracing renewable energy. Businesses seem to agree. In October, Google announced its investment in a green energy wind project in Kenya, which would be the continent's biggest wind farm.
It's no surprise that the developed world uses vastly more than its share of resources. If the developing world consumed energy in the same way, it would be a global catastrophe. But with greater investment in alternative energy innovation, strong political will within Africa and outside its borders, and an end to endemic corruption, Africa could become a leader in sustainability, lighting the way for all of us.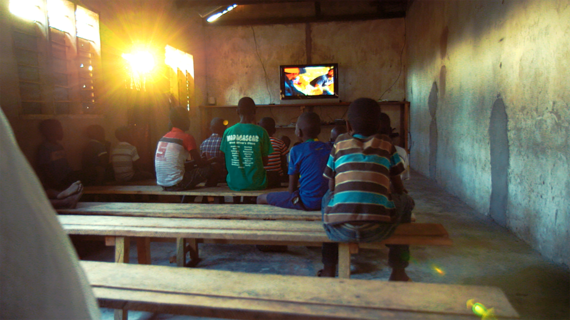 Movie theaters like these are in villages across Tanzania, since most homes do not have electricity. Besides paying to watch movies or sports games, residents can also pay to play video games at this theater in Mkuranga, Tanzania.
Watch more of Laura Ling's reports on energy poverty at Seeker Network. Follow her on Twitter @lauraling.
Popular in the Community