Artificial intelligence, also known as AI, has taken the tech world by storm, allowing companies to cut costs, automate a variety of their processes, as well as boost their bottom line. AI-powered chatbots, specifically, are being used by companies big and small as virtual assistants, customer care representatives, marketing executives, and salespeople.
In addition to the above technological trend, investors across the world are taking a large amount of interest in financial technology (Fintech) companies. In fact, investment in Fintech organizations rose by approximately 10% to just over $23 billion in 2016 alone.
While China is leading the Fintech investment surge, the United States and Europe aren't far behind and this is largely due to the decrease in popularity of more traditional financial institutions, such as banks and insurance firms, among others. These once-popular financial institutions have been largely disrupted by new technologies...and AI is one of them.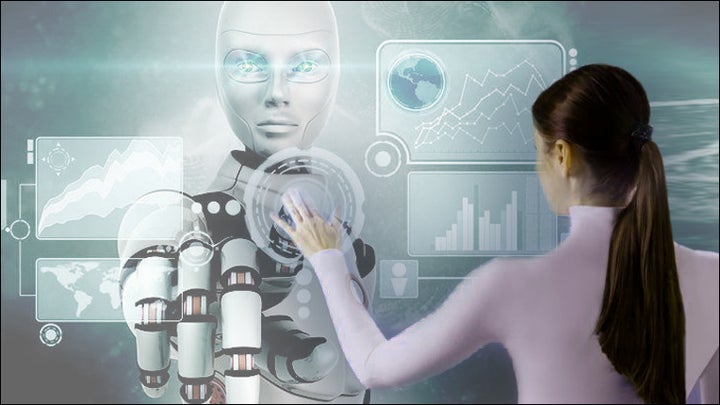 Below are some ways in which AI is playing a major part in changing Fintech:
Increasing Security
One of the key reasons various finance firms are implementing AI into their processes is to increase security. Normal security systems like anti-viruses are no longer keeping up and companies are looking for the next best thing: artificial intelligence. AI uses machine learning, which allows companies to fine-tune their systems to improve security.
Because AI helps by analyzing larger volumes of security data and is also able to scale to the size of a company as it grows, this technology can aid organizations in identifying:
Fraudulent behavior
Suspicious transactions
Potential future attacks
Reducing Processing Times
In addition to keeping sensitive information safer, AI cuts processing times in half. As you well know, processing receipts and other financial documentation is extremely time-consuming; it requires the patience and perseverance of multiple resources and is one of those necessary tasks that's often prone to human error.
AI allows you to process this information more accurately and quickly. Machine learning can recognize specific patterns and is able to improve with every task it undertakes. As a result, its ability to process information becomes quicker over time.
Reducing Duplicate Expenses and Human Error
Because documentation and processing require a lot of brainpower, it's natural that there's more space for human error. While AI isn't advanced enough to replace humans altogether, it can validate and double-check information for duplicate expenses, among other common mistakes.
Pixmettle, a silicon valley startup, is taking up this challenge head on. Pixmettle is developing enterprise AI based tools which will help detecting frauds proactively and at a very high accuracy. Fintech and AI expert Kapil Dhingra, founder of Pixmettle says "AI helps in flagging duplicate expenses and expenses with corporate policy violations early on, even before they get added to the system. This saves lot of headaches and back-and-forth with accounting and employees"
Increasing Levels of Automation
One of the most common benefits and effects AI has on nearly every industry is its automation opportunities. In addition to AI reducing the manual expense management problem, it can automatically generate expenditure and expense reports quickly, efficiently, and without errors.
AI understands approval workflows and allows companies to restructure and automate the expense tracking process. It also helps to automatically prevent reimbursement fraud and guides organizations with their budgeting efforts, thanks to automated reports.
Offering Game Changing Insights
One of the most valuable benefits AI brings to organizations of all kinds is data. The future of Fintech is largely reliant on gathering data and staying ahead of the competition, and AI can make that happen. With AI, you can process a huge volume of data which will, in turn, offer you some game-changing insights. These insights can be used to create reports that not only increase productivity and revenue, but also help with complex decision-making processes.
Empowering Smaller Companies
To succeed, larger enterprises have relied heavily upon the algorithms, automation, and analyses achieved with the help of AI. Because this technology is becoming increasingly accessible and affordable, it's being used to help smaller startups as well as consumers, giving them the tools to compete with larger players within their industry.
Balancing Consumer Budgets Based on Spending Patterns
As mentioned above, AI is playing an important role in empowering both consumers and Fintech companies. The technology is now being used in personal financial applications, allowing people to balance their budgets based on their specific income and spending patterns.
In simple terms, AI has been implemented in a variety of processes, acting as a robo advisor to individuals and organizations so they can cut costs while boosting their bottom line.
Chatbots in Financial Services
It's important to note that artificial intelligence doesn't only have a behind-the-scenes role within the business world. Now, this technology is being introduced into chatbots, letting them undertake a variety of internal and external communications. However, AI-powered chatbots are not just being used for communication purposes...
They're now being implemented by a variety of financial institutions as self-service customer-facing tools. For example, HSBC has created its own AI-powered chatbot that helps customers with a variety of tasks and queries. Not only this, the American Express bot, Amexbot, can help customers with questions regarding their accounts and personal information.
Other ways chatbots can be used in the financial sector include, but are not limited to:
Driving more seamless shopping
Taking orders directly from social media channels
Editing and checking bank account details
Supervising consumer credit score
Informing consumers of upcoming payments
Helping consumers to create realistic budgets
Finally…
With the stiff competition in the Fintech world today, it's no surprise that companies are adopting new technologies to stay one step ahead of the competition. Adopting AI in Fintech will allow companies to eliminate human error while boosting productivity and increasing their bottom line.
Related
Popular in the Community