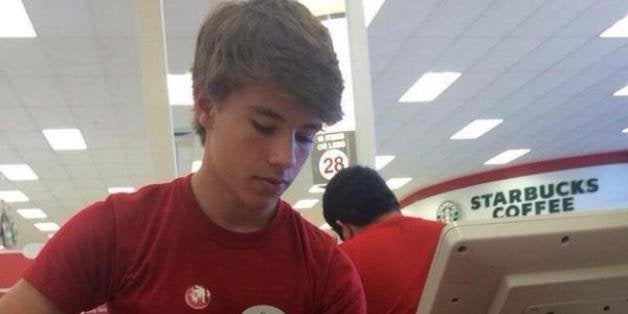 UPDATE: Nov. 5 -- This post dissects how some unfunny, uninteresting photos and videos go viral for seemingly no reason. In the case of Alex From Target, it appears marketing company called Breakr had something to do with it.
Apparently, Abbie (@auscalum), who is not employed by Breakr, tweeted the photo and then the company started "spreading the word amongst [their] fangirl followers" and "started adding fuel to the fire by tweeting about it to our bigger YouTube influencers."
Target, on the other hand, released a statement claiming it has no affiliation with Breakr and "had absolutely nothing to do with the creation, listing or distribution of the photo."
EARLIER: Did you hear about #AlexFromTarget? What's #AlexFromTarget? Who's #AlexFromTarget? Why do we care about #AlexFromTarget?
These are the burning questions swirling on the Internet today.
In case you weren't on Twitter yesterday, let us recount for you the birth of #AlexFromTarget.
November 2, 12:05 p.m.: Twitter user @auscalum tweeted a picture of a cashier named Alex, who works at Target. (Her account is now private, so the original post is only visible to her followers.)
Evening of November 2: Teens on Twitter who were smitten by #AlexFromTarget gave him the viral treatment.
Since then, #AlexFromTarget has inspired a ton of other memes and tweets. In-depth fan fiction about Alex has also transpired.
Evening of November 2: The "official Alex from Target" asked the golden question:
November 3, 10:47 a.m.: #AlexFromTarget got his answer. Target endorsed #AlexFromTarget.
Yes, Alex, you're famous.
Late last night, the new Internet celebrity had 250,000 Twitter followers, and as of 3:30 p.m. this afternoon, he was up to 370,000 followers. A seemingly ordinary young man has gained Internet celebrity in less that 24 hours. How did this happen? Better yet, why did this happen?
The original photo of #AlexFromTarget is mildly impressive. He is a cute Target cashier. Big whoop! But why are we all fawning over him?
It's impressive (and a little bit alarming) that a cute cashier from Target can become an overnight sensation. What's noteworthy though, is the fact that people find #AlexFromTarget funny or interesting enough in the first place. It is a constant cycle of I think this is funny because you think this is funny.
Alex is part of an Internet trend where images or videos, for no rhyme or reason, go viral for the sake of going viral. It's almost as if Twitter users are trying to see how far they can take a joke before they murder it beyond repair. The joke isn't even so funny to begin with so it won't be long until it is dead, gone and laid to rest in a graveyard among other overplayed viral memes. Does anyone remember "Sign Bunny" from a month ago? R.I.P.
A similar phenomena happened this past summer with Tish Simmonds, a Vine user who snapped a video of herself in her "mums car, vroom vroom."
The video itself is just a little bit funny, but what the Internet made of it is where the real comedy lies.
It is unknown why the Internet deemed Tish's Vine worthy of the viral treatment, or how they even found her previously little known Vine account. The same goes for #AlexFromTarget. These are ordinary people, doing ordinary things -- but the Internet decided they are extraordinary. Thus, all hell has broken loose.
Though we don't know how or why the Internet chose #AlexFromTarget, one thing is for sure: This is the best publicity Target has gotten in a while.
REAL LIFE. REAL NEWS. REAL VOICES.
Help us tell more of the stories that matter from voices that too often remain unheard.
BEFORE YOU GO
PHOTO GALLERY
9 Memes To Inspire You To Clean Up