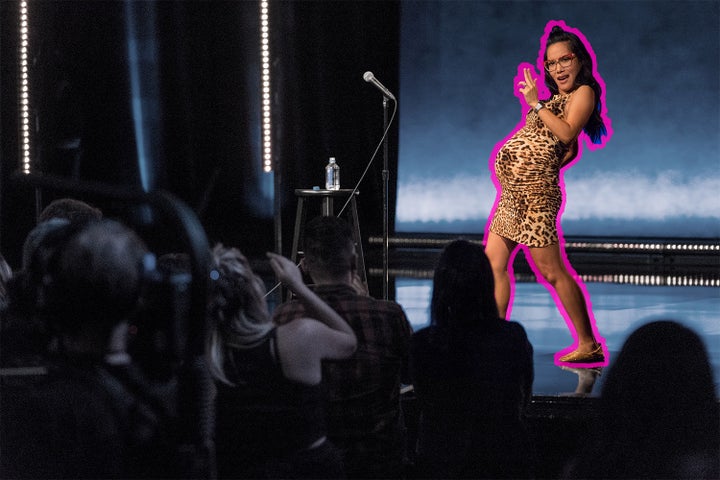 Not something women typically talk about when basking in the so-called "magical" afterglow of childbirth. These soft, breathable undergarments are made with netting that expands to fit comfortably over a new mother's curves as she deals with the relentless cleanup of postpartum bleeding.
Oh, wait, you're confused? Well, PSA: pregnant women rarely walk away from the terror that is labor and delivery unscathed. They continue to face all sorts of pain and inconvenience in the days and weeks following their beautifully life-changing event. Back aches, stitches, swollen everything. And bleeding. Lots and lots of bleeding. Bleeding that requires the use of mortifyingly huge maxi pads held securely in place by those gorgeous, hospital-grade, disposable mesh underpants that have preserved many a mom's sanity.
I, myself, am 34 weeks pregnant with my first child, set to feel these one-of-a-kind mesh underpants on my presumably stretched-out, sagging skin in just a few weeks. But, in all honesty, had I not watched Ali Wong's recent Netflix stand-up special on the miracle of childbirth desecration of the female body, I might not have known about the divine power of these panties.
"Hard Knock Wife" is a comedic masterpiece, the goal of which is to air out all the evils of pregnancy and new motherhood. Following the success of her 2016 show "Baby Cobra," a very pregnant Wong ― dressed in a tight cheetah-print dress, gold flats and bright red eyeglasses ― returned to the stage to dive right into the "wack-ass job" of postpartum life, not letting any gruesome detail go undiscussed.
In terms of those "cartoonishly large pads" and mesh underpants, Wong says that when she was expecting her first child, friends told her to steal as many of the mommy diapers from the hospital as possible. So, she advises women in the audience ― when they're at this particular stage in life, of course ― to do the same.
"You know what happens after the baby comes out? You know what else exits? Her house," she tells them. "Her living room, her pillows, the Bob Marley poster, all the food that went bad in her refrigerator. For months!"
"I thought it was supposed to be this beautiful bonding ceremony where I would feel like I was sitting on a lily pad in a meadow, and bunnies would gather at my feet while the fat Hawaiian man-version of 'Somewhere Over the Rainbow' would play," she says. "NO. It's not like that at all. Breastfeeding is this savage ritual that just reminds you that your body is a cafeteria now."
"Ali Wong says the things everyone is thinking and knows is true about pregnancy and childbirth, but is too embarrassed to talk about," Erica, a mother of two from Rockland County, New York, and author of the blog Tales of a Tired Mom, told me. "I watched both of [her specials] in a row because I couldn't stop!"
It's true. Wong, 36, who gained a devoted following after "Baby Cobra" was released, isn't afraid to discuss the less-than-flattering side of motherhood. During "Hard Knock Wife," she laments on the fact that women in the U.S. are screwed in terms of maternity leave, stating, "In every other first-world country, women get up to three years off, paid. In the U.S. we get jack shit. In the U.S., there is zero federal policy."
That's a problem since, as Wong defiantly screams, "Maternity leave isn't just to bond with the baby — fuck the baby! Maternity leave is for moms to hide and heal their demolished-ass bodies."
"The jokes about pregnancy, delivery and postpartum are hilarious, of course, but she punctuates the comedy with the line, 'and that's why we need maternity leave,' which draws huge applause from the crowd," Julia, a mother of two from Richmond, Virginia, who was pregnant herself when she saw Wong perform live in D.C., said. "The fact that it is so glaringly true and that her 'funny' anecdotes about birth illustrate the real need for change is something I really appreciated as a pregnant woman, and especially as a mother who had a difficult postpartum experience with my first child."
"Maternity leave isn't just to bond with the baby — fuck the baby! Maternity leave is for moms to hide and heal their demolished-ass bodies."
I reached out to dozens of moms and moms-to-be in their late 20s and 30s, and they all agreed: Ali Wong is a hero. Many told me that even if I read all the parenting and baby books out there, Wong would still provide me with more knowledge than some guru or doctor ever could. And, after reading many, many of these "mom guides," I realized they were right. In a way, I'm more equipped to give birth after watching Wong's candid stand-up routine than I was after reading What To Expect.
"What to Expect is sweet and helpful in terms of the logistics of being pregnant, raising a baby and child development," mom-of-one Mariah, from Boston, Massachusetts, told me, "but Wong tapped way more into the raw, emotional, hilarious side of pregnancy, birth and childbearing. It made me feel so much less alone."
"It's so real, it's not even funny," new mom Brittany, from Richmond, Virginia, added. "It's 100 percent the new What To Expect."
Why is it that we, as women, shy away from telling each other and those around us what really goes down in the delivery room? Why are we afraid to open up about our postpartum experiences and our very real struggles with parenthood? Fear, perhaps. The fear of scaring away our potential pregnant comrades and moms to be. The fear of confirming a danger you'd rather ignore in the hopes it doesn't come for you.
Wong, however, isn't afraid. "[She says] all the things your nice friends hide from you so you aren't terrified," Mariah added. She outlines not just what moms should expect, but what others should expect of moms.
"Whenever I feel mom guilt or I feel pressure to be a better mom, to cook salmon on a bed of quinoa for my kids, I just think to myself, 'I have suffered enough,'" Wong told Ellen DeGeneres. "And then I feel fine about feeding my toddler a bag of chips for dinner."
Pop culture has begun to embrace the kind of scary, gross, incredible reality depicted by Wong in documentaries like Serena Williams "Being Serena," movies like Charlize Theron's "Tully" and TV shows like "The Handmaid's Tale." And more than a few recent memoirs ― Like a Mother (Angela Garbes) and And Now We Have Everything (Meaghan O'Connell) ― offer unfiltered guidance to women and mothers who want to laugh, cry and feel less alone at the same time.
Which is what Wong lets us do. So watch "Hard Knock Wife" ― and "Baby Cobra," for that matter. And, sure, read What To Expect, too. Us moms, and future "human Tamagotchi" caregivers, need all the help we can get navigating the perpetual spit-ups, diaper explosions and witch hazel woes in front of us.
Popular in the Community