As the economy emerges from the downturn, consumers are likely to spend the next several years drastically reducing their debt -- at least if historical example, which shows that the debt-reduction process following a severe financial crisis takes six to seven years on average, is any indicator.
And according to an analysis of data collected by Mint.com, the popular online money management site, a significant number of Americans are indeed paying down their debt and ratcheting up their savings.
Mint derived the data from its more than 2 million users, and found that from February 2009 to February 2010, Mint users trimmed their debt by 14.3 percent and raised their cash savings by 3.2 percent. Their average liquidity (cash minus credit-card debt) also rose, from $6,298 to $7,460, a 18.4 percent change.
In the same period, the users' investment assets (defined as their brokerage accounts, 401ks and IRAs), grew by a third, from $71,051 to $94,555.
Mint's sample may not be representative of the country, but it's corroborated by other data, including the Fed's, which showed a 5.6 percent decline in overall consumer borrowing in February. Credit-card borrowing in particular contracted during the month, falling 13.1 percent.
Check out Mint.com's snazzy infographic representing the savings data: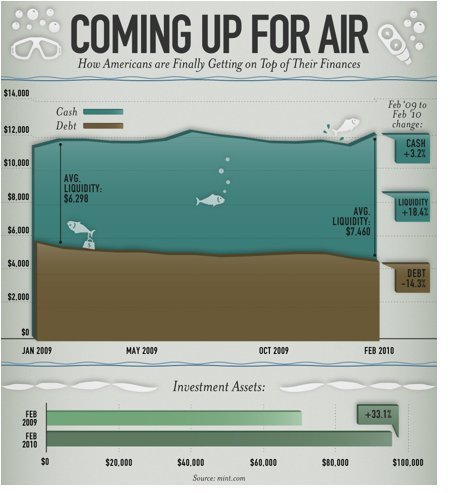 Calling all HuffPost superfans!
Sign up for membership to become a founding member and help shape HuffPost's next chapter