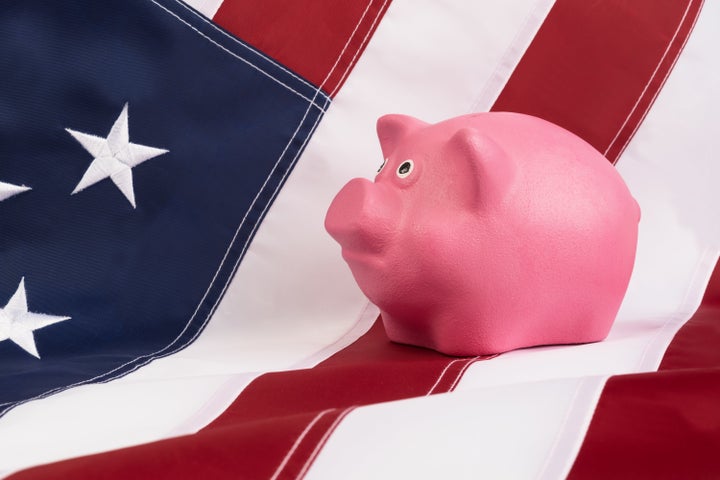 A slim majority of Americans say they're happy about their current financial situations, a new HuffPost/YouGov poll finds ― but their feelings also depend on exactly how they're asked the question.
Fifty-two percent of Americans polled say their current financial situations are excellent or good, with 41 percent calling their current situations not so good or poor. Opinions on the state of the nation's economy are more narrowly positive, with 45 percent saying it's excellent or good, and 41 percent that it's not so good or poor.
Typically, views of the economy are among the strongest drivers of presidential approval. In 2013, Gallup found that Americans who approved of then-President Barack Obama's economic record were six times likelier than those who disapproved to support him overall, "nearly double the impact of any other issue."
This time around, however, that doesn't seem to be the case. Trump's economic approval rating has regularly outstripped his overall approval rating, Adrian Gray, a GOP political consultant, noted Monday on Twitter. This sets Trump apart from other modern presidents.
Barely over one-third of the public thinks Trump bears primary responsibility for the current state of the economy, according to the HuffPost/YouGov poll. Forty percent say that Obama has more responsibility, 34 percent say Trump does, and 27 percent say they're unsure.
"If you take the president's scores out of this poll, you see a nation increasingly happy about the economy," pollster J. Ann Selzer told Bloomberg, which also found economic optimism outstripping optimism about Trump in a recent survey. "When Trump's name is mentioned, the clouds gather."
Use the widget below to further explore the results of the HuffPost/YouGov survey, using the menu at the top to select survey questions and the buttons at the bottom to filter the data by subgroups.
While Americans' views about the economy can affect their opinions of the president, the reverse is also true. After Trump was elected last November, according to Gallup, Republicans' ratings of the current state of the economy immediately rocketed upward, while Democrats' sank. And in the HuffPost/YouGov survey, Trump voters were 11 points more likely than Clinton voters to call their own finances good or excellent, and 12 points more likely to say the same about the economy as a whole. (Nonvoters, meanwhile, were the most pessimistic of all people surveyed.)
To test the degree to which Trump and Clinton voters' views were linked to partisanship, we followed up with a second set of questions. Half of those polled were asked to compare their finances and the state of the economy to "the beginning of the year." The other half were asked to think back to "when President Trump took office."
As the results show, explicitly throwing Trump's name in the mix has a modest but clear effect on Clinton voters' perceptions of the national economy. Clinton voters asked simply to compare the state of the economy now to the beginning of the year said by a 4-point margin that it was getting worse rather than better. Those asked about the economy during Trump's tenure said the same, but by a 29-point margin. Trump voters' views, by contrast, remained generally positive in both cases.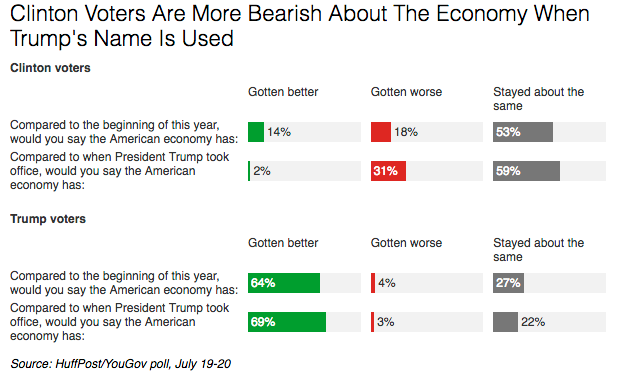 Mention of Trump's name also seemingly affects Americans' views of their own finances.
Clinton voters who were asked about their personal finances without any mention of Trump said by a 4-point margin that their finances had gotten worse since the beginning of the year, but when Trump was mentioned, they said so by a wider 17-point margin.
Trump voters asked about their finances without any mention of Trump said by a 12-point margin that their situations had improved, but when Trump was mentioned, they said by a 36-point margin that they'd seen an improvement.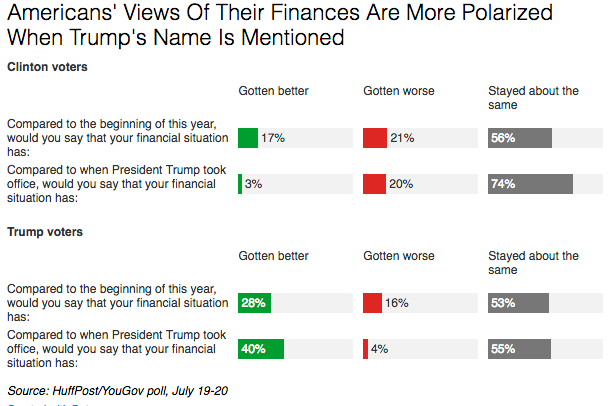 The effect isn't unique to the current president. In a 2016 survey, Republicans surveyed about the country's economic direction under Obama expressed notably more negative views than those asked simply to think back to "the year 2008." Democrats who were asked directly about the economy under Obama, by contrast, were less likely to acknowledge a rise in income inequality than those who weren't asked specifically about the former president.
The HuffPost/YouGov poll consisted of 1,000 completed interviews conducted July 19-20 among U.S. adults, using a sample selected from YouGov's opt-in online panel to match the demographics and other characteristics of the adult U.S. population.
HuffPost has teamed up with YouGov to conduct daily opinion polls. You can learn more about this project and take part in YouGov's nationally representative opinion polling. More details on the polls' methodology are available here.
Most surveys report a margin of error that represents some, but not all, potential survey errors. YouGov's reports include a model-based margin of error, which rests on a specific set of statistical assumptions about the selected sample rather than the standard methodology for random probability sampling. If these assumptions are wrong, the model-based margin of error may also be inaccurate. Click here for a more detailed explanation of the model-based margin of error.
Support HuffPost
The Stakes Have Never Been Higher
Popular in the Community