An English-dubbed version of an apparent North Korean propaganda video that went viral online this week turned out to be a big joke.
The video, titled "How Americans Live Today," features an English voiceover purportedly translating the original Korean narration. The phony translation describes hyperbolic scenes of Americans being forced to live in tents and eating melted snow in order to survive.
The man behind the farce? British travel writer Alun Hill, who doesn't speak a word of Korean.
Hill told The Huffington Post over the phone Wednesday that he received the original video from North Korea's official Korean Central News Agency, which said it depicts the failure of European democracy.
(Story continues below)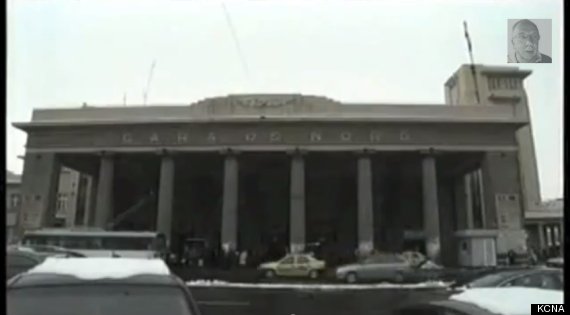 Hill pointed out that this shot from the propaganda video is actually of a train station called Gara De Nord, in Bucharest, Romania.
Although Hill's version was published by a range of media sites, including Mediaite, Wired, BuzzFeed, The Week, Slate, The Daily Caller, Yahoo, Telegraph and The Washington Post, it seems none of them traced it back to Hill's YouTube page.
There, Hill clearly titled the video "North Korea Comedy Show: How Americans Live Today, Survive By Eating Birds And Snow." The video is also listed in the "Comedy" and "Entertainment" sections on YouTube, rather than as "News."
There were plenty of other warning signs.
The first frame of the short film features Korean text that Hill jokingly translates as "How Americans Live Today," when in reality it says, "Capitalist Society Growing Darker," according to a HuffPost translation of the text.
Furthermore, the Korean narration of the video at the 1:29 mark describes snow and cold temperatures. But Hill's satirical translation describes Americans eating songbirds to survive and refers to them as "yummy."

Earlier Wednesday, Slate changed the headline of its story, while Wired writer Spencer Ackerman told HuffPost in an email that he took his story down just hours after publishing it. The URL for Ackerman's piece directs visitors to a "page not found" error message.
Ackerman apologized on Twitter for misleading his readers:
My apologies, guys. I fell for what appears to be a hoax video -- as hilarious and awesome as it is. Sorry.

— attackerman (@attackerman) March 13, 2013
At press time, none of the other outlets had issued corrections for publishing the video. Let's hope they do before North Korean media realize how dumb we are.
WATCH Hill's hilarious version of the video, above.
BEFORE YOU GO
PHOTO GALLERY
Myanmar Welcomes Obama