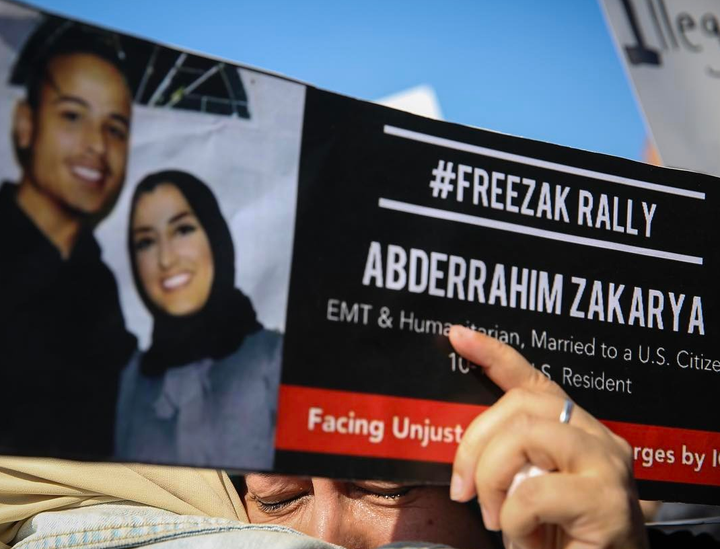 The rattling of the train, speeding across the tracks below. I focus my gaze on the sun's flirtations with my hand jewelry, creating rainbows on the train's floor, and let my mind drift to the events that unfolded over the weekend.
Abderrahim Zakarya, or Zak, is undocumented. He was arrested on April 28 in Jersey City, NJ and was in the custody of the Hudson County Department of Corrections (HCDOC) for four days. He was handed over to Immigration Customs Enforcement (ICE) this morning.
Less than a year ago, I was sitting with Zak and a group of other young Muslim Americans, formulating a game plan for election year. And six months ago, I was celebrating his marriage to the brilliant and beautiful Marwa Labsir.
Zak's detainment is the second penetration of immigration officials into my immediate community. The first occurred a little over 10 years ago, when I was twelve years old and my brother was eleven and his best friend's father was deported from New York. At the time, my only knowledge of immigration was "legal" and "illegal" and an immigrant was one or the other. Since then, a few things have changed, one being the naming of Jersey City a sanctuary city in response to Donald Trump's open war on immigrants (to be fair, the Obama and Bush administrations also launched wars on immigrants, only they were a little less loud about it).
When Zak was arrested by the HCDOC, I, like many others, had high hopes that he'd be released within hours since the City Council of Jersey City unanimously approved the "fair and welcoming Jersey City resolution", which designates Jersey City a sanctuary city. However, what a lot of us didn't know is that the HCDOC is one of four law enforcement agencies in NJ that participates in the 287(g) delegated authority program.
By creating a culture of fear, 287(g) discourages civic engagement and slowly tears at the seams that hold communities together.
287(g) is a section of the Illegal Immigration Reform and Immigrant Responsibility Act of 1996. It authorizes ICE to enter into agreements with state and local law enforcement agencies. Through 287(g), local law enforcement agencies are given the authority to enforce federal immigration laws. According to ICE, 287(g)'s mandate is to focus on noncitizens who pose a threat to national security or are dangers to the community. Although these terms are subjective, still, less than 10% of those sampled by the Office of Inspector General (OIG) in their 2010 audit of the program committed ICE level 1 offenses (crimes such as rape, kidnapping, and murder). The OIG expressed a "complete lack of confidence" that the program's resources are being "appropriately targeted towards aliens who pose the greatest risk to public safety and the community". "Random street operations" are also not permitted under 287(g), but the OIG found that officers have conducted random street operations anyway under the guise of making arrests for minor offenses and violations of local ordinances. Undocumented immigrants who are accused of minor offenses are not afforded a fair trial through the criminal justice system; instead, they are turned over to ICE agents immediately.
287(g) has negatively affected immigrant communities in numerous ways and created a greater rift between immigrants and law enforcement. For example, many undocumented immigrant women endure domestic abuse and maintain unhealthy spousal relationships because 287(g) has increased their fear of local law enforcement. The lack of trust in local law enforcement also means that undocumented immigrants will be less likely to report heinous crimes that they either endure or witness. Exploitation of undocumented immigrants increases and so does landlord abuse, for example. By creating a culture of fear, 287(g) discourages civic engagement and slowly tears at the seams that hold communities together.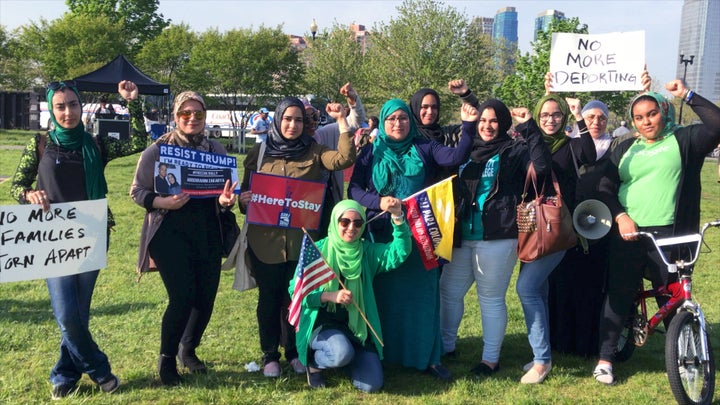 Because Zak is an undocumented immigrant, he fell into the process of 287(g) operations: he was arrested by HCDOC and is currently in an ICE detention center in Elizabeth, NJ. For every day that Zak was in HCDOC's detention center, Hudson County received $110.
I have known Zak for close to ten years, and the majority of my encounters with him have been at community service-oriented events. Zak was a model immigrant: he saved lives as an EMT, spent many of his weekends feeding Hudson County's homeless population, and helped raise over $100,000 for clean water in disadvantaged areas of the world. During Ramadan, he was a regular volunteer at a Jersey City mosque, where he helped direct traffic during peak hours. Zak could be seen at college events, either in attendance or busily helping with set-up. Yet still, despite his good, hardworking, peaceful, nonviolent, immigrant image he was not spared the cruelty of America's immigration system or Hudson County's participation in the 287(g) program. Being a model immigrant did not save him. Although ICE claims that the 287(g) program makes communities safer by weeding out "dangerous" immigrants, it is people like Zak who have been and will continue to be swept up in between. So long as Hudson County continues its participation in the 287(g) program, we will continue to lose valuable and well-loved community members.
REAL LIFE. REAL NEWS. REAL VOICES.
Help us tell more of the stories that matter from voices that too often remain unheard.
BEFORE YOU GO