Karin Konoval is a veteran actress who, in her decades of work, has likely appeared in an episode or two of one of your favorite TV Shows. She has appeared in a couple of my favorites, X-Files and, more recently, Continuum, to name a couple. However, right now she has a starring role in a major film, even though we do not get to see her face.
Konoval plays Maurice, an orangutan, in the reboot of the Planet of the Apes movies. The latest chapter, War for the Planet of the Apes, will be hitting theaters on July 14, 2017.
I recently got to interview Konoval about her observations and fascination with orangutans, and how they have helped her play one in the movies.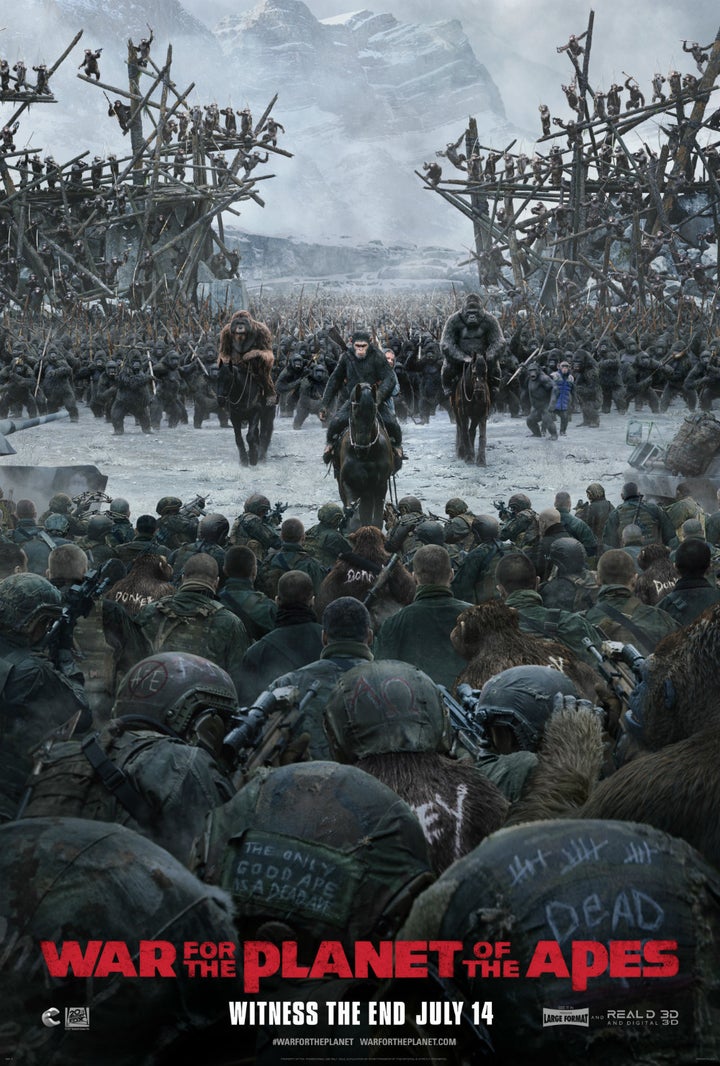 Alejandro Rojas: I was told that you've done some real life work with orangutans. What did that entail?
Karin Konoval: Well, first of all, I don't work with them - I am a student of orangutans. There are people that do work with orangutans that I've been fortunate to meet and learn from, and I follow and support as I can the very hard work of those working on behalf of orangutan conservation. But I have spent extensive time in observation and study of particular orangutans. In August of 2010, when I was first cast as Maurice in "Rise of the Planet of the Apes" and after I'd done all my book and video research, I felt there was another level of something that I wasn't quite accessing yet in my portrayal of Maurice. I found a video on YouTube called "Towan the orangutan paints" and discovered that he lived at Woodland Park Zoo in Seattle. I'm a painter on the side myself, so I thought, "Well, we must meet."
I went down as a visitor to Woodland Park Zoo to observe him, and he made the surprising choice to come see me at the window where for twenty minutes we were nose-to-nose on either side of the glass, Towan looking deeply into me. If you've never had the chance to have an encounter with an orangutan, it's quite an overwhelming experience. As simplistic as it sounds, it was in that twenty minutes that he gave me Maurice.
This was the true beginning of my journey to know orangutans, a fascination and personal journey that's gone well beyond research for the films. After "Rise of the Planet of the Apes" was released in 2011, I began to visit the orangutan family at Woodland Park Zoo on a regular basis, which I still do today. Through two of the orangutan caregivers who work there, Laura McComesky and Andy Antilla, I was introduced to the larger conservation community around the world, and in particular the people working so hard on orangutans' behalf in Borneo and Sumatra. I was also introduced to the wonderful work of Patti Ragan and the Center For Great Apes in Wachula, Florida, a sanctuary for orangutans and chimpanzees rescued from lives as pets, as performers, or in research. I'm privileged to be a "foster person" to orangutans Mari and Linus at Center For Great Apes, and to orangutans Krismon, Nadya and Megaloman at the Sumatran Orangutan Conservation Programme (in Sumatra) and orangutan Jumbo at Borneo Orangutan Survival Foundation (in Borneo).
What I continue to learn from orangutans only grows and grows, and I'm pretty sure now I'll be a "student of orangutans" for life.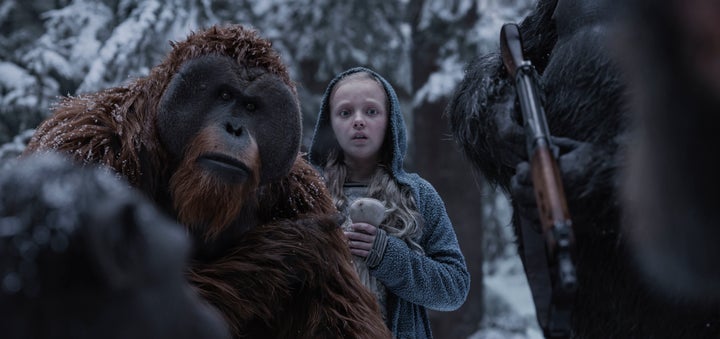 Rojas: When one goes to the zoo and visits orangutans it seems difficult to tell emotion from looking at their faces. Whereas, a character like Maurice needs to express human emotions. How did you do that?
Konoval: Well, actually, I sort of disagree with you a bit -- in that Maurice's emotional expressions are "human" ones. In my experience observing Towan and the rest of his family, and the other orangutans I've been fortunate to meet and learn about, they show a full range of emotions and are highly sentient. But it can be very subtle to perceive -- you need to observe them closely over a long period of time to appreciate. In fact, I actually think that in some ways orangutans are more sophisticated than humans. Everything that has become part of my portrayal of Maurice has been inspired by my observation and perception of real orangutans. I strive to maintain his orangutan integrity, and hope I've done that. Now obviously there's a certain evolution of the ape characters within the Planet of the Apes story, in terms of the development of their abilities, but in terms of how Maurice thinks and feels and acts, I've seen much of this mirrored in the real orangutans I've met.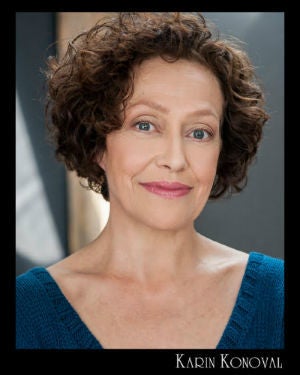 Rojas: You've touched on this a bit, but how has Maurice evolved through the movies?
Konoval: Well, if you can recall, Maurice's early life before "Rise" was as a performing orangutan in a circus. He was an orangutan trained to perform sign language. So this was an ability he had when he and Caesar first met, that enabled them to communicate. I think the most significant way that Maurice has evolved is not in terms of an increase in intellectual capacity but rather in his willingness to connect -- both with Caesar and with the rest of the ape community. Maurice also had, as a result of his early life experience with humans, a suspiciousness and distrust of them. A significant character development occurred for him in "Dawn of the Planet of the Apes" when he bonded with the boy Alexander over the book, and another significant development occurs for him within the story of "War for the Planet of the Apes." As an actor, I confess I feel that the level of intelligence Maurice displays has, in a certain way, always been there. It's his willingness to express and engage with others that has evolved.
Support HuffPost
The Stakes Have Never Been Higher
Related
Popular in the Community