This month, world leaders will lock in the next set of global goals that will determine the development community's priorities over the next 15 years. Perhaps the boldest of all is Sustainable Development Goal (SDG) 1: end poverty in all its forms everywhere.
Because poverty and health are so closely linked, improving health is a prerequisite to achieving this goal. But improving the health of the world's poorest people requires better tools that make care more affordable, accessible, and effective. This is where health innovations come in.
Health innovations were a big part of the 50 percent drop in deaths among children under age five -- going from 12.7 million deaths each year in 1990 to 6.3 million in 2013. Vaccines. Bed nets. Vitamin A supplementation programs. Before these and other innovations were implemented, millions more children suffered and died from preventable and treatable causes.
Poor health still has a profound impact on the economic wellbeing of individuals, communities and entire countries. Sick children may never develop to their full physical or cognitive potential, and often earn lower incomes as adults. Families are burdened by medical costs and lost wages when a parent misses work to care for a family member. Too often, these factors push a family across the poverty line -- and keep them there. Multiplied across a country, the effects can ripple all the way through a nation's economy.
As the last 15 years show, breaking this cycle of poor health and poverty is within our reach. Our task now is to identify, develop and scale up the next wave of health innovations -- new solutions that are affordable, accessible and effective in low-resource settings and that empower families and communities to transform their own health and economic futures.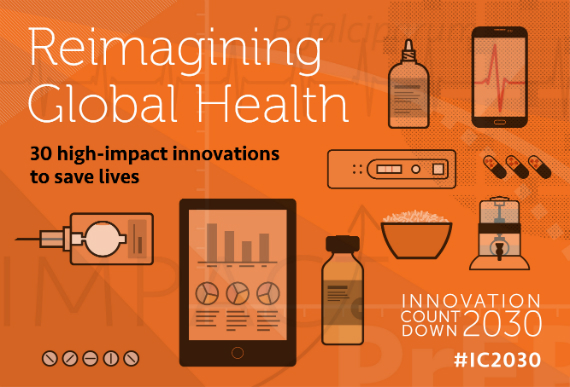 The IC230 Report Reimagining Global Health: 30 high-impact innovations to save lives
Graphic by PATH
Given the urgency of the challenge and limited resources available, we need better ways to identify innovations that will have the greatest impact. Innovation Countdown 2030, an initiative led by PATH, crowdsourced nominations from around the world of innovations with the potential to address the health needs of the world's vulnerable populations, particularly women and children living in poverty. Independent global experts analyzed submissions and selected 30 high-impact innovations -- devices, diagnostics, drugs, vaccines and therapeutics -- that could be game-changers for global health and the SDGs.
For example, a prototype device could help babies make their way through the birth canal during labor complications. This idea was conceived by a car mechanic in Argentina inspired by an online video about how to extract a cork from an empty wine bottle -- proving that innovation can come from anywhere in the world. Between now and 2030, this device could prevent an estimated 249,000 maternal and fetal deaths due to prolonged and obstructed labor.
There's also a new formulation of chlorhexidine -- a common antibacterial used in prescription mouthwashes. By preventing umbilical cord infections that lead to sepsis, chlorhexidine could save the lives of more than one million newborns over the next 15 years.
And there's an automated batch chlorinator, a rugged device that fits directly onto a hand pump or community tap and chlorinates water without electricity or need for manual operation. This technology could prevent an estimated 1.5 million deaths by 2030. That's a 16 percent reduction in child deaths -- from diarrhea mostly caused by unsafe drinking water. It is also expected to save a staggering US$1.2 billion in health costs that would have been incurred treating the diarrhea.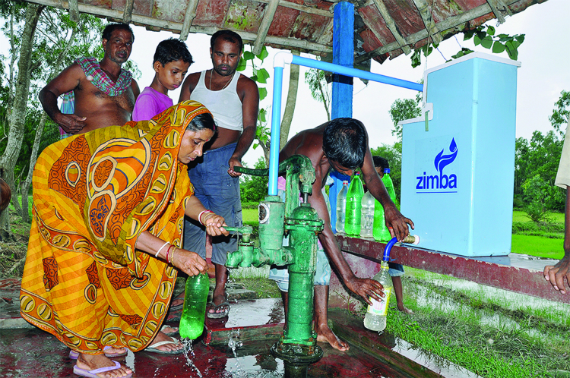 A device that automatically mixes chlorine into water in the correct proportions, regardless of the flow rate of the water.
Photo credit: Zimba
These are just a few of the promising innovations identified in this first report of the Innovation Countdown 2030 initiative.
Deepening the pipeline of smart innovations and taking them from bright ideas to affordable solutions is hard work and takes investment. As new investors, including those from private industry, philanthropies, and social impact groups come on board, leadership is needed from established R&D funders like the U.S. government to leverage and align funding. Policy and regulatory action will also be required to clear the way.
We know what's needed and what's left to do to have the greatest impact. Let's make it happen.
This post is part of a series produced by The Huffington Post, "What's Working: Sustainable Development Goals," in conjunction with the United Nations' Sustainable Development Goals (SDGs). The proposed set of milestones will be the subject of discussion at the UN General Assembly meeting on Sept. 25-27, 2015 in New York. The goals, which will replace the UN's Millennium Development Goals (2000-2015), cover 17 key areas of development -- including poverty, hunger, health, education, and gender equality, among many others. As part of The Huffington Post's commitment to solutions-oriented journalism, this What's Working SDG blog series will focus on one goal every weekday in September. This post addresses Goal 1.