In my last article I described how I chose the two team members who would be accompanying me on my upcoming expedition to walk the length of the Congo River. Below is an email I sent Boston and Simone recently when I realized that they deserved to know more about why I myself wanted to do this expedition.
I thought that it would be worth putting down a few notes to better explain my motivations for taking on this expedition, and how that ties into a broader vision for how I want to run my life. Perhaps, because of what I've done in the past, some of this might be obvious. However, given that we have never worked together, will not physically be in the same place for the next couple of months, and, sooner or later, we are going to get to know each other very well indeed (!!) it seemed better to restate the obvious than miss something important.
So, what are my reasons for wanting to walk the Congo?
1) Personal:
My belief is that, at core, contemporary exploration starts with the desire for exploration of the self. I wanted to join the Army when I was younger, won a scholarship at 15 that guaranteed me a place at the UK's Royal Military Academy Sandhurst. 7 years later and the day before heading to the academy to begin training I was failed on a routine medical for having psoriasis, a mild skin condition. A career in the Army had appealed to me for several reasons: I wanted the physical, mental and moral challenge that I knew I would find there, I wanted to be around people who shared the same approach to life and I wanted a sense of mission.
My attitude when I was preparing to enter army training was that, from the moment I started, 24/7 that was going to be my life. I think that in normal life there is generally a lack of intensity and commitment to an objective. I wanted to find out who I really was and believed, and continue to believe, that that knowledge can best be found when under great duress. There is a mountaineering quote that I have always liked; it is equally applicable to what we are trying to achieve: 'Great things happen when men and mountain meet. This is not done by jostling in the street.'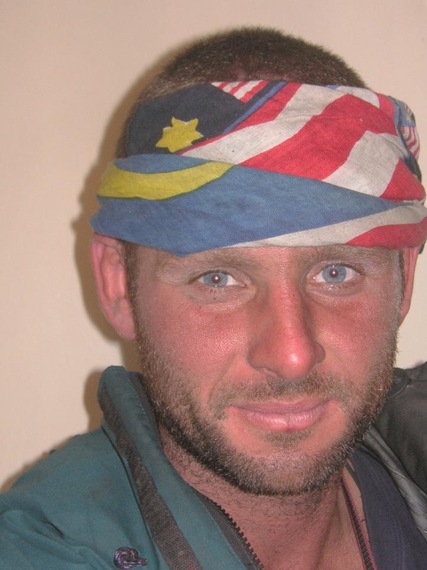 Utterly spent but utterly content the day I arrived home having motorcycled from Nepal to France

2) Team:
Again, I'm looking for a depth of experience that simply doesn't happen in normal life. I'm sure it's the same for both of you, but when I look back on my life the people I am closest to are those with whom I have shared some incredibly difficult experience. Planning for, training for and undertaking this momentous task is going to demand we find our innermost resources. I would imagine there are times when your strength will help me carry on, and I hope that the reverse will be true. I know that, when we wade into the Atlantic together, after 12+ months of walking this river, we will have a bond that will last a lifetime. Utterly priceless.
With Steve Obbayi during early days of preparation for the Kenyan Everest Expedition

3) Mission:
Coming from a charity background I have learned first hand that good storytelling is key to making a charity sustainable. I think that looking at ourselves first and foremost as storytellers and only then as expeditioners is important. The logic here is that, if we are going to flog ourselves half to death doing this, how can we maximize the value that is going to derive from our efforts? How can we make sure that, because of this expedition and the rigors that three people are willing to put themselves through, the world becomes a better place?
This is why I am so thrilled that the Captive Minds team are managing the expedition. Engaging them to package, sell and activate this expedition is possibly the biggest step forward I have made in my career. They know how to tell a story and make sure that that story is amplified to the greatest degree possible.
There are any number of examples of good storytelling in this sector. Obviously, the substance of the story has to be there, and the storytelling has to have measurable objectives (both of which we will have.) Most recently, and perhaps pertinently, the Virunga documentary put the Virunga national park and eastern DRC into the minds of people who might never have heard of them.
I look forward more than you can know to sharing this adventure with you both.