When I first wrote about my appreciation for President Barack Obama, my opinion piece ran in the Chicago Sun-Times. It was the weekend of his second inauguration. My family expressed concern over my public display of political party affiliation. They worried this could alienate friends, co-workers or even prevent me from future employment opportunities.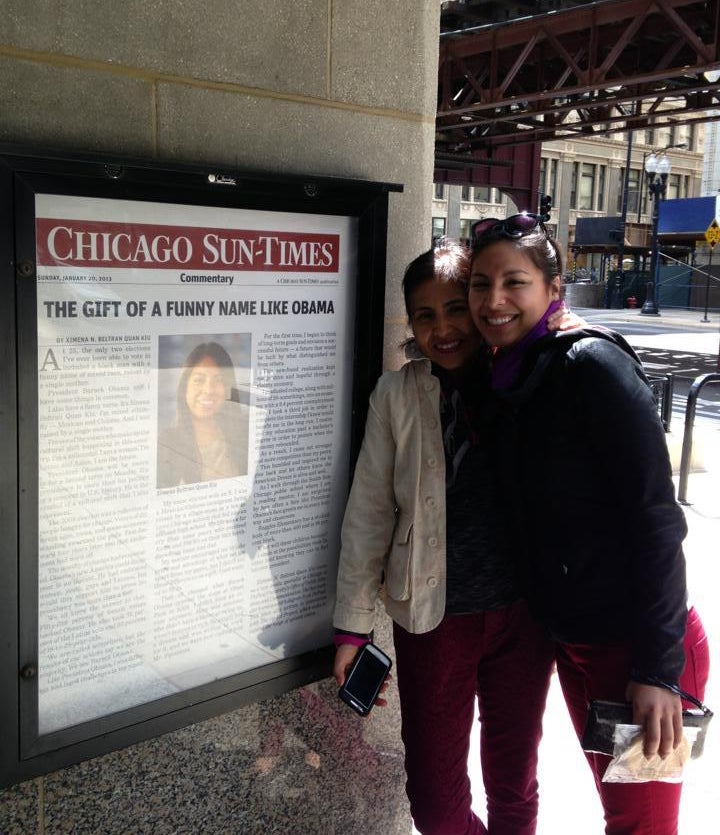 I explained it was important for me to express my admiration for our first black president because it went deeper than public policy. For me, Barack Obama symbolizes hope, change and the power of your dreams. His ascent to the highest office of power in the United States showed me anything was possible, and not something people simply say.
For the next four years, I carried the dream of meeting the President. I saved a clipping of my article and hoped to share it with him, shake his hand and thank him for giving me something real to believe in. As his time in office neared to a close, I decided to do something about that wish.
I bought a cut-out of Barack Obama and for the next eight weeks, I carried it around with me whenever possible. Only stopping when the Chicago weather became too unpredictable.
I reasoned that being around him would be good 'practice' and allow me to be comfortable in his presence if the opportunity to meet him ever did come up (I wanted to be prepared).
The result was unexpected.
Curiosity always got the best of people and someone would ask why I carried a cut-out of President Obama. The question inherently lead to conversations speckled together by laughter, their own Obama connection, advice on how to best get in touch with him and confessions of their own aspirations.
It was a pattern that repeated itself regardless of the person's gender, age and location in the city. Over the course of eight weeks we went to New York City (twice)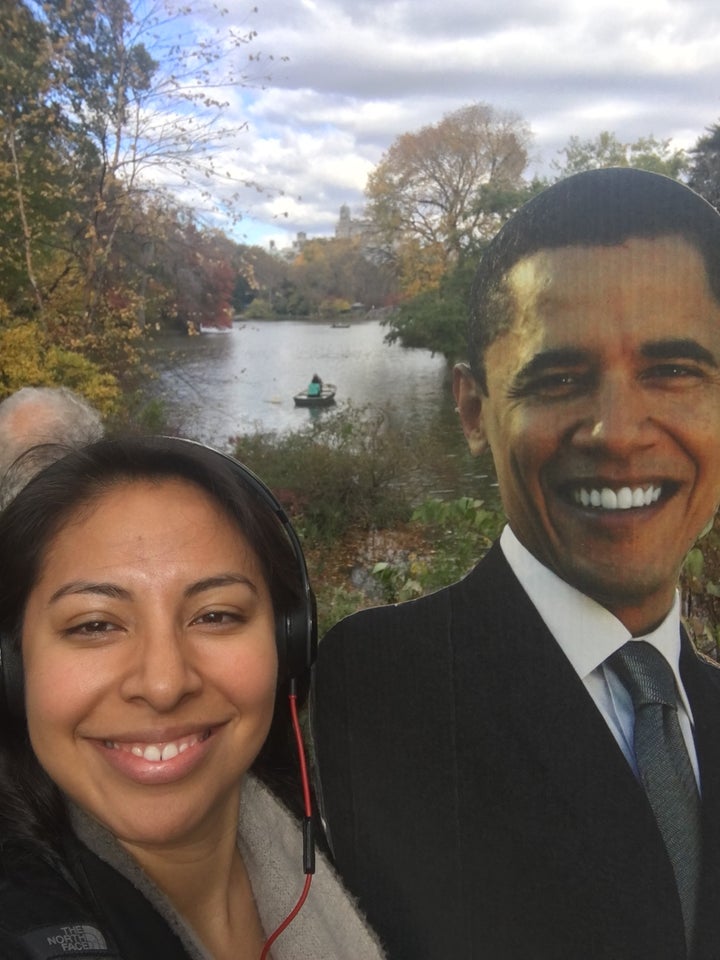 The Chicago marathon to cheer on runners (where runners stopped for selfies).
A charity gala (where crowds gathered to take photos with cardboard Barack).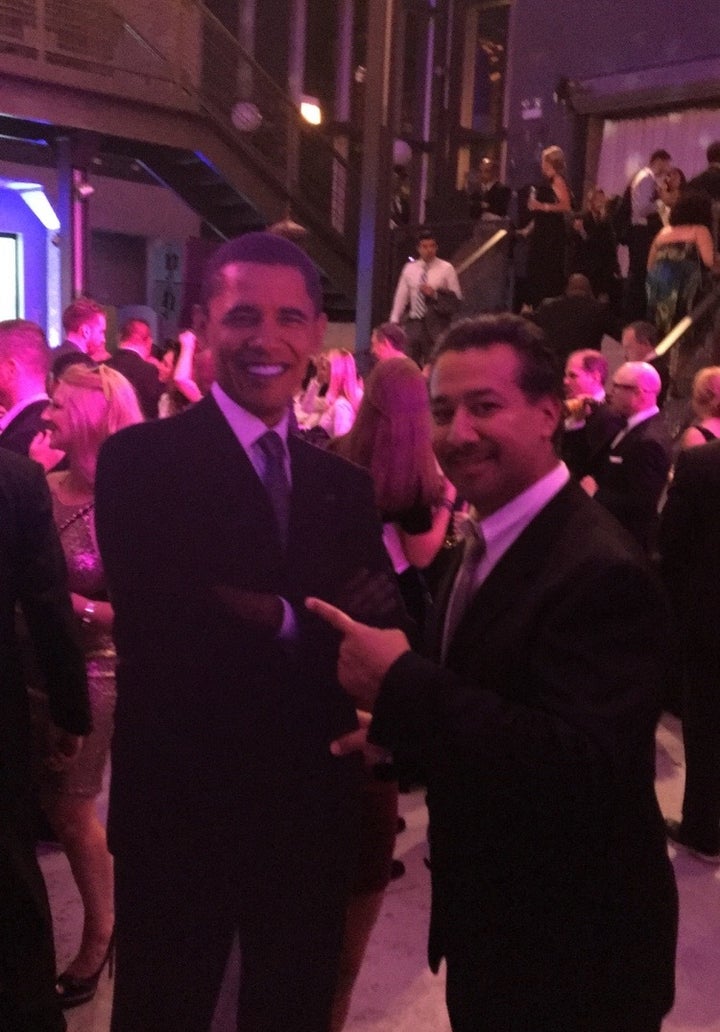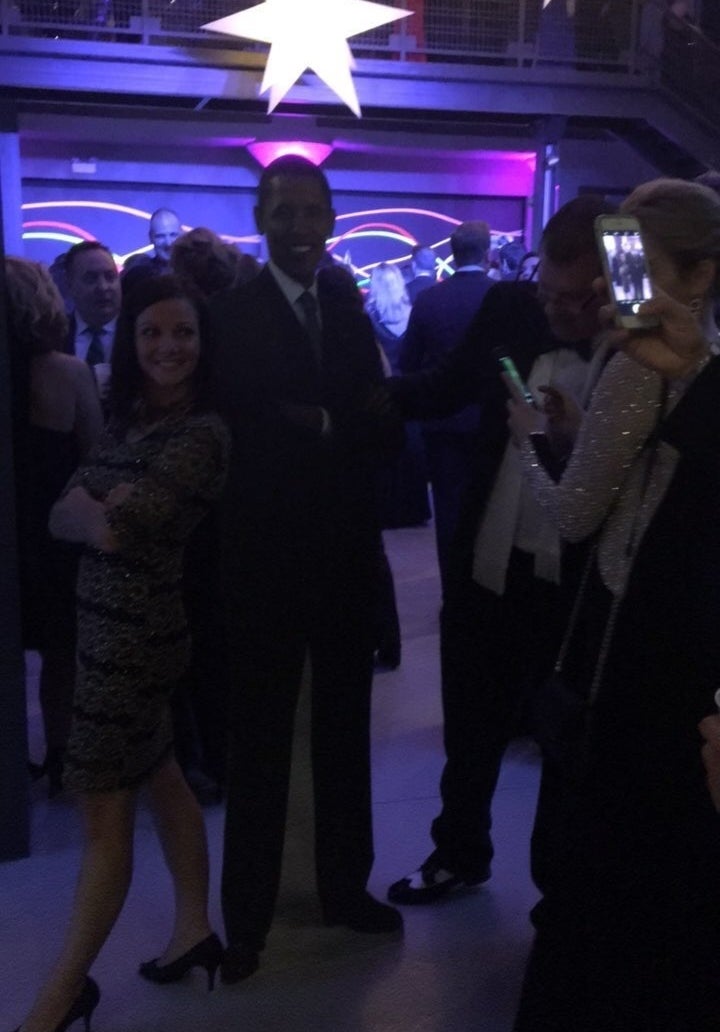 A Harry Potter themed dinner.
A client's tv segment on WGN.
A luncheon at ABC7 Chicago.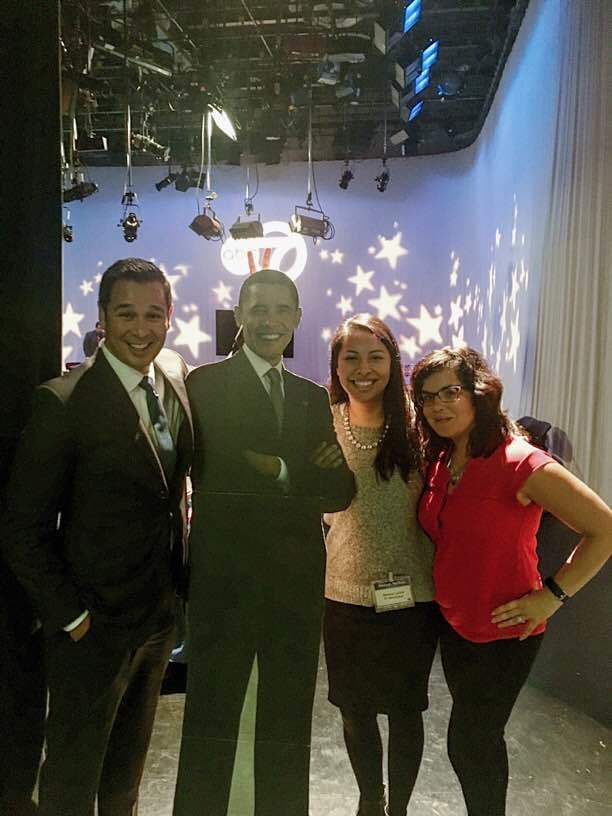 A Bob's Burger pop-up on Halloween.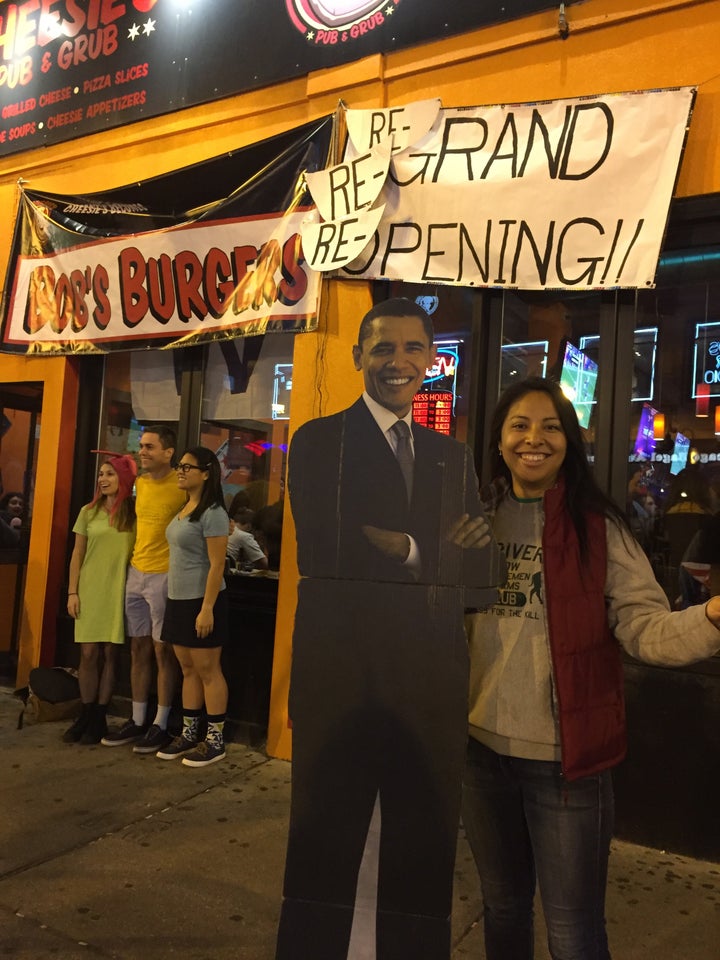 A networking event for women.
And countless other adventures.
Every encounter was overwhelmingly positive. Each time I went out with my cut-out of the President, I was exposed to people who I otherwise would have never exchanged words with.
Like David who saw me writing my wish to see a female president on this 'Before I die' board and then wrote my name in Arabic.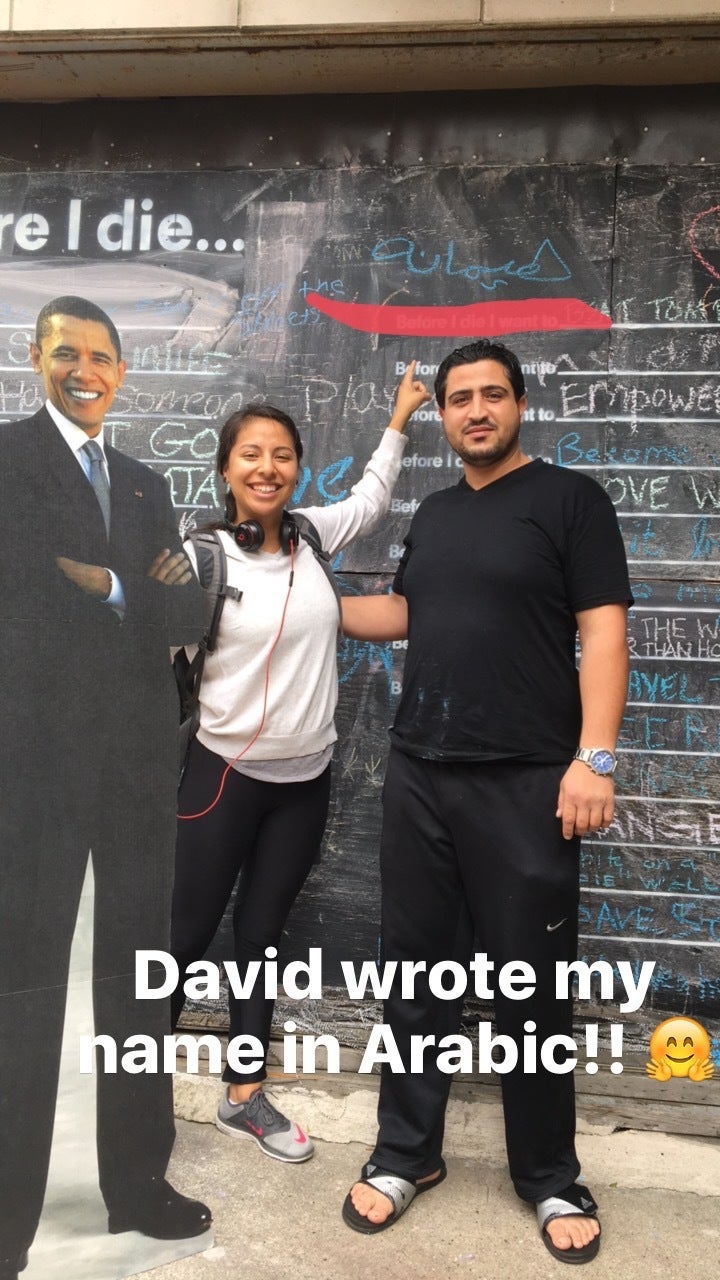 Or this group of elderly activists in the suburbs who were heading into the city to take a bus to Springfield, and deliver a petition for clean air to Governor Rauner.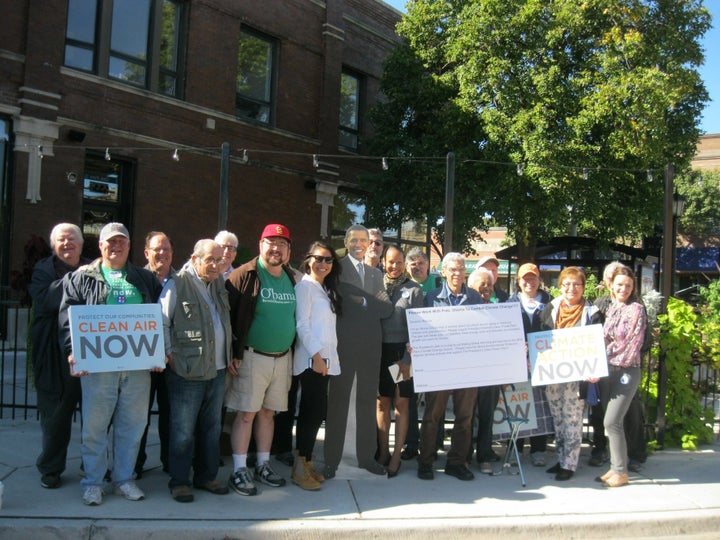 Or this tuba player whose photo session I crashed and later found out appeared on FOX's hit show Empire.
My world was rapidly expanding with each encounter filled with laughter, high fives, encouragement and praise for a president that ushered in an eight year reign of diversity. Many expressed their disappointment that his time in office was coming to an end. It felt like I had opened a portal where only the pure of heart could enter and see its beauty. Nothing fundamentally changed, but suddenly, everything was different.
Not everything went according to plan. The TODAY Show security kept me from going out on the plaza with my cut-out and my homemade sign (#BarackingAround all the Way from Chicago), per their 'no political signs' policy. Understandable, but I could have done without the men mocking me and telling me to head to FOX News.
We packed up and went to Times Square where people were more welcoming.
This was my world prior to November 9.
It was a place that had me sharing smiles and words of encouragement with people whose first name I did not know. We were linked by a man who broke a 219 year homogenous running streak, and showed us that anything really is possible. We were one. The world felt united, sunny and full of life.
It is these memories that I carry into the new year and beyond.
In 2017, Americans will usher in a new president who, I admit, casts a dark shadow on my formerly bright and sunny world.
His win briefly blew out the warmth brought on by the belief that we were moving forward and could all work together, regardless of our differences. But to believe that all is lost would mean giving up when things get tough. In the wake of the 2016 election results, I've since found solace in Obama's display of dignity and words of refusal to succumb to fear.
I started carrying a cut-out of President Obama with the hope of meeting him. Instead, the experience allowed me to connect with a wide array of humans who believe in Obama's vision for the world that has nothing to do with politics and everything to do with working together to create the best environment for all. It is a place where women are equals, immigrants are welcomed and hate has no place in the free world. If we spent more time talking about politics and listening to each other, we might see that we have more in common than we think.
These memories sustain me as change approaches. They remind me that I am not alone. I must keep going and believe in a better tomorrow.
I have hope and once again, it's thanks to President Barack Obama.
Thank you for #BarackingAround with me.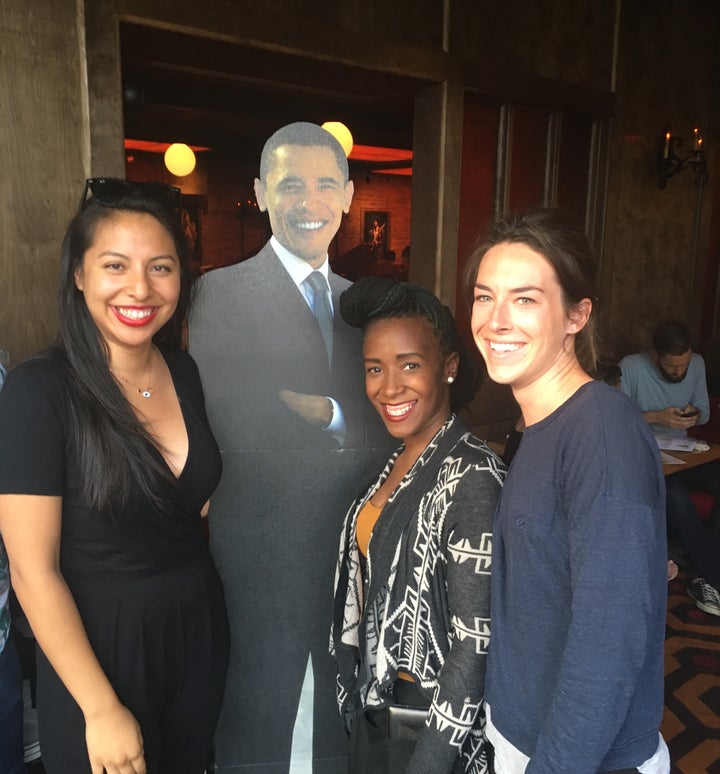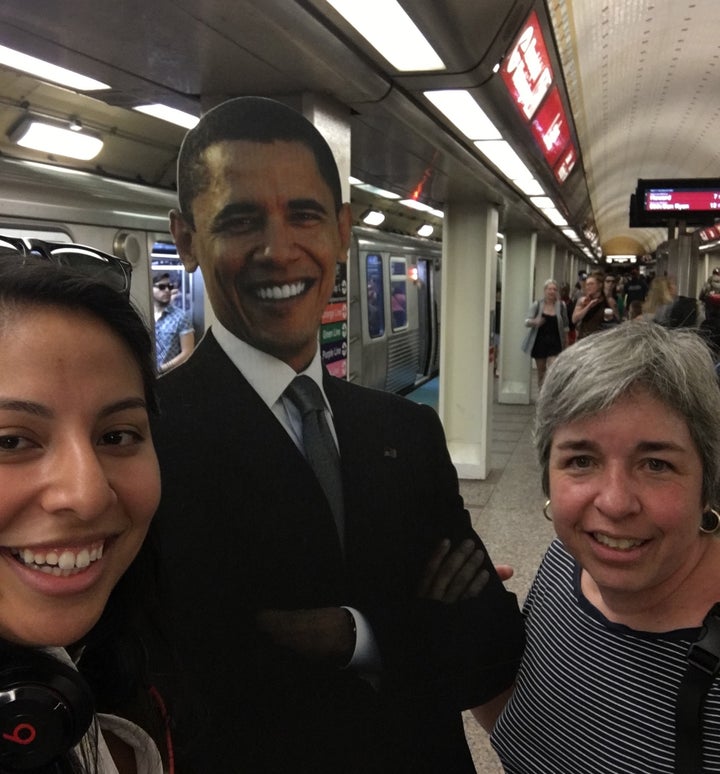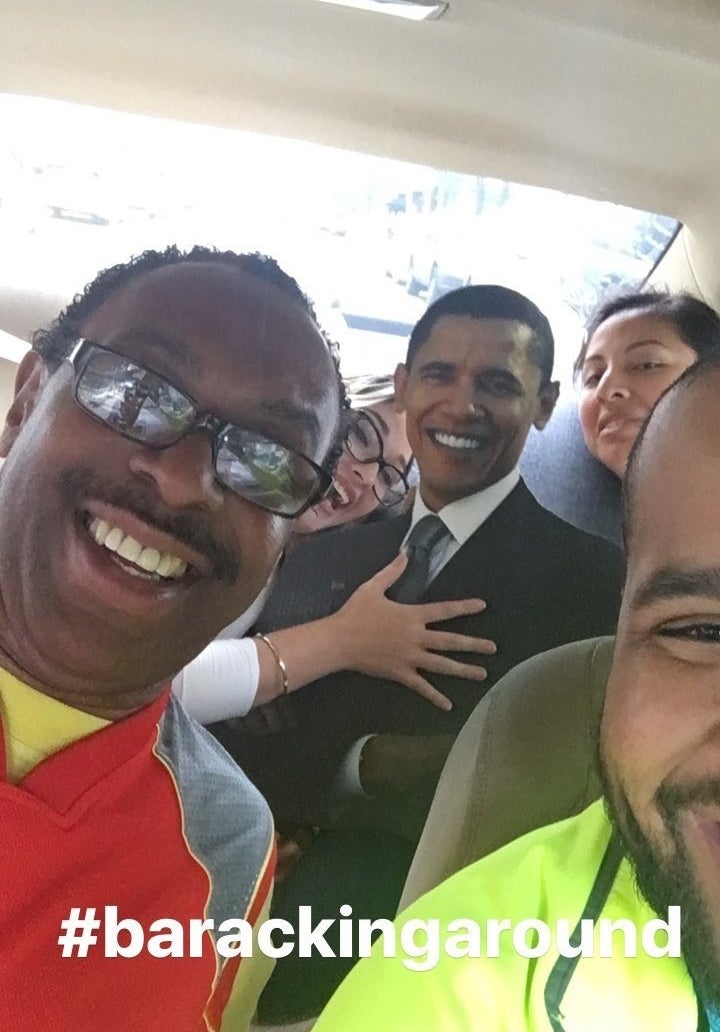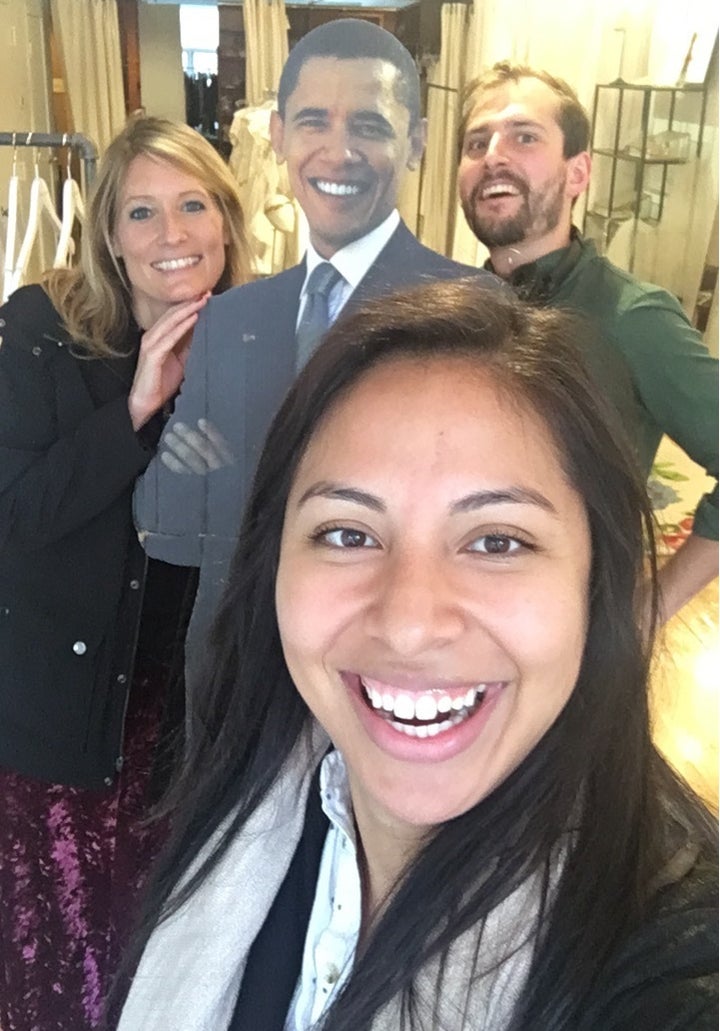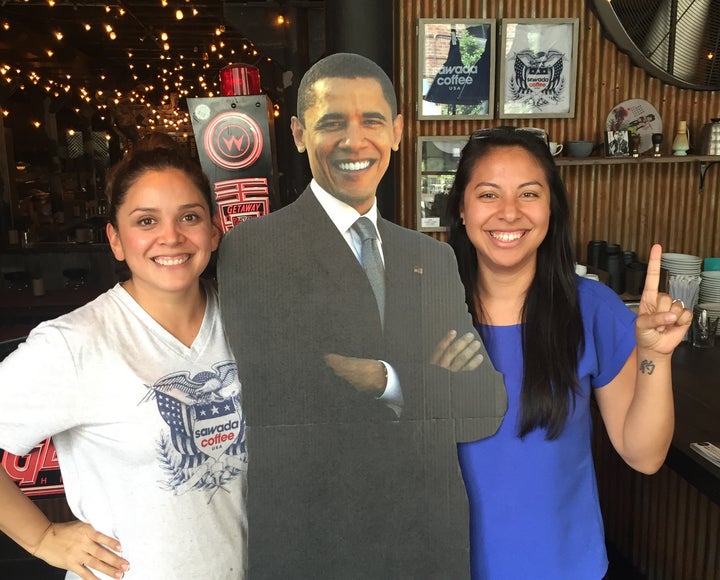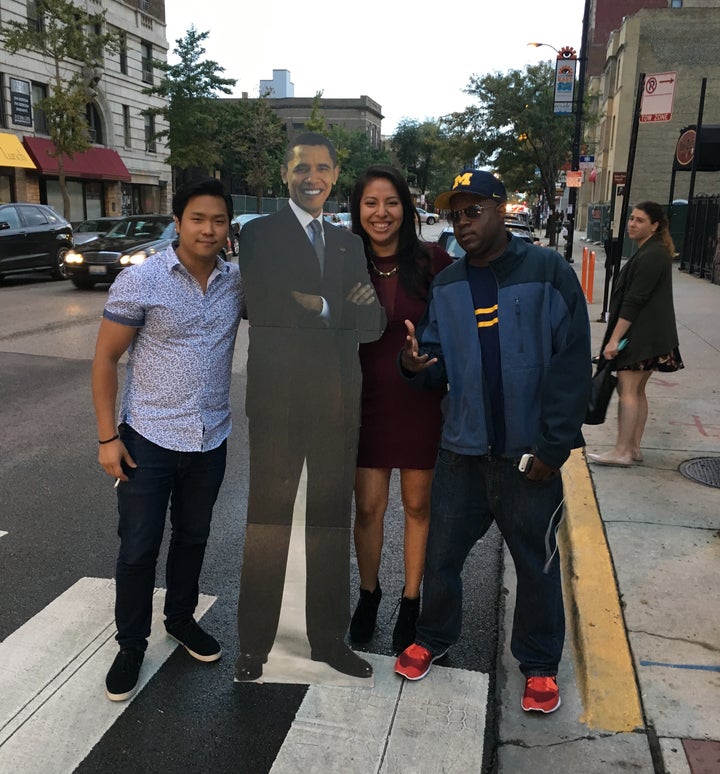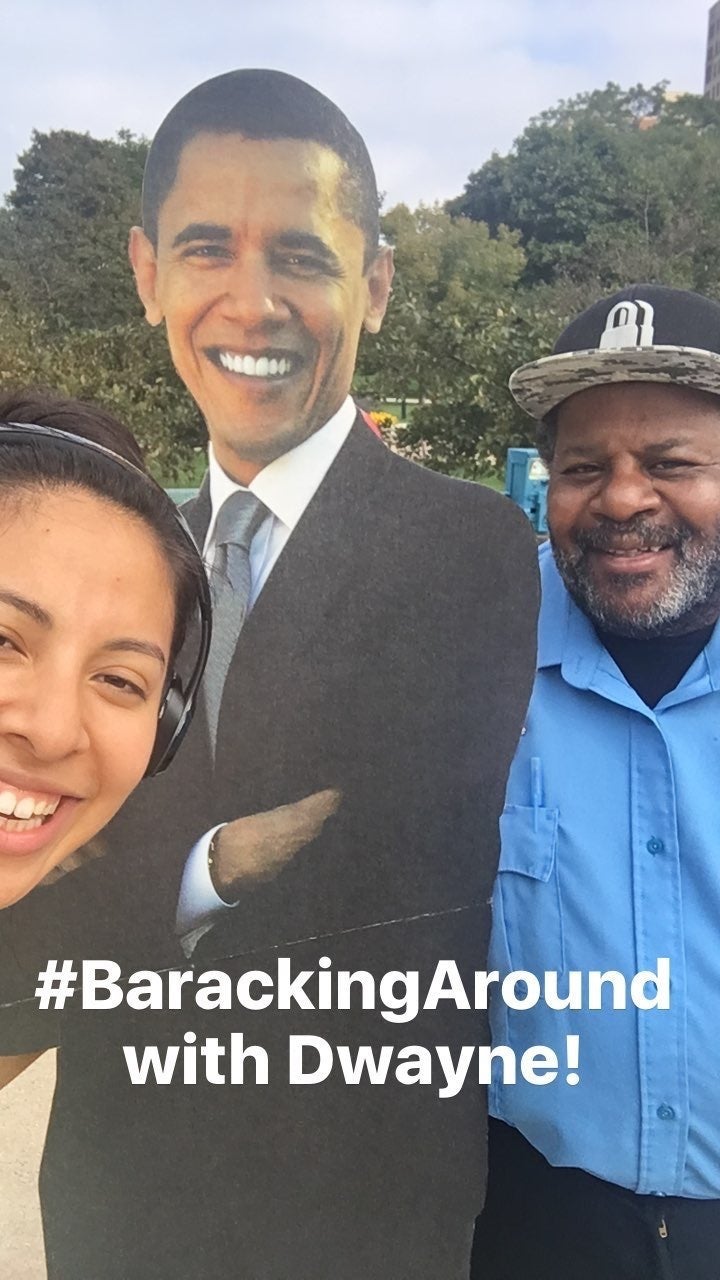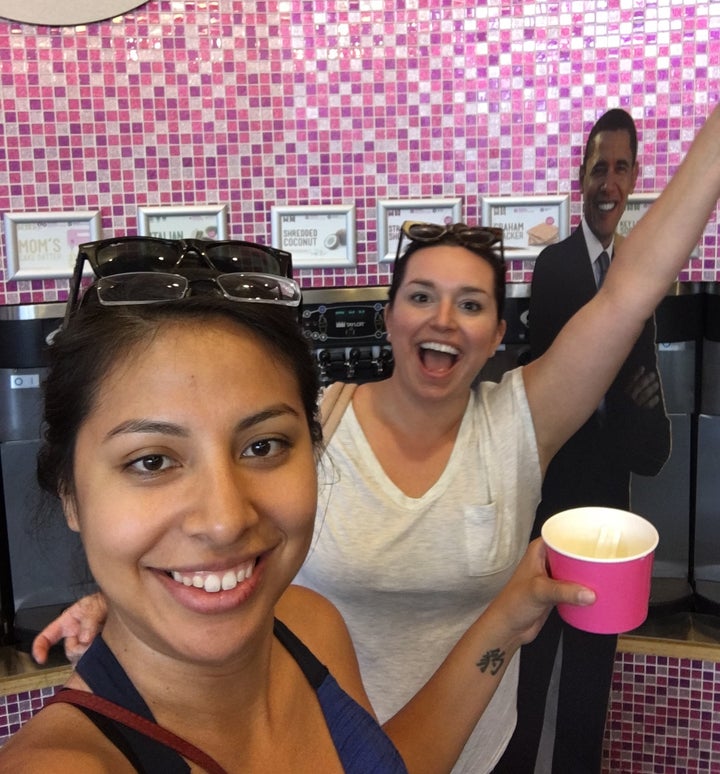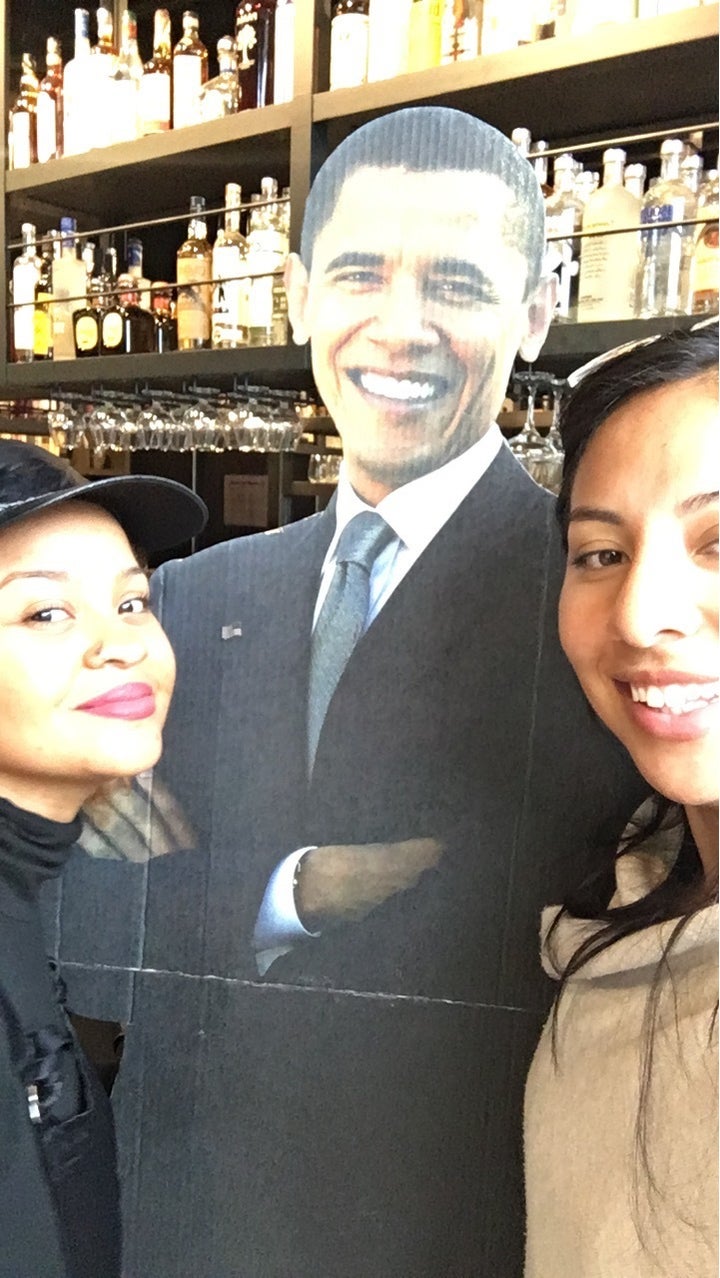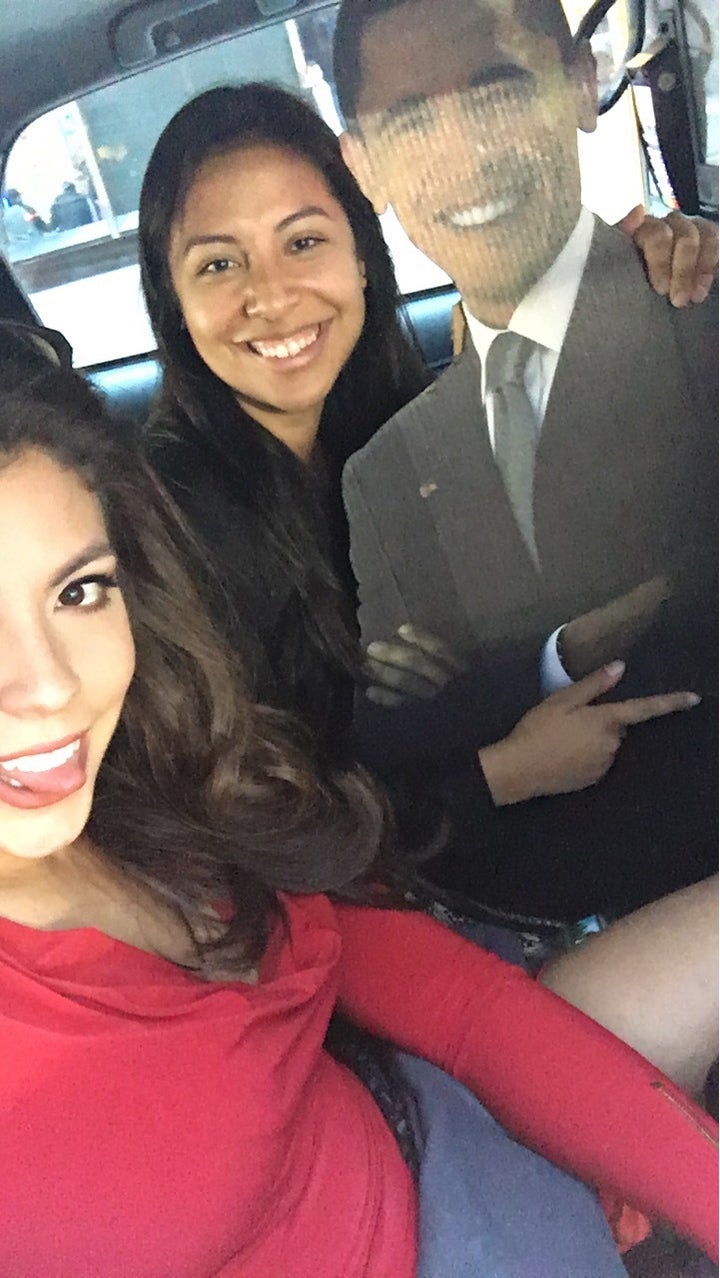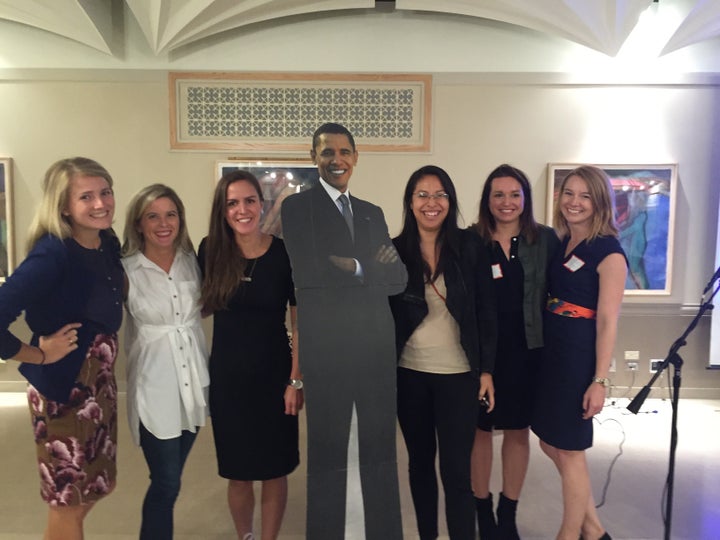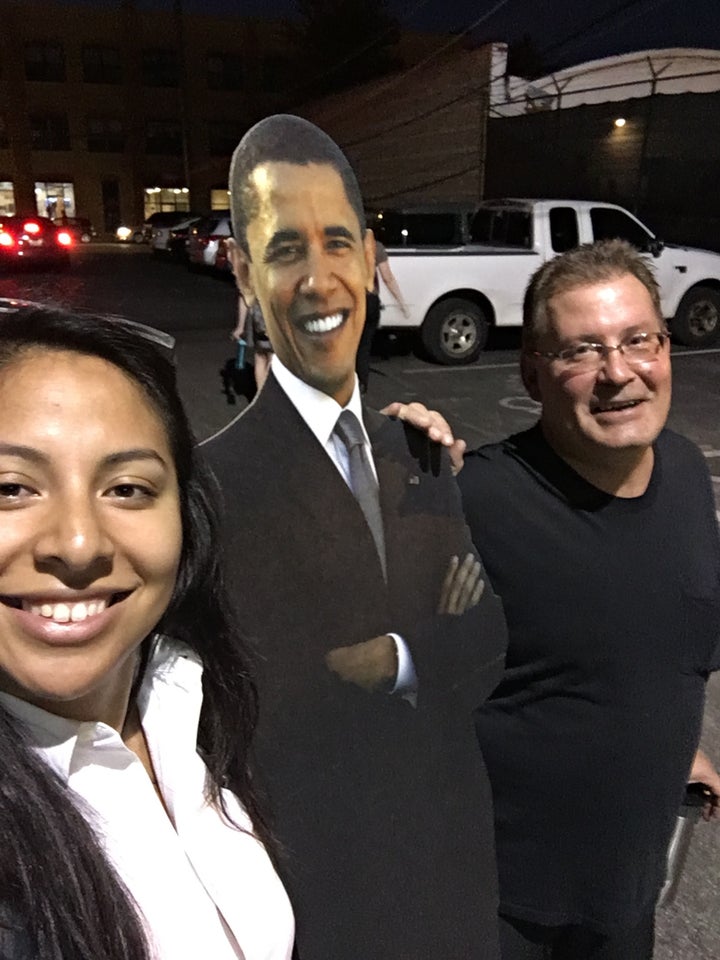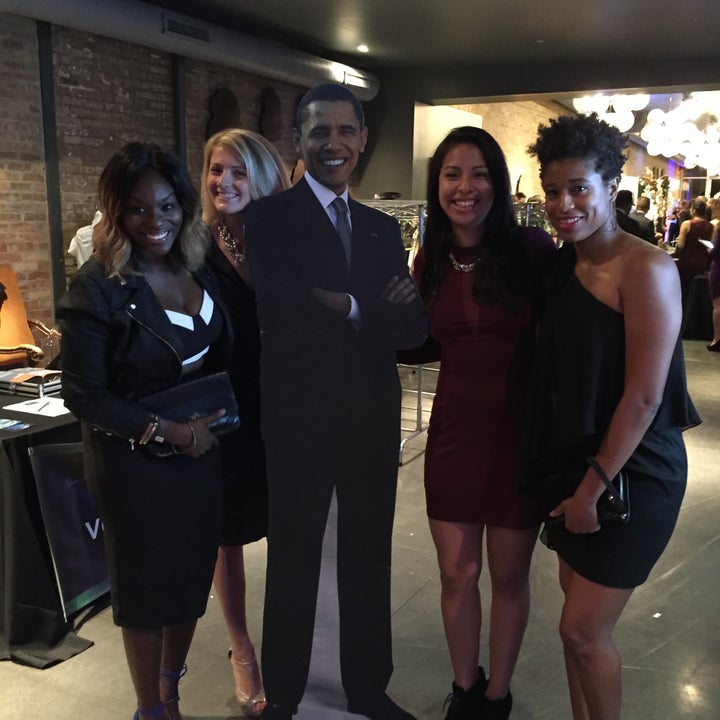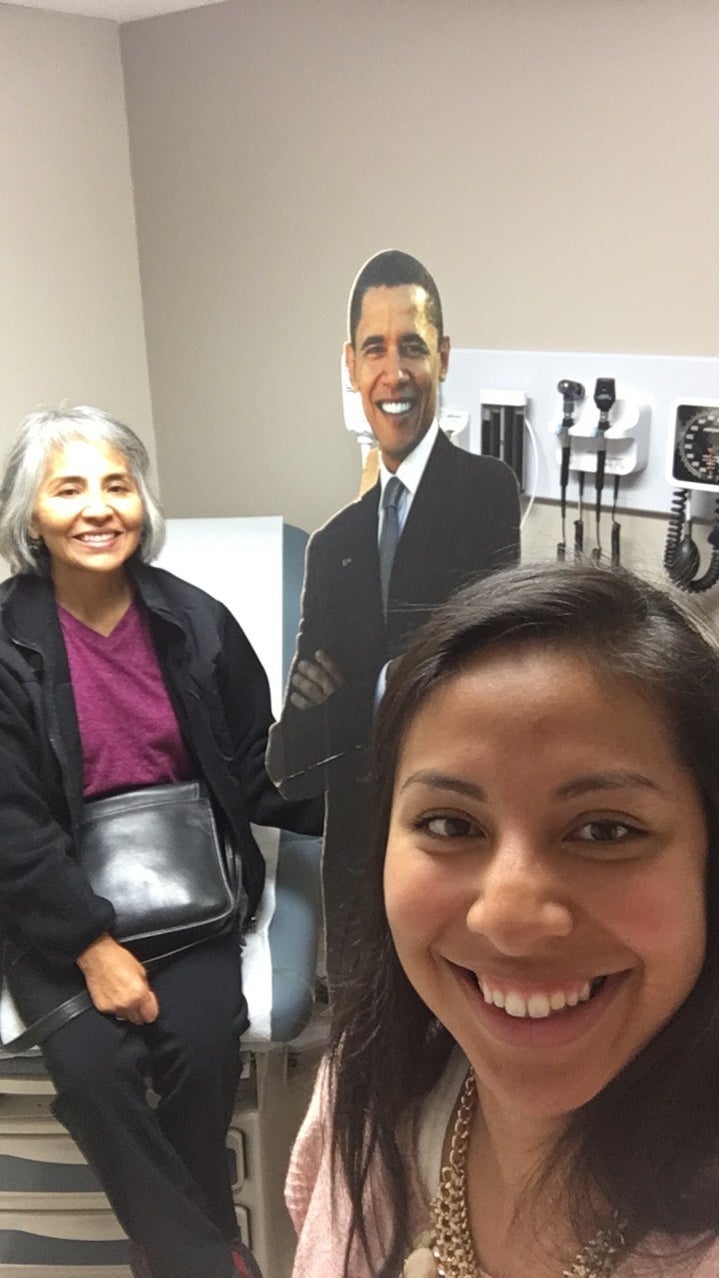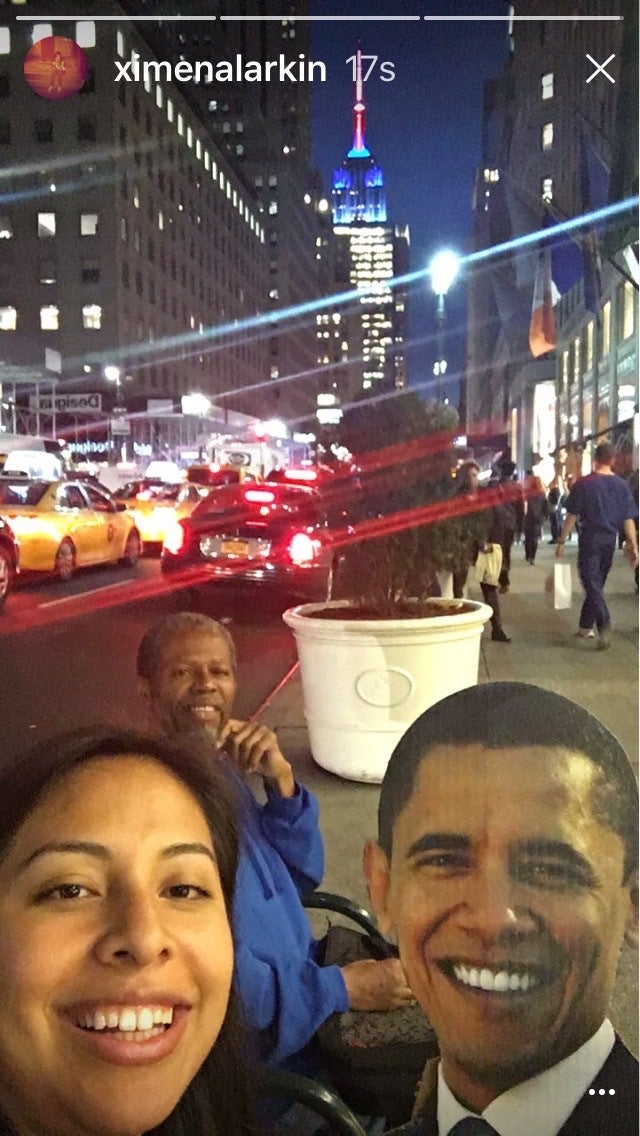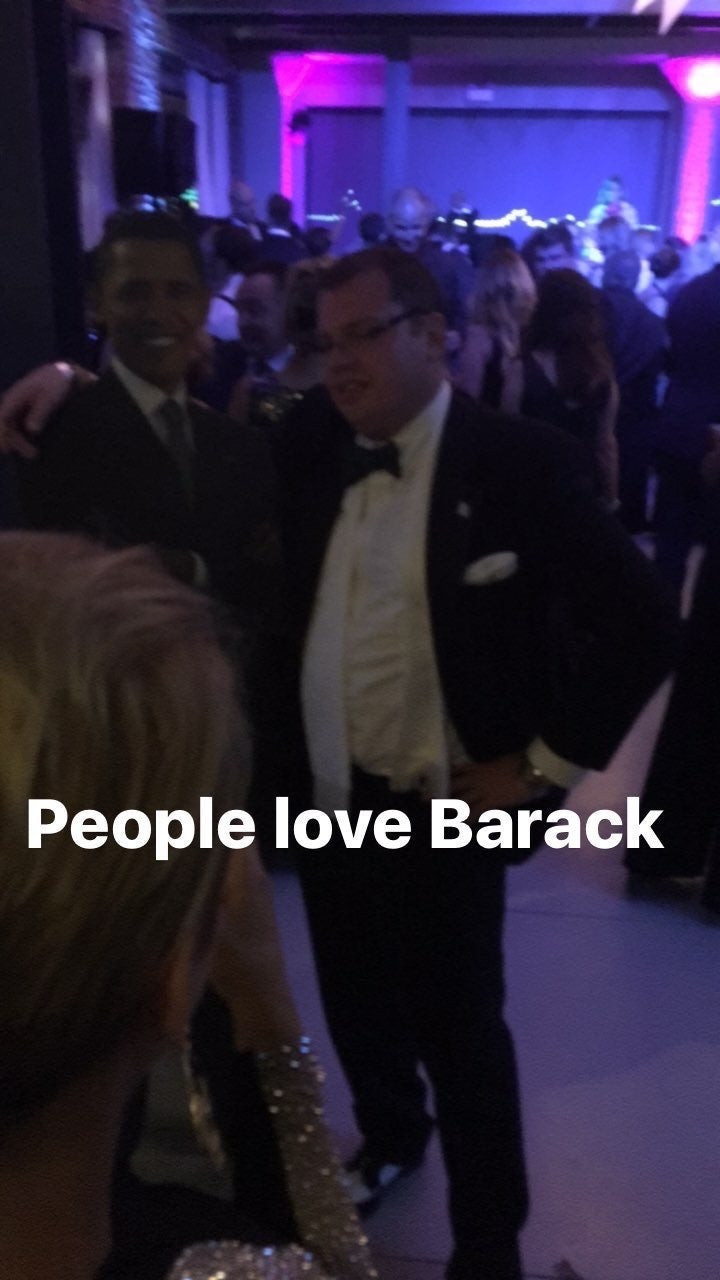 Support HuffPost
The Stakes Have Never Been Higher
Related
Popular in the Community