Fresh out of college and ready to take on the world, I relished the steady flow of madness that was Crew Cuts -- one of the top commercial editing houses in New York City -- where I landed a job as a receptionist in July of 2000. I had aspired to become an editor, and after 12 grueling months manning the front desk, I was promoted to assistant editor for Clayton Hemmert, one of the owners of Crew Cuts. And with that, my adventure in the world of television had begun.
Every job that we landed entailed more than just a couple hours spent "splicing film." There were clients to appease, graphics to create, audio to tweak, and color to perfect. The colorization was one of the final steps of this tedious process, and there was but one colorist whom we felt confident would not only meet, but could exceed, our high expectations: Lez Rudge of Nice Shoes.
Lez had an impeccable eye for color and worked extremely fast. The most senior executives in the business often chose him as their colorist, for he was known to be insanely talented. It was an added bonus that he'd greet you with a cheerful "Hey, mate!" every time you'd enter his suite. Everyone wanted to work with Lez, and everyone wanted to be friends with Lez. He was that kind of guy.
Over a decade after my Crew Cuts days had come to an end, I found myself on a quiet beach on the Jersey shore this past August, the warm sun beating down and a steady breeze coming off the ocean. My husband was digging a hole in the sand with our daughter, and the pride and love I felt for them washed over me like the waves in front of us. I felt I deserved this moment of bliss after a blog post I had just published generated a great deal of exposure.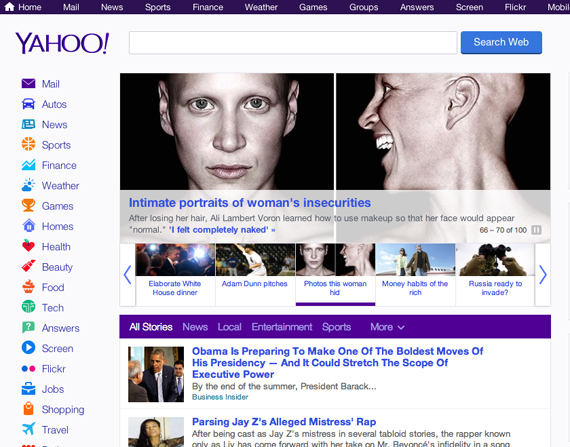 As my husband walked my daughter to the edge of the cool blue water, I picked up my phone and encountered a Facebook message I had least expected. Lez Rudge was messaging me? I hadn't seen that name in years! I was excited to hear from my old friend and was more than curious to know why he was reaching out.
Lez explained that he was still at Nice Shoes, but had begun a second career as a commercial film director. He had seen my blog post on Yahoo's homepage and was taken by my story and the portraits I had shared. Lez had a vision of turning the blog post into a live TV commercial and was curious to know if I would be interested in collaborating. Lez had no idea that I had been waiting for a big opportunity like this, ever since my alopecia universalis diagnosis when I was 16 years old. I was in!
When I walked into the Long Island City studio that Lez and his team had secured, I was not sure what to expect. From the outside, the building looked like a deserted warehouse, but once inside, I saw a stark white gallery, reminiscent of a space used for a high fashion modeling shoot. As I entered the studio and saw all of the camera equipment before me, my heart started racing with nervous excitement.
Joining Lez was executive producer extraordinaire Brian Song as well as Russell Swanson, the remarkably talented director of photography. Brian had pulled some serious strings, and I knew from that first moment that this was going to be a profound experience.
Lez and I had been working on the script for a couple of weeks, but the thought of memorizing lines for an on-camera spot was something that intimidated me. As a voiceover actress I was used to reading from a script, off-camera. I was anxious about my performance so I recorded the lines in my home studio and listened to the mp3 obsessively in the days leading up to the shoot. I listened in my car, I listened in the shower, I listened in bed, and I listened for the entirety of my 55-minute ride to Long Island City that morning.
As I sat down on the stool, with bright lights illuminating my face, and the camera parked just two feet away from me, I thought to myself, "I got this."
Lez had a natural ability to put me at ease and helped me dig deep inside to recount the emotions I felt twenty years prior when I had lost my hair. After four hours, 50 takes and more than a few deep breaths, we called it a wrap!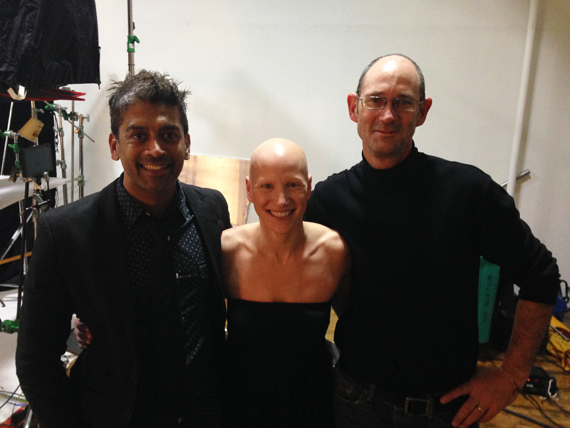 Lez, Brian, Russ and the rest of the team had captured enough footage to send to editor Steve Bell. Lez assured me that if anyone could create an intimate portrayal of some of my deepest insecurities and triumphant realizations, it was Steve.
The Finished Spot and Just Be You
On Thursday, April 16, I will be exposing my inner self and soul to the world once again. The past 20 years of experiencing and overcoming personal challenges, as well as supporting others through their own struggles, has culminated in a beautiful, vulnerable and compelling piece that has become a flagship in the next stage of my journey.
The final spot is almost exactly as Lez had described to me in his vision those many months ago. His ability to inject raw emotion and create a dramatic story is a result of his creative abilities as a director.
We felt that partnering with an established foundation was important, and the clear choice was the National Alopecia Areata Foundation (NAAF). I have developed a wonderful personal and professional relationship with them as both a speaker and an inspiration for the alopecia community, and I was excited to be able to include them in this project.
While my relatively recent involvement with NAAF has helped to propel my desire to promote self-confidence on a grander scale, I also felt the need to pave my own way. I'm in the process of starting my own non-profit foundation, Just Be You. The mission of Just Be You is to inspire people to love and accept themselves just as they are. It is a challenge that I have been facing my whole life, and a message that I would love to leave as my legacy.
So next Thursday, we will be premiering "Beautiful In My Eyes," the honest and emotional PSA from Director Lez Rudge. Please take a moment to watch the piece and share it within your networks. I truly do hope that someday, I can change the world.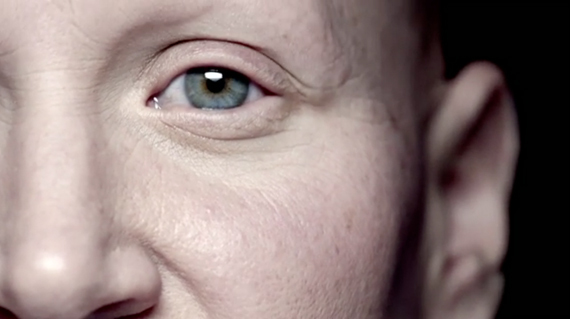 To view the 60-second PSA "Beautiful In My Eyes," go to www.justbeyou.org on Thursday, April 16th, 2015, after 4pm.