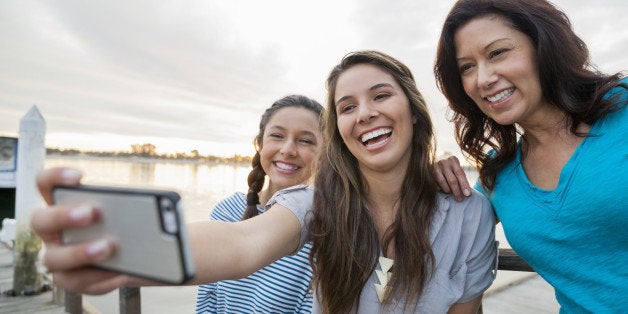 Lately I've noticed this trend... a group of friends take a picture together and post it to social media with the hashtag #squadgoals. It started with celebrities, like Taylor Swift's crew, but it's morphed into a regular person thing now too. And since almost every "friend" I've got these days is a mom, that's usually whose pictures I see. Urban Dictionary says a squad goal is an inspirational term for what you'd like your group of friends to be or accomplish. So like, a bunch of moms go out to dinner and snap a picture of themselves with a massive tower of chilled sea food and hashtag it #squadgoals. (I guess that means their goal is to finish the seafood?) Or in their Lululemon gear. #squadgoals (exercise, or maybe just wearing exercise clothes?). Or in the Nordstrom shoe department. #squadgoals.
I have goals, all kinds of goals, but since I ain't got no squad, I don't have #squadgoals. I have friends, but we don't go out as a big group all that much, and we don't snap pictures of our food. Or shoes. And I when I think of squads I usually think of high school cliques. I think of Kendall Jenner with Gigi Hadid. But hey, that's just me.
But wait, I thought to myself today, while I stared at a picture of moms making duck faces as they tried on hats (#squadgoals). I do have a squad! I mean, if technically a squad is that group you spend all your time with, then hell yeah I have a squad! They're called my children! My 4 effing children! I'm always with that crew - like ALWAYS. And when I'm with them you better believe I have goals.
Starting first thing in the morning when they all run into my room so I can wake up to a fight over who gets which spot on my bed, I hope to emerge from the arm flailing violence with enough energy left over to brush my teeth #squadgoal. You may think this is an individual goal. But, trust me, it's in everyone's best interest that I brush my teeth. And I hope all of my children actually brush their teeth too, and maybe even wash the crust from their eyes. #squadgoals.
Then I hope to get through breakfast without someone spilling a cup of milk on the floor, requiring me to get on my hands and knees and unravel an entire roll of paper towels as I spew profanities about hating my life. #squadgoal. I hope to get through the meal without screaming "stop" or "hurry up" or "leave this room now" or "get the f**k off of her" repeatedly as I empty the dishwasher. #squadgoals.
From there we'll try to all pile into my big old minivan without my children ferociously tearing each other away from the door by the backpack so they can each get in first. #squadgoal. I also hope to make it smoothly through the carpool process so my inability to change out of my pajamas (I use that term very loosely) is not exposed. Major #squadgoal.
After a few hours of silence during which I have absolutely no #squadgoals at all and, honestly, few actual goals (aside from eating and watching The View, and of course laundry, 3 supermarkets, cleaning, cooking and maybe showering) I pick my children up from school and we #squadgoal the hell out of the next few hours.
Getting through homework without a nervous breakdown? #squadgoal. Eating dinner without having to beg my kids to chew and swallow? #squadgoal. Evening showers without a battle over who goes first? #squadgoal. Not sitting on a wet toilet seat? #squadgoal.
So to all you moms checking your Instagram feed thinking you're just not cool enough to have #squadgoals, I'm here to tell you you're wrong! So maybe your squad is shorter and needier than the ones you see online, maybe they can't all wipe their own asses, but I bet they'll be a lot more loyal than any other crew out there. And they'll probably still want to hang with you, even when you don't actually brush your teeth.