Media day has come and gone for both the New England Patriots and Atlanta Falcons, which means we can finally stop worrying about the sideshow frenzy and start focusing on the actual game itself: Super Bowl LI.
According to the betting folks in the desert, New England is a 3-point favorite. The Pats, after all, haven't lost since before Thanksgiving, and quarterback Tom Brady just completed the single greatest touchdown-interception ratio for a season in NFL history.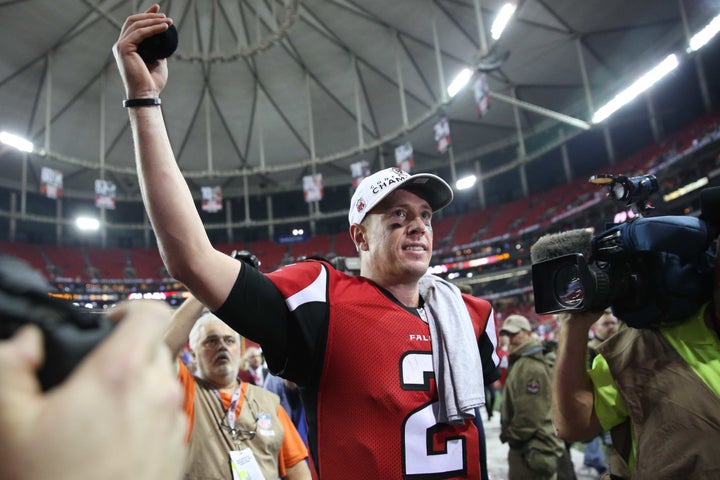 So, the game pits two teams with elite quarterbacks anchoring some of pro football's most powerful offenses. However, the Falcons, as I've chronicled, have a vastly improving defense, which undoubtedly will come in handy on Sunday.
And Brady's weaknesses may help the Dirty Birds bring the first-ever Super Bowl win to Atlanta. (It will also be the city's first pro sports championship since the 1995 Braves won the World Series.)
While every quarterback hates to be hit, Brady might just hate it the most. In three of his Super Bowl appearances, he's been sacked at least twice ― and the Patriots lost two of those. So, keeping him upright and comfortable in the pocket is paramount.
Fortunately for the Falcons, they have an assortment of different ways to get to Brady. The most obvious choice is the league's sack leader, first-team All-Pro selection Vic Beasley Jr. However, Beasley has failed to record a single quarterback hit or sack in the playoffs. In other words, he's a great player, but he's not Von Miller.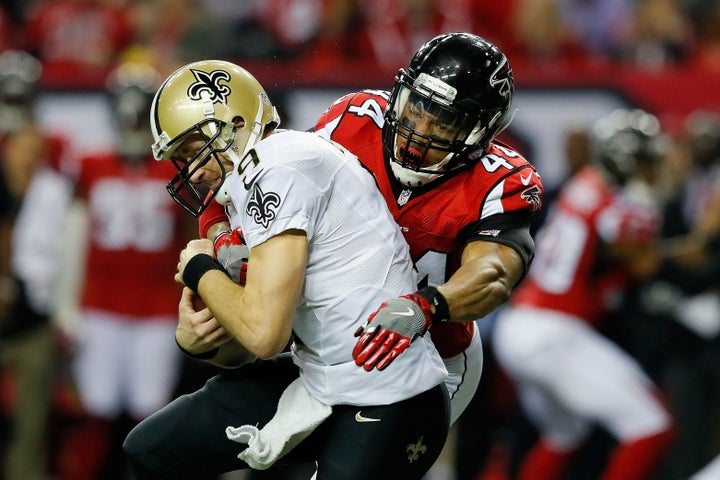 A Beasley spark would be enormously helpful for Atlanta, but two areas where Dan Quinn's defense may also have success getting after Brady are its linebackers and secondary.
Rookie safety Keanu Neal is a Kam Chancellor clone who runs like a gazelle and hits as solid as a lion. He leads all rookies with his five forced fumbles, and is second with his 106 tackles. Don't be surprised to see him blitz ― and get home ― from a variety of different spots.
Additionally, don't be surprised if Dwight Freeney becomes a factor. The 36-year-old is one of the greatest defensive ends ― a future first-ballot Hall of Famer ― and he was brought in last summer precisely for these moments. Expect him to make an impact rushing on crucial third downs.
The other area where Quinn may be creative with his blitzes is from the cornerbacks. Losing Pro Bowler Desmond Trufant for the year back in November was a killer, but second-year man Jalen Collins and rookie undrafted free agent Brian Poole have picked up the slack in coverage ― though the Patriots are a different animal. Even still, Trufant is a terrific corner blitzer. Neither Poole nor Collins have been asked to do it yet, but both are sound, physical tacklers who play bigger than their frames suggest (see below).
Should Quinn send one of his corners on a blitz, expect the Falcons' defense to use more Cover 3 looks ― the style that Quinn brought from his days coordinating the Seahawks' dominant defense. The 46-year-old head coach has shifted to more man-to-man coverage looks this year, but isn't afraid to run zone when the situations dictates it. Brady, to be sure, is as smart as they come at identifying what the defense is doing ― especially in his pre-snap reads ― and thus is a challenging chess match for Quinn and his staff.
Defense, you see, has been the difference during Atlanta's run. We can talk about Julio Jones, Ryan and the dual threat running backs all we want, but during the Falcons' last eight games ― seven of which they've won ― the defense has given up only 20.5 points per matchup, totaling 17 sacks and 16 forced turnovers.
Expect a similar effort against Brady and the Pats, and in turn, a championship for the Falcons.
Popular in the Community