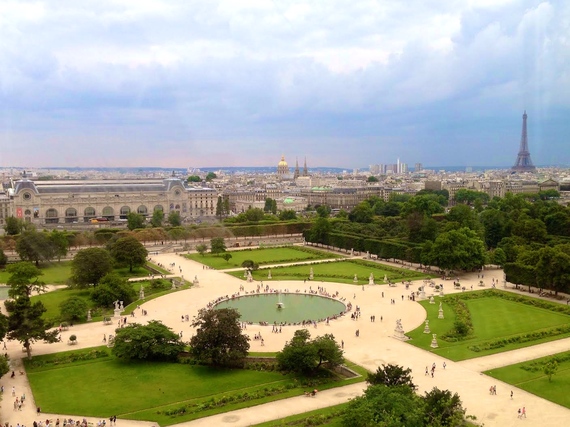 The French are united today in their refusal to be scared. Often the country is divided between Parisians and the rest of those who live in France but today, in the shadow of the tragedy of November 13, the French from all regions speak with one voice. "France is the country of human rights and Paris is synonymous with fashion, talent and culture," declared designer Ines de la Fressange. "After our mourning, we must continue to live with joy and freedom. It is a way to fight against those cowards with no doctrine but stupidity. In my opinion, one will want more frivolity, creativity and extravagance: all those things that repudiate totalitarians."
This week when I arrived in France, I saw signs hanging from buildings announcing "No hatred. No fear. No violence." Shop windows display the Eiffel Tower peace symbol. Demonstrating their resolve, people are filling the cafés and streaming into parks just as widower Antoine Leiris said in his now famous Facebook post after the mother of his 17-month-old son was killed in the Bataclan massacre, "[My son] is going to eat his snack just like every other day, then we are going to play like every other day and all his life this little boy will be happy and free. Because you will never have his hatred either."
The French have taken a stand. They have drawn a line in the sand with the terrorists and declared that the best way to defeat them and their desire for an Islamic state in which women will be veiled, art and music will be outlawed, monuments will be blown up and fundamentalism will prevail is to grab joy and to celebrate liberté, egalité and fraternité.
"I agree," said one Parisian mother and friend, "but I was a bit nervous when my husband announced that he was taking our son to a soccer game." He scoffed at her anxiety. "They cannot make us hide," he said. She agreed and let them go. Giving into fear and rejecting fear involve momentum, after all. We, humans, can act with a herd mentality. We all run for cover or we realize, together, the implications of that, and we get on with our lives. We comfort ourselves instead with the notion that when our time is up, it is up and that may come as a freak accident (we know those) or as a lurking ailment (and we are familiar with those too), so let's get on with our lives. We seize the day. Go to the game. Enjoy our friends. Get on the plane. Linger longer at the café as the French are doing, but now with a sense of purpose and pride.
American novelist Russell Banks was quoted in the current Madame Figaro as arguing that we have a responsibility to present an alternative universe to the one that ISIS would like. "I said to my grandson that those men and women live in an imaginary world as if life were nothing but a giant, criminal video game. For them, there is no other world. To stop them, we cannot do what they want us to do. We need to show them that there exists another world, so they can see that there is not only their sinister nightmare." Yes, we must all find courage, keep calm and carry on and create and indulge and enjoy. Can't you just see that British slogan transformed by the French? Café and carry on. Wine and carry on. Bien vivre and carry on. Somehow we must carry on.