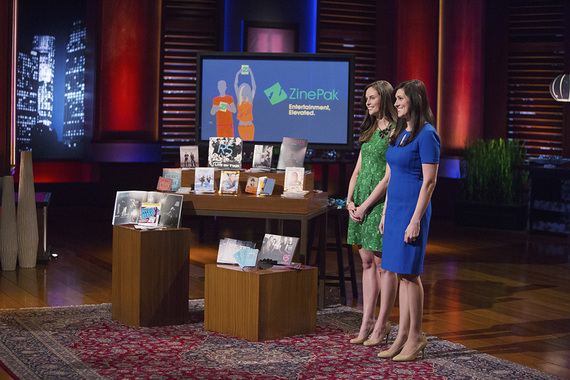 It's been almost a year since I flew to Los Angeles to appear on the hit television show Shark Tank to promote my entertainment marketing company, ZinePak. My co-founder and I spent weeks preparing for every possible question we might be asked on the show. When the time came to appear in front of the Sharks, we were ready. In fact, four of the five Sharks on the panel made us offers, valuing our company at more than $4 million. (That's me above, in the blue dress.)
What I wasn't ready for was the incredible wave of guilt that hit me after an innocuous phone call from a producer a couple of days before we filmed our segment. Contestants are often in Los Angeles for several days leading up to production, as was the case with ZinePak. On the third evening in L.A., a producer called and said, "Hey, I forgot to give you your per diem for the past few days. Can you come down to the production office and sign for it?"
Per diems are funds allocated to cover expenses (most commonly meal expenses) while traveling. They're a constant across hundreds of professions, from Corporate America to professional sports to entertainment to government agencies. In many instances, they're mandated by unions (for example, professional basketball players receive $106 for every day they're on the road each year, even though the minimum player salary allowed is over $500,000.) Shark Tank contestants are paid union minimums for appearing on the show: $65 per day. While many startup founders who appear on the show unquestionably need the money, I'm fortunate enough not to - as are thousands of people who work on hundreds of other television shows across the United States.
The first Shark Tank per diem I collected was $195, covering those first three days. As I signed for the cash, my first thought was how many days I could actually feed myself for $195. I thought about a homeless gentleman I'd seen outside my hotel the day before, and how many days he likely could stretch $65 to feed himself or his family. How many other Americans needed food money more than I did? I didn't know, but I was certain the number was large.
I returned to my hotel room and did what I usually do when something is bothering me: I started Googling. I was certain that a charity must exist for people who received per diems but didn't need them to donate the money. It makes perfect sense: money that is already earmarked for meals being used to fund meals for Americans in need. After about an hour, I was quite certain (and rather irritated) that no such charity existed. So, I did what every entrepreneur does when he or she is faced with a troubling problem: I vowed to find a way to change it. I wasn't sure how the solution would play out, but I knew I had to try to fix the problem.
The inequity of per diems and domestic hunger continued to weigh on my mind in the weeks that followed my Shark Tank appearance. The statistics I'd read during my research--things like the fact that 1 in 6 Americans struggles with hunger--were never far from my thoughts. I also learned more about contractual per diems and couldn't stop myself from doing the math. "Can you believe that if every active major league baseball player donated his per diems for one season, it would provide more than 61 million meals for Americans in need?," I would ask my friends incredulously.
Over Thanksgiving dinner at my grandparents' house, I shared these pervasive thoughts with my cousin, Jennifer. She confirmed my suspicions--that I wouldn't be able to stop thinking about the problem until I was actively tackling it. However, she had an amazing solution for the other problem that had been bothering me: how could I launch a nonprofit when I was already busy running an entertainment startup with dozens of clients? Her solution was perfect in its simplicity: she would run the company, with me serving as a co-founder and board member. We started planning almost immediately, and Per Diems Against Poverty was born, thanks mainly to hundreds of tireless hours of effort on Jennifer's part.

Per Diems Against Poverty reallocates donated per diems from individuals and corporations to Americans struggling with food insecurity. In order to do as much good as possible, we partnered with Feeding America shortly after our incorporation, in May 2015. Feeding America serves 46.5 million Americans in need, leading the fight against hunger in communities nationwide. Due to their vast resources, Feeding America can distribute nutritionally-balanced meals for as little as ten cents. The average per diem in the United States is $58.50--that's enough to distribute almost 600 meals to Americans in need!
Unequivocally, hunger is one of the worst problems in America. As John Oliver recently reported, there are many things our nation could be doing a much better job of to help the 1 in 6 Americans struggling with food insecurity. And while I'm not idealistic to think one small nonprofit can solve the problem, the entrepreneurial voice inside my head still shouts, "Someone is going to have to fix this problem one day. Why not you? Why not today?"
I'm confident that the tens of millions of dollars paid out in per diems in the US every year can help make a difference, and I'm thankful that appearing on Shark Tank helped spark an idea that has the potential to make the world a better place--and even more thankful to have a co-founder willing to join me in the fight against hunger! For more information on Per Diems Against Poverty, including how you can pledge your per diems, please visit PerDiems.org.
PHOTO courtesy of Shark Tank
REAL LIFE. REAL NEWS. REAL VOICES.
Help us tell more of the stories that matter from voices that too often remain unheard.